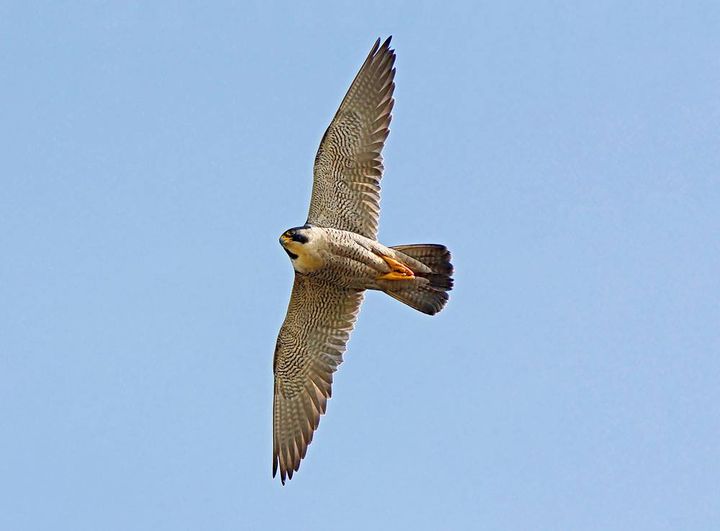 More peregrine falcons are soaring over the Peak District moors but the news isn't so good for some other birds of prey.
There has been a significant drop in the number of merlin and there's more reports of buzzards being illegally killed.
The findings are revealed in the Peak District Bird of Prey Initiative's final 2020 report. The report brings together data on key birds of prey nesting within the Dark Peak and South West Peak – the moorland regions of the Peak District National Park.
Peregrine falcons had their best year in a decade, with all six known nesting attempts being successful, resulting in a record 14 fledged.
Goshawks also had a successful season, with seven of the of the nine known nests successfully fledging a total of 17 young, surpassing last year's 12 young from eight nests.
Other species however continue to give cause for concern. Merlin declined from a height of 37 pairs in the 1990s to a stable population of 18-24 pairs throughout the 2010s. During 2019 there was a further drop to a low of 14 pairs, so a slight recovery to 16 pairs last year was welcome.
Short-eared owls appear to have been consistently lower throughout the 10 years of the initiative compared to the 1990s. Last year there were no breeding records.
After breeding for two consecutive years, there were hopes that hen harriers would return to breed in the Peak District. Unfortunately, despite several early sightings, nothing was confirmed.
Police confirmed six illegal incidents involving birds of prey in the study area during 2020. It involved four shootings (three buzzards and a short-eared owl), and two poisonings.
An egg collector was arrested and convicted, following an alert to the police by gamekeepers.
Sarah Fowler, chief executive of the Peak District National Park, said: "We have seen encouraging breeding success this year for iconic upland species such as peregrine and goshawk.
"This has only been possible thanks to close collaboration between moorland managers, gamekeepers and local raptor groups along with the police.
"The increase in and range of bird of prey persecution incidents is an unwelcome trend, and any act of wildlife crime within the national park remains one too many."
Main image:
SOARING HIGH: A peregrine falcon in the Dark Peak.
Read more from the Glossop Chronicle
Click here for more of the latest news
Click here to read the latest edition of the paper online
Click here to find out where you can pick up a copy of the paper