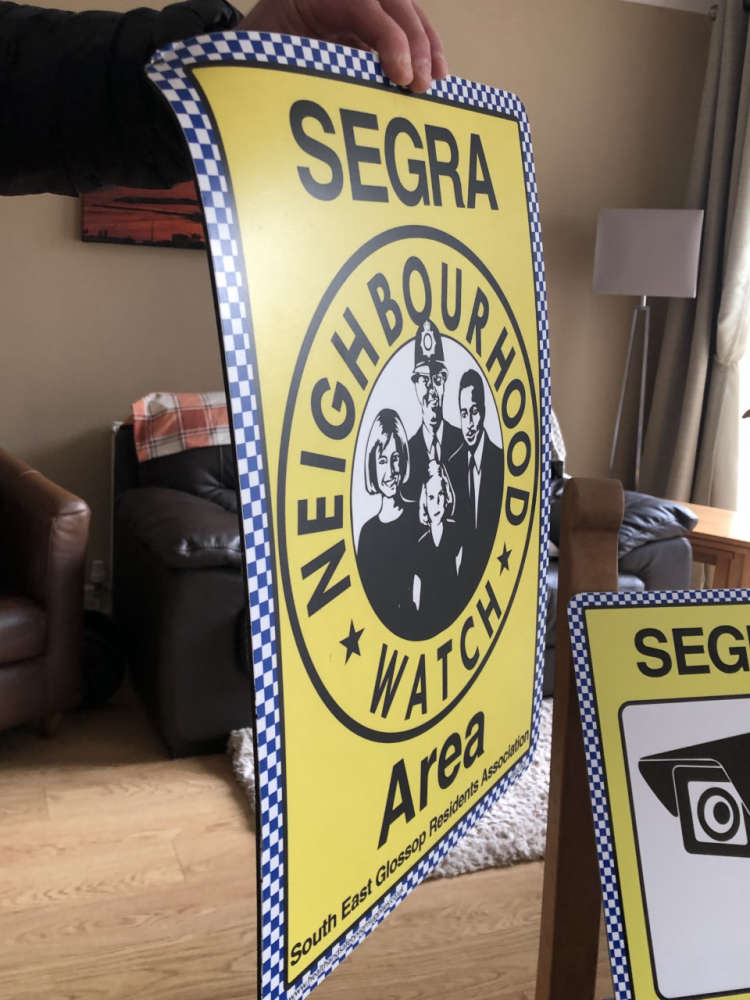 Following a spate of burglaries and car thefts on a Glossop estate, residents decided to set up a Neighbourhood Watch Scheme.
Money was raised to buy signs and they were installed around Shirebrook Park in a bid to deter thieves.
South East Glossop Residents' Association Neighbourhood Watch co-ordinator Adie Hopkinson said: "Towards the end of last year there were several burglaries and car thefts on Shirebrook Park.
"There was about one burglary a week with thieves breaking into houses to try to get the car keys. So we thought a Neighbourhood Watch would be a good idea. We liaised with Derbyshire County Council and police, then went ahead with the project.
"Residents collected around £1,500 which allowed us to buy 80 signs. The signs were put up around the area."
But since then Derbyshire County Council have removed some of the signs and put them in storage.
Adie contacted DCC to ask about the signs.
He said: "As they removed the signs, it's only right they return them. I wanted this scheme to work so that if people saw strangers or a car they didn't recognise, they had a central point to report it to. The idea was that we should all look out for each other to keep our property safe. But it's now getting to the stage where I'm wondering if it's worth all the bother."
A Derbyshire County Council spokesperson said: "We removed the signs because they were not recognised Neighbourhood Watch scheme signs in design or specification. They would not be covered by scheme insurance and had been attached to our lampposts without our permission, essentially making them unauthorised road signs.
"The CCTV camera image on the signs had also attracted a number of complaints from local residents who were concerned it implied people were under surveillance.
"We appreciate the good work Neighbourhood Watch schemes do in communities and the good job Mr Hopkinson has done to raise funds and the removal of these signs is no reflection on those efforts.
"As Derbyshire's highways authority we have a responsibility to ensure all road signs meet legal design and safety standards and have permission to be installed.
"We are in ongoing discussions with Mr Hopkinson to support his work to install alternative signs around the estate and meanwhile we have safely stored the removed signs which are available for collection."
Read more from the Glossop Chronicle
Click here for more of the latest news
Click here to read the latest edition of the paper online
Click here to find out where you can pick up a copy of the paper