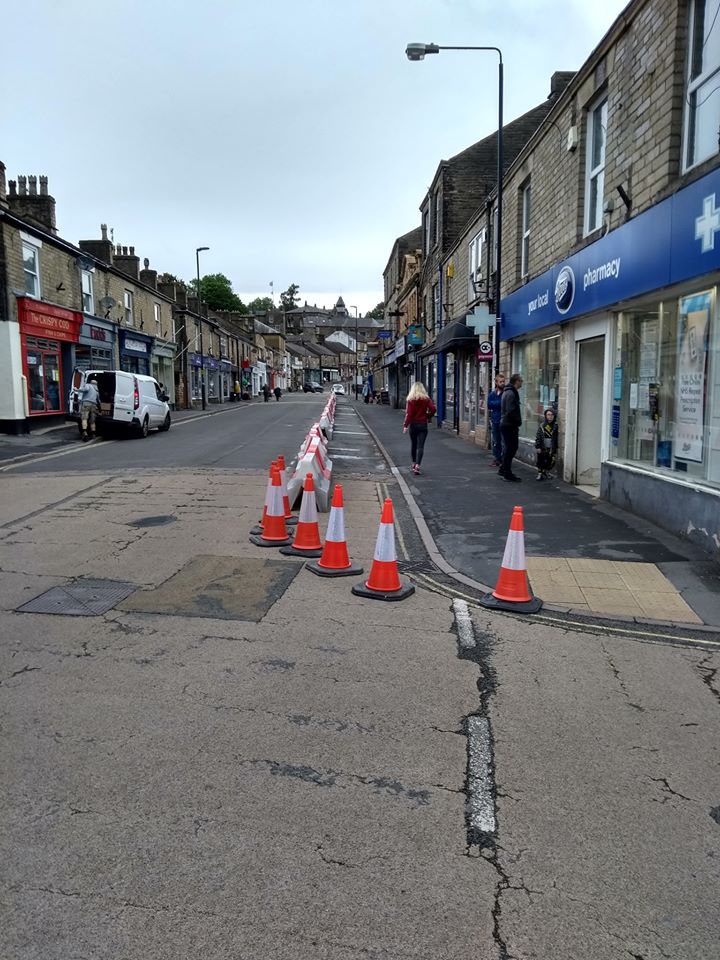 Residents in New Mills have expressed concerns about "parking chaos" amid the widening of a pavement on a main road in the town centre. 
The county council and borough council have made the pavement on Market Street wider to "give more space for shoppers" to adhere to social distancing as non-essential shops open their doors this week in line with government guidance.
But some residents feel the changes - which have resulted in fewer parking bays on the street but the councils say are a temporary measure - will cause widespread parking problems in the town, particularly for disabled people.
One said on Facebook that "this will end in parking chaos for the surrounding roads and blue badge holders on the chippy side, resulting in more problems".
Another commented: "How does that make it safe for cyclists? Bringing bikes and cars closer together."
Steve Wynne, who has owned and ran the Village Saver discount store on Market Street for 35 years, also feels the closing of the parking bays has caused "a detrimental effect" and "negative impact" on local shops.
He said: "Whenever the parking bays have been closed, it has caused a detrimental effect on the local shops on Market Street. It has already affected the footfall in the town centre.
"A lot of our customers buy large and heavy products such as paint, gardening, compost etc. Myself and my colleagues often help carry these to the cars parked in the bays. It is impossible to carry products like this home - even if you are young and fit.
"We would love to encourage anyone who wants to walk or cycle into New Mills but it also needs to be practical for busy workers, families and those who can't walk far. They also need to have the same access to the town centre. We all want the local shops to survive but if these bays remain closed, we will see a negative impact."
A statement by Derbyshire County Council says: "We've made some temporary changes in New Mills to make the pavement wider on Market Street to give more space for shoppers.
"We've taken away a few on-street parking places, but with two car parks nearby we hope the changes won't inconvenience local people too much.
"The changes were made in partnership with High Peak Borough Council, and we will consider any adjustments needed over the next few weeks. Please support your local shops and stay safe."
Main image:
Cones in the road mark out the wider pavement for pedestrians on Market Street. Photo: David Ford.