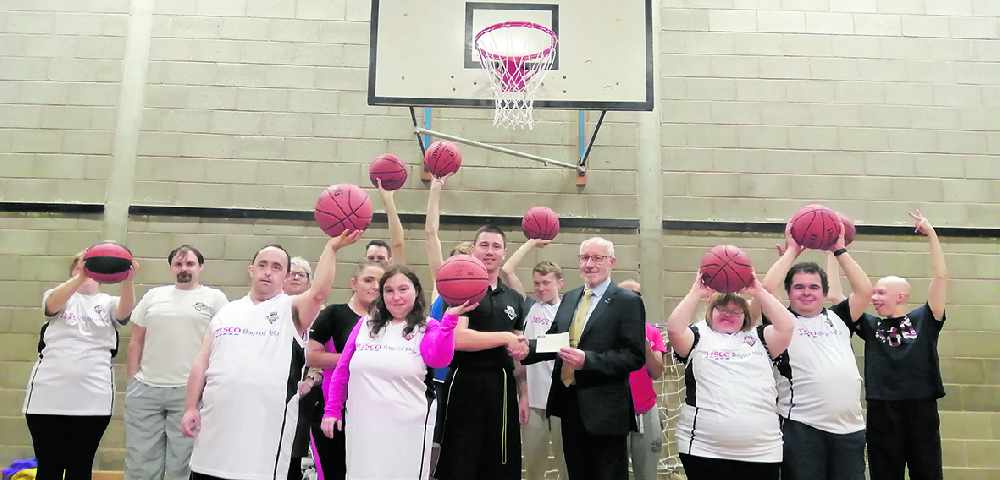 Glossop Rotary Club is continuing to give grants to clubs in the town offering sporting opportunities to disabled young people.
Recently benefitting have been Glossop Town Gladiators Disability Basket Ball team and Glossop Boccia Indoor Bowling Club.
Both are supported by DOSportUK of Glossop - Disability Opportunities in Sport UK - managed and led by Jacob Meakin.
He said: "DOSportUK is a Community Interest organisation specialising in disability sport and physical activity.
"We have one ultimate goal, to provide anyone with a disability the opportunity to participate in sport and physical activity.
"We want to work with all people, groups, and organisations to offer a wide range of sporting opportunities.'
"Anyone is welcome to these sessions and we aim to have fun and learn some new basketball skills every week," he added.
"Working alongside Basketball England and Special Olympics, we hope to develop learning disability basketball and create pathways for people to go on and experience competition at all levels."
Earlier this year a team attended the Special Olympics East Midlands Regional Basketball Competition competing with 12 teams from all over the country.
The result was two members being selected to represent GB at the Special Olympics World games 2019 and hosted in Abu Dhabi, competing with 7,000 other disabled athletes from 170 other countries.
Jacob went on: "Like all voluntary organisations, we struggle for funding and finances to be able to continue to run the two Glossop clubs and support our young sports-people, but are extremely grateful to Glossop Rotary Club for their financial support and interest in what we are doing and what the participants are achieving."
Rotary club president Steve Robertson, who presented the two clubs with a cheque for £350, added: "What a courageous, brave and inspirational group of young people.
"It was a pleasure to give them financial support and join them in a game of Boccia and basketball – despite the fact that they completely thrashed us at both games."
Glossop Boccia Club meet at Whitfield Community Centre, Wednesdays from 5-6pm.
Glossop Town Gladiator Disability Basketball Team meet at Glossop Leisure Centre, Wednesdays at 6.30-7.30pm.