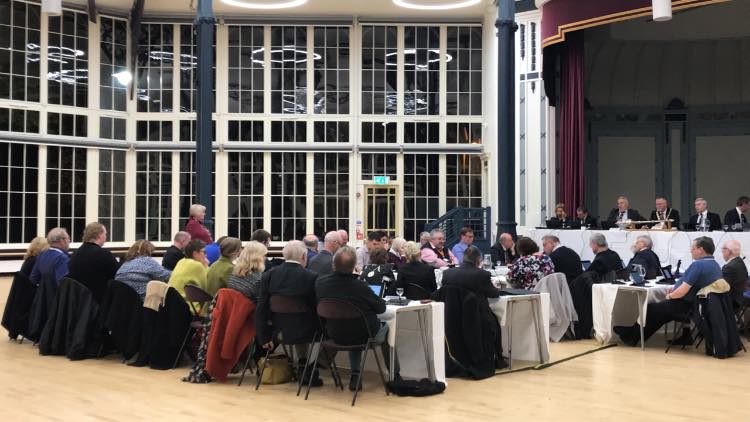 Borough councillors have unanimously voted to declare a climate emergency across the High Peak. 
The decision taken at Tuesday's full council meeting has been welcomed by local politicians, including High Peak MP Ruth George.
It comes amid protests across the borough in recent months, with campaigners showing solidarity with global 'climate strike' protests. A branch of environmental campaign group Extinction Rebellion has also been formed in Buxton to tackle the climate crisis on a local level.
High Peak Borough Council say supporting local people by "building more council houses, increasing apprenticeships, creating thriving town centres and protecting the environment" are "at the heart of their plans" for the next four years.
Councillors approved the Corporate Plan and pledged to work towards a carbon neutral High Peak by 2030.
The Corporate Plan sets out how the Council will deliver its vision – 'Working together to protect and invest in the High Peak with the Council on your side' - focussing on four key themes:
Supporting our communities to create a healthier, safer, cleaner High Peak
A responsive, smart, financially resilient and forward thinking Council
Protecting and creating jobs by supporting economic growth, development and regeneration
Protecting and improving the environment including responding to the climate emergency
The council say underpinning the delivery of the aforementioned themes are their new co-operative values, which will be 'further developed to define how the council does things both as an organisation and an administration'.
These are based around:
Openness and honesty
Ownership
Fairness and respect
Involvement
Council Leader, Councillor Anthony Mckeown, said: "This Corporate Plan sets out a clear statement of our intentions for investing in, protecting and improving the High Peak over the coming four years.
"It is an ambitious programme that recognises the Council's broader role and the need to work in partnership to support local people, enable the development of the local economy and protect our environment whilst ensuring we are getting value for money for council tax payers.
"In setting these priorities we have had the people, communities and businesses of the Borough at the forefront of our plans and we look forward to getting on with delivering our vision and making sure the Council is on your side."
Responding to the declaration of a climate emergency, Executive Councillor Jean Todd, the Council's first Executive Member for Climate Change, said: "Climate change, and how we respond to it, is the key issue of our times and by declaring a climate emergency we have taken the first steps towards tackling it in High Peak.
"The scale of the task cannot be under-estimated, but we are determined to work together to draw up an effective action plan aimed at achieving a carbon neutral Borough by 2030."
High Peak MP Ruth George said: "I'm very pleased that last night our Labour-led Borough Council declared a Climate Emergency in High Peak and will be taking action to reduce emissions in every way, from installing electric vehicle charging points to planting a lot of trees, banning herbicides in our parks and promoting public transport."
Robert Hodgetts-Haley, the Green Party's prospective parliamentary candidate, said: "I am really pleased that the Green Party motion was successful. We are looking forward to leading positive green action in the High Peak."
Commenting before the council meeting, newly-elected Hope Valley Green Party Cllr Joanna Collins, who proposed the motion, said: "There is a climate emergency and 97 per cent of the world's climate scientist agree that the changes to the climate are caused by humanity.
"There is no way to avoid the damaging impact of climate change, but if we act decisively we can still avoid catastrophe. I hope this motion will underpin fast and effective action on climate change and the natural environment, and act as a guide for all future activities of the Council.
"Nearly half of all Councils in Britain have now declared a climate emergency, including those bordering the High Peak in Greater Manchester, Sheffield, Derbyshire Dales and Staffordshire Moorlands."
Robert Largan, the Conservative Party's prospective parliamentary candidate for the High Peak, commented: "I welcome this important symbolic step by the Council and I'm really pleased councillors from all parties voted in favour of the motion.
"Climate change is the biggest global challenge facing us. But real action is needed, that's why I'm proud the Government has overseen a huge increase in renewable energy since 2010 and I'm backing the world leading commitment to make the UK carbon zero by 2050."
Guy Kiddey, the Liberal Democrats' prospective parliamentary candidate for the High Peak, said: "This is an important acknowledgement of the climate crisis, but High Peak needs a leader with the ability to act on the crisis at all levels, from the local to the national and international. That is what I am offering, with pledges including accelerated moorland and lowland conservation; community-owned public transport enabling affordable and reliable services for all; the highest efficiency standards for all buildings; and local renewable power generation.
"On the national and international stage, I work on the economics of climate change, and I am also looking at a new class of legal instruments that could be used to produce the equivalent of a universal bill of environmental rights."