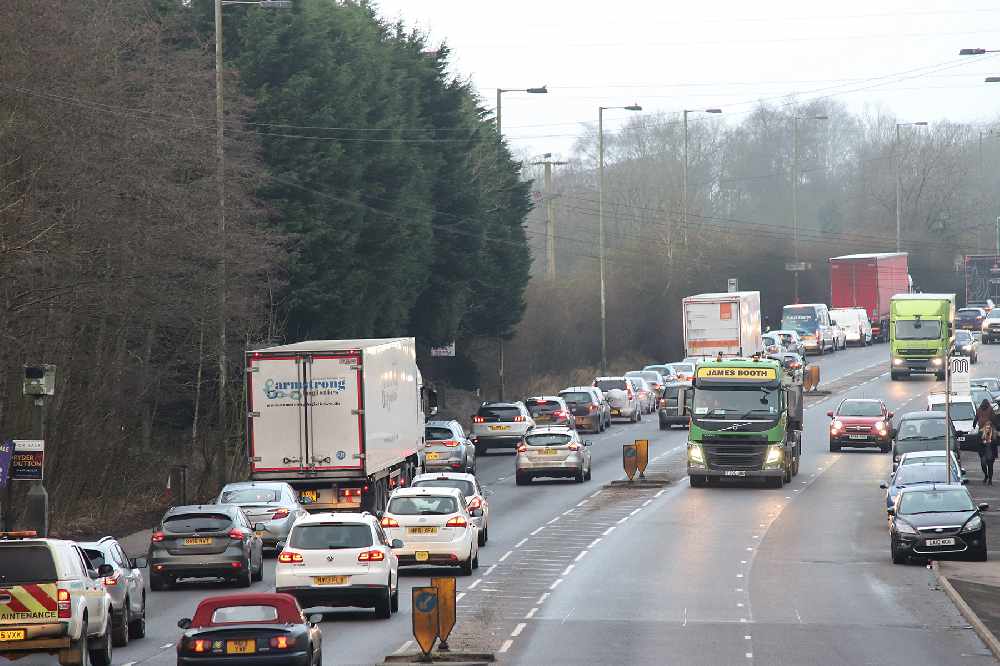 Vehicles on Mottram Moor. Image: Nigel Wood.
Glossopdale Labour have slammed the proposed A57 Link Roads Scheme, claiming it will do nothing to relieve the problems in the area and could actually make them worse. 
The group are putting forward a formal objection to the proposals, stating that they will not address traffic congestion and noise and air pollution in Tintwistle and the wider Glossopdale area.
Peter Allen, Chair of the Glossopdale Labour Party Branch, said: "Everybody recognises the dilemma people are in. On the one hand, you don't want to oppose something that might help alleviate the tremendous problem. Traffic, noise and air pollution is the leading issue for most people in Glossop.
"But as we looked at the plan in more detail, as we have done, we have come to the view that this particular scheme as not going to help but actually going to make things worse."
Now the group has vowed to raise awareness of what they see are the shortcomings and flaws of the proposed scheme and work with other organisations, local residents and councillors.
They have commended the work done on this issue by the Campaign for the Protection of Rural England and are to donate £100 to the campaign.
Mr Allen said Highway England's own figures undermine the scheme and want them to re-think the proposals and instead present a scheme that actually does what it is supposed to do.
"We don't think it warrants an investment of £180 million in a scheme that will be a massive inconvenience whilst it is being built and when the end product is not going to make things better but is probably going to make things worse."
People have until midnight on Thursday 16 September to register their objections and concerns with the planning inspectorate.
Meanwhile, The Green New Deal Group is also opposed to the scheme and volunteers will be out in Tintwistle on Sunday (12 September) leafleting door-to-door urging people to register their objections by the 16th.
Anyone wanting to join the volunteers is welcome to join them They are meeting on Conduit Street at 11am.
The leaflet outlines their view that the A57 Link Roads will not relieve congestion in Glossopdale.
As the proposed road does not bypass Tintwistle they say heavy traffic, noise and pollution will continue to blight residents' lives.
The Group states in their leaflet: "It doesn't have to be like this. A ban on through traffic of lorries across the Peak Park, 20s plenty, more space for pedestrian and cyclists, travel planning, and better rail and bus services would address the current situation without road building and give great value for money."
Read more from the Glossop Chronicle
Click here for more of the latest news
Click here to read the latest edition of the paper online
Click here to find out where you can pick up a copy of the paper