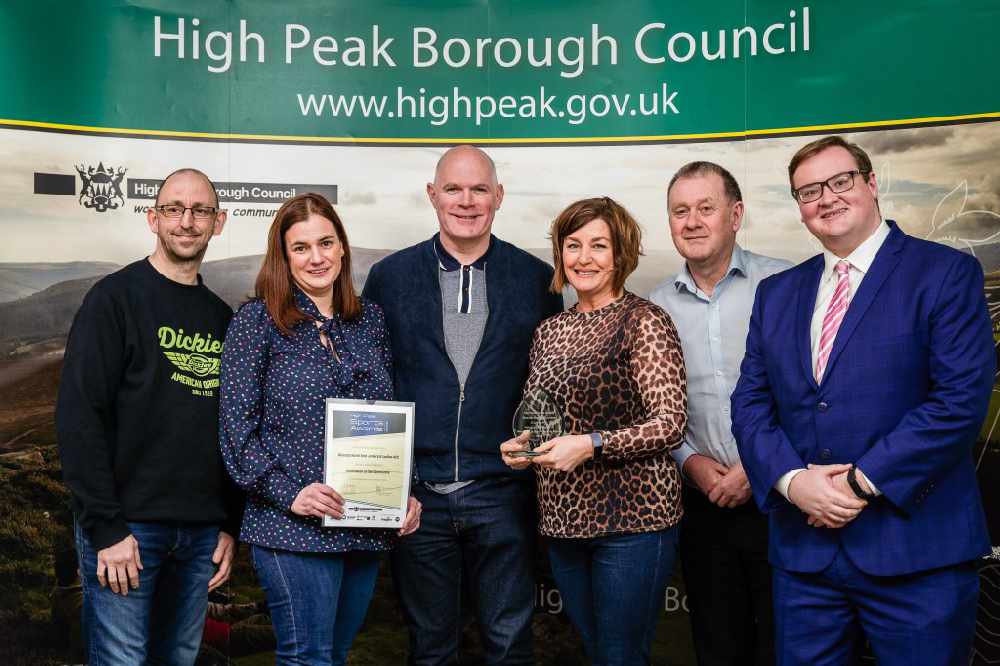 Celebrating sporting success in fields as diverse as wheelchair racing and youth bike trials to swimming and hockey took centre stage at this year's High Peak Sports Awards.
Last week's ceremony, coordinated by High Peak Borough Council in conjunction with the High Peak School Sports Partnership, showcased local sporting talent alongside the often unsung dedication of volunteers and those who offer behind-the-scenes support to our local sporting heroes.
Winners at the ceremony, which was held in the Octagon Hall at Buxton's Pavilion Gardens, included a young female footballer who will be representing England in the U15s team; a British Youth Trials Biking Champion; a cup-winning junior cricket team and an U11 mini-soccer champions football team; a running coach who is helping people achieve their goals; an unbeaten hockey team; a motivational swimming coach; and a wheelchair racer who has overcome some major physical challenges to complete races from sprints to marathons.
Two new awards were introduced this year - the 'This Girl Can' category which reflects national changes in physical activity across the population was won by a girls cricket team; and the 'Innovation Award' which went to a juniors and ladies football club who have had a hugely positive influence on their community.
Marcus Ellis was one of three Glossopians who were runners-up in the Volunteer of the Year category - along with Garry Greenall and teenager Bobby Doodson. Marcus works full time as Deputy Manager at Glossop's Aldi store and is a father-of-two, but still makes time to support his children's school Saint Mary's Catholic Voluntary Academy.
He coaches the Year 5 and 6 basketball team along with Mrs Wilson and has accompanied them to two High Peak tournaments. He harbours hopes of setting up a friendly basketball league within Glossopdale. Any interested schools can contact Marcus by emailing marcusellis@hotmail.co.uk.
Marcus also accompanies the Year 4 swim class at Glossop Baths. He said: "I'm honoured to be nominated and awarded this prestigious award - it was a lovely surprise. I love coaching the team and helping out whenever I can. Mrs Wilson and the rest of the staff at Saint Mary's school are great. It's the look on the kids' faces that makes it all worthwhile. I get some lovely feedback from other parents, but honestly sharing my love of sports is just a pleasure!"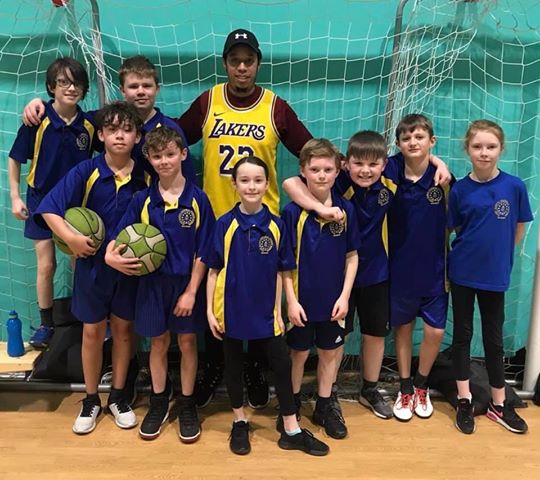 Marcus with St Mary's basketball team
Mrs Sarah Rudd, acting head teacher at St Mary's School, said: "Congratulations to Marcus from the whole school, it's absolutely amazing news. I know that as a school community we really value the work that Marcus has done with the basketball team, and in volunteering with the Year 4 class's swimming lessons. It's lovely to see this being rewarded."
Councillor Damien Greenhalgh, Deputy Leader and Executive Councillor for Leisure, said: "These awards are always inspiring and it's fantastic to pay tribute to the talents and achievements of not just our winners but everyone who was nominated and the families, organisations and volunteers who work so hard to support them.
"Being more active has so many benefits for our physical and mental health and wellbeing and I hope their stories, and the dedication and enthusiasm they show week in week out will encourage others to get involved and get moving!
"I'm delighted that the two new categories introduced this year mirror the way the sporting community is changing to embrace and celebrate sporting achievements by phenomenal women and girls and how the Council is working to support communities and innovate at a very local level.
"I'd like to say a big congratulations to all the individuals and teams represented at the awards – it's a genuine pleasure to shine a spotlight on your successes. I know you will all continue to give your all in the coming twelve months and I'm already looking forward to recognising your achievements at next year's awards!"
The full list of winners is:
Junior Sportswoman (sponsored by the High Peak School and Sport Partnership) – talented Lauren Wilshaw is an outstanding cross country and fell runner but won this award for football. She plays to the Stoke City U16 team in the Midlands League where her skills have impressed so much that she's recently been selected for the England U15 squad.
Junior Sportsman (sponsored by the High Peak School and Sport Partnership) – Harry Turner showed a natural flair for bikes form a young age and entered his first competition at the age of six. He's currently the 2019 ACE British Youth Trials Biking Champion and will compete in the FIM Trial European Championships where he hopes to improve on his tenth position of last year.
Junior Sports Team (sponsored by Tarmac) – was won by two teams. Inspired by last summer's England World Cup Victory, Buxton Cricket Club U11 Hardball team won the Dales-Section League and then went on to win the Regional Cup with a team where many players were playing above their age groups and number were just eight years old! Our other winners, Buxton Junior School Girls Football Team, were only formed at the beginning of the academic year and have proved unstoppable finishing in gold medal position in three consecutive competitions culminating in the title of Derbyshire Girls U11 Mini-Soccer Champions.
Club of the Year (sponsored by Imagine Radio) – also saw two teams named winners. Hayfield Football and Community Sports Club was founded in 2008 to establish whether there was demand for football in the local community. With 12 teams for the 2019/20 season the answer was a resounding yes! The club focusses on both player and volunteer development and has supported and funded 19 coaches to FA Level 1, five coaches to Level 2, 12 FA junior football leaders courses for 12 to 14 years olds and three FA referees. Tintwistle Athletic Football Club provides opportunities to play, coach, referee an support all aspects of grassroots football and is the hub of the local community. They have redeveloped the football centre on West Drive and now have a fantastic clubhouse which is used for a wide range of community events. This year the committee has taken on the running of the Tintwistle Gala and institution for over 100 years that was in danger of ending.
Coach or Manager of the Year – qualified running coach Barry Sherwood continues to bring the joys of running to more and more people. His inclusive club has sessions aimed at all abilities from 'Walk and Talk' through to advanced training for those running longer events. This motivational coach is helping people achieve things they never dreamed possible.
Senior Sports Team (sponsored by the University of Derby) – after languishing at the bottom of their leagues for many years, a change in attitude and thinking has seen Buxton Men's Hockey First Team promoted up a league with another promotion on the cards. At the time of their nomination for this award they were unbeaten.
Volunteer of the Year – Catherine Robson is chair of Glossop Amateur Swimming Club and has led the club and committee through a challenging 12 months. Faced with falling numbers a reduced volunteers she has steered the club to a position where they now have a healthy committee and increased coaches, young aquatic volunteers and rising memberships. She has now partnered with both the ASA and other clubs to enable expansions of membership for both younger swimmers and master swimmers.
This Girl Can – since its launch in 2015 this national campaign has helped more than 500,000 women and girls to become more physically active so it's fitting that winners Hayfield Girls Cricket Team embodies all that's positive in promoting women to participate. Based at the cricket club it offers girls from across the High Peak the opportunity to learn cricket at all levels. In 2019 the club entered an all-girls team into the U13 Derbyshire and Cheshire Cricket League and their team spirit and support for each other saw them named Hayfield Cricket Club's Team of the Year – a very special achievement.
Innovation Award – Glossop North End Juniors and Ladies Football Club has has a positive impact on the community it serves and makes a significant contribution to football across the High Peak. Amongst its key achievements are increasing participation in girls football to over 100 players and seven teams; an inclusive ability counts football session enjoyed by over 20 PAN disability players; and a Just Play veterans over 35s team. The club now has over 35 teams playing in a number of local leagues with girls, boys and mixed teams covering all ranges of ability.
Sports Person of the Year (sponsored by HMC Printers) – wheelchair racer Pete Lloyd has battled through some major physical challenges in pursuit of physical achievement. He's now training regularly with Stockport Wheelchair Racing and has completed the Manchester 10k, half and full marathons and sprint races.
Service to Sport – Jill Crossland started with just a Tintwistle field and has built up to two of the best football pitches in the area along with a fabulous club house. Thanks to her hard work every week over 250 young people and 60 adults have the opportunity to play football. She's now retired after 32 years of teaching and has set her sights on establishing a new girls team and a walking football team for older players.