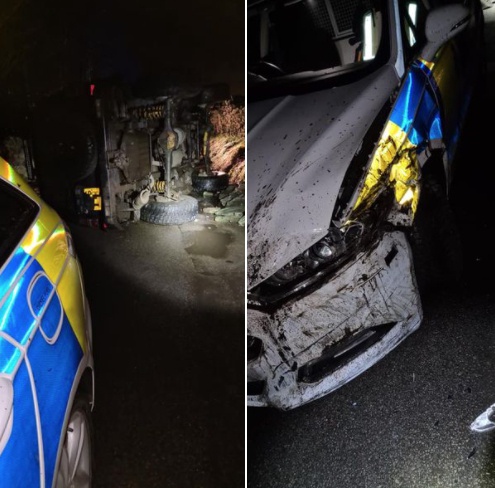 A police officer was injured and a vehicle ended up on its side as five people were arrested on suspicion of conspiring to burgle homes in the High Peak. 
At around 3.20am on Monday morning (11 January), a police constable was driving in a marked vehicle with his police dogs when he saw a Land Rover in Rowarth.
He believed the driver was acting suspiciously and followed it to a farm.
The Land Rover allegedly drove at the police car, injuring the officer and causing significant damage to the car. The police dogs were not hurt.
Five people were arrested from inside the Land Rover. They are men aged 29, 30 and 39 and two 16-year-old boys - all from Stockport.
Police say they remain in custody and are being questioned.
A spokesperson for Derbyshire Constabulary said that officers believe the Land Rover is from Liverpool and are "making enquiries into who is the rightful owner".
Derbyshire Police's Road Crime Unit had earlier said that the 'stand off' ended when the driver being pursued tried to squeeze past and subsequently toppled over.
Sharing images of both vehicles in the aftermath, the force's Road Crime Unit tweeted on Monday morning (11 January): "Fails to stop for High Peak Response before a stand off on a single track country lane with Derbyshire Police Dogs Section.
"Disco forces through but has zero talent and topples over. Five in the cells. Driver and dog are fine. The police car..."
#highpeak fails to stop for @HPeakResponse before a standoff on a single track country lane with @DerbysDogPolice
Disco forces through but has zero talent and topples over

5 in the cells

Driver and 🐕 are fine! The police car 😬😡#teamwork #OpBlaster #youcantdriveupawallmate pic.twitter.com/QwH7ug4b7k

— Derbyshire Road Crime Unit 💙 (@DerbysSALCU) January 11, 2021