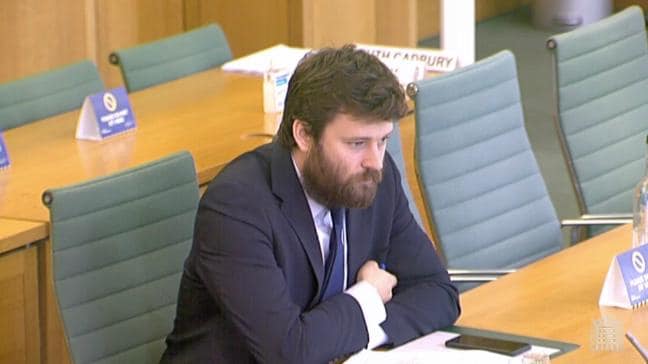 Improving public transport links between the High Peak and Greater Manchester and additional late-night services were on the agenda in a virtual meeting of local politicians. 
The Transport Select Committee - of which High Peak MP Robert Largan is a member of - recently held an oral evidence session with the Mayor of Greater Manchester Andy Burnham, as well as Liverpool Mayor Steve Rotheram and Tim Bowles, who is Mayor of the West of England.
As well as discussing the impact the coronavirus pandemic has had on local transport, the subject of connectivity between the High Peak and Greater Manchester was also discussed.
MP Largan (pictured) urged Andy Burnham to look at how public transport timetables could be changed in the future to help night-time economy businesses such as pubs, restaurants and theatres, which have all been badly hit by the pandemic.
Mr Largan also highlighted that services from Manchester to the High Peak don't run late enough into the evening, which he said negatively impacts both the High Peak and Greater Manchester, as well as the lack of a direct bus route from Glossop to Tameside Hospital.
The High Peak MP also asked Mr Burnham to work more closely with Derbyshire County Council to make it easier for people to cycle safely between the Peak District and Greater Manchester.
In response, Mr Burnham confirmed that there are plans to create high quality cycle routes from Manchester to Sheffield, including the High Peak, and committed to working with the High Peak MP and the county council.
Mr Largan said: "While we have no say in the election of the Mayor, the decisions taken by Andy Burnham have a significant impact on many High Peak residents.
"I questioned the Mayor on a whole range of topics, focusing on the need to improve transport links between Greater Manchester and the High Peak. I'm really pleased that the Mayor has agreed to work with me. By working together, I know we can emerge from this crisis with stronger local services for the High Peak."
The full hearing can be watched here: https://www.parliamentlive.tv/Event/Index/1303d0ee-6aac-4f94-9c40-53c99eb8709.