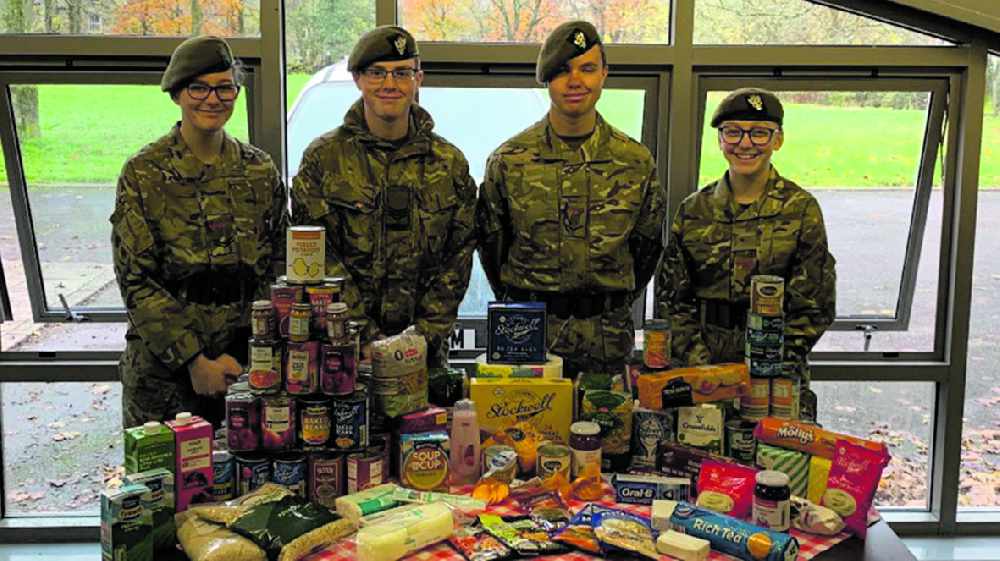 Glossop Army Cadets have been making sure no one goes hungry this Christmas - with 31 other detachments from across Derbyshire, they have collected hundreds of food items for foodbanks county-wide.
The idea had come from a cadet force volunteer who was himself given a donation of food many years ago.
Colour Sgt John Allen of the Chesterfield area was given a carrier bag of Christmas food from a friend after becoming unemployed in 1984 as a result of the miners' strike.
With this in mind and Christmas approaching, John shared his story on Facebook and asked if a collection for local foodbanks, supported by the Derbyshire Army Cadet Force, would be a good idea.
Touched by John's story of previous hardship, 32 detachments from around the county, spanning from as far north as Glossop to as far south as Long Eaton, jumped into action.
They halted their subscription fees of a £1 a week and instead brought in non-perishable food items.
Charlotte Mendes-Kelly, co-ordinator of Glossopdale Foodbank, thanked the cadets with a certificate of appreciation, stating: "Glossopdale Foodbank is lucky as we are well supported in our area, but there are many foodbanks that are not as fortunate as us, especially at this time of year.
"In total, in November 2019 alone, we served 2,304 meals for 155 adults and 101 children," Charlotte commented.
Derbyshire Army Cadet Force is currently recruiting adult volunteers, with no experience necessary.
A spokesman said: "You could gain qualifications and make a positive difference in a young person's life."
If you want to learn more just visit armycadets.com.