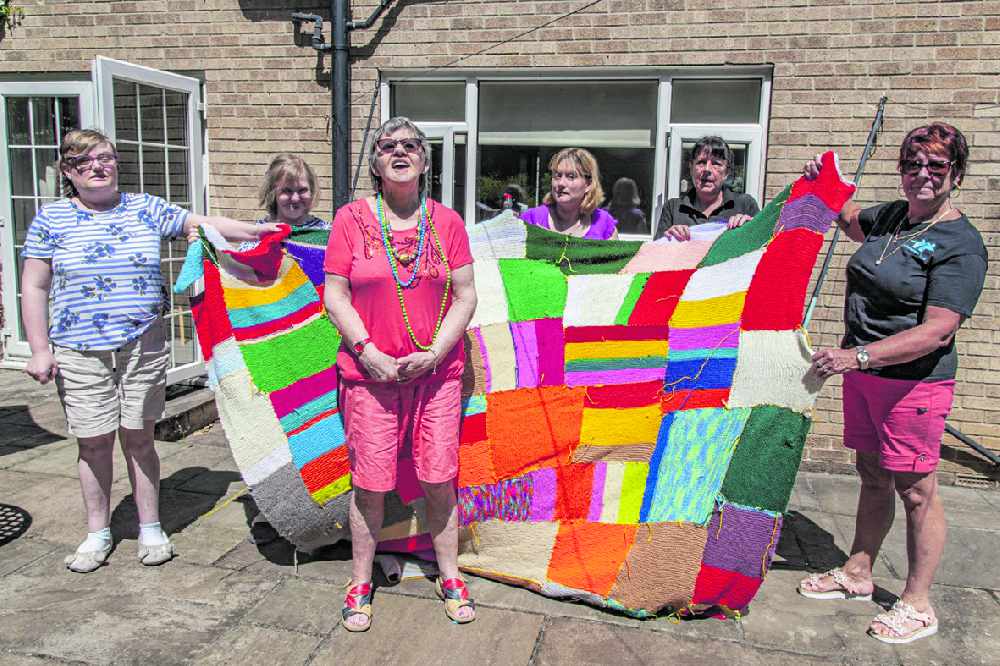 Janet Malpass loves to bring a little colour to people's lives and she has been busy making a rainbow blanket to prove it.
Janet is a keen knitter and decided that she would start to knit the blanket while having to shield due to her being a vulnerable adult.
St Christopher's Trust, on Hollincross Lane, has been supporting people with a learning disability since 1954.
It has a mission statement to maximise ability and minimise disability.
Janet came to the trust when she was 15 years old and lived in its residential home before moving into one of the trust's community houses in 2008.
Michelle Fletcher, the trust's HR manager, said: "Janet, who will be 69 this month, has been with us for the grand old time of 54 years.
"In the early days she attended school here and then went on to sew the mail bags and knit dish cloths.
"When I first joined in 2007, Janet used to work in the kitchen and support the cook and 12 years later she likes nothing more than to come to the offices at Bradbury House and help us out, before going back to Derby House to visit old friends.
"She always helps out at our coffee mornings, and attends Alderbrook three times a week."
Commenting on the colourful blanket, Michelle says Janet told her that she will keep on knitting until the lockdown is lifted.
She said: "It's an amazing sense of dedication and commitment, but hey that's our Janet.
"Janet has been supported by her staff team and her friends that live with her, however the majority of the work has been done by Janet herself," Michelle added.
"When I spoke to Janet the other day to congratulate her on her blanket, the first thing she said to me was 'when this is all over can I come to the office to help out?'
"Janet has, over the past few years, enjoyed cruising and sure knows how to enjoy life.
"Janet is vibrant and fun to be around and never stops chatting.
"We could not be more proud of Janet and her rainbow blanket - what an achievement."
Main image:
COLOUR PARTY: Janet Malpass (centre) proudly pictured with the blanket she is making and her friends at home in Simmondley.