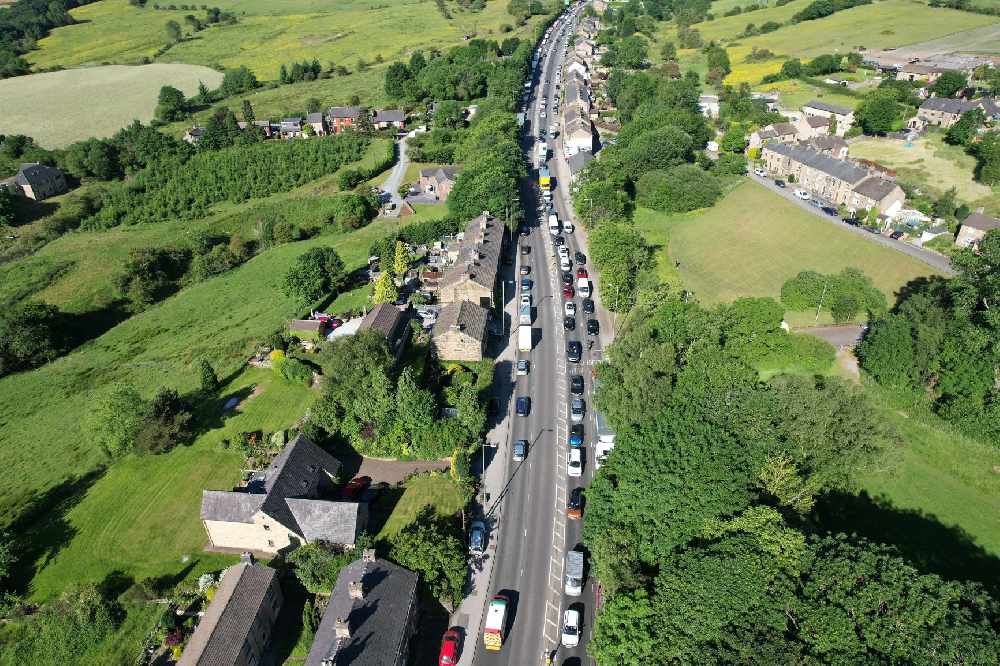 Drone footage of congestion through Mottram. Image: Tameside Council.
Two congested routes through Mottram and Hollingworth will be included in the Clean Air Zone set to be introduced in Greater Manchester next year. 
Vans, buses, coaches, taxis, private hire vehicles and lorries that fail to meet emission standards will be affected when it's due to come in on 30 May 2022.
Heavy goods vehicles, buses and coaches would need to pay £60 a day to drive within the zone, with vans paying £10 and taxi and private hire vehicles paying £7.50.
Failure to pay the charge will also result in a £120 fine, on top of the daily charge. But private vehicles, including cars, will not fall under the Clean Air Zone - which is a requirement from central government.
For the first 12 months of the scheme, only buses and heavy goods vehicles will need to pay the daily charge. All other vehicles will not be affected until May 2023.
The Clean Air Zones do not include motorways and trunk roads, run by Highways England, which could have led to heavy goods vehicles (HGVs) choosing to travel through Tintwistle, Hollingworth and Mottram in order to avoid the charge.
In most places, it means the motorway network but Market Street, Mottram Moor and Hyde Road are all trunk roads run by the company which operates, maintains and improves England's motorways and major A-roads.
However, following discussions between Stalybridge and Hyde's Labour MP Jonathan Reynolds, High Peak's Conservative MP Robert Largan, Tameside Council, Transport for Greater Manchester and Transport Minister Rachel Maclean, it's now been confirmed that the trunk roads in Mottram and Hollingworth will be included in the Clean Air Zone.
It's thought to be the only exception to the general clean air zone rules anywhere in the country.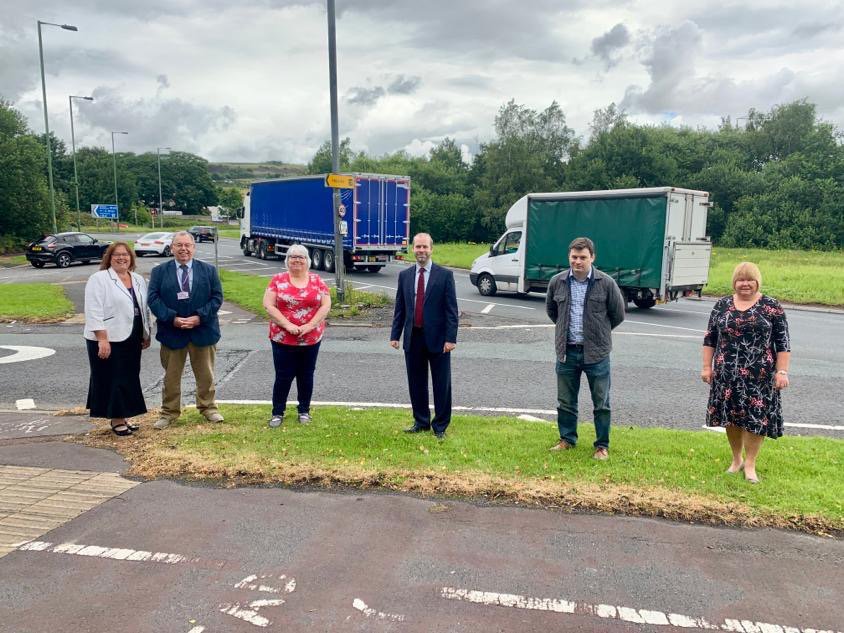 BYPASS SUPPORTERS: Pictured previously with the heavy traffic of Mottram behind them are (left to right): Glossopdale councillors Jean and George Wharmby, Longdendale councillor Jacqueline Owen, MPs Jonathan Reynolds and Robert Largan, and Longdendale councillor Janet Cooper.
'We're looking at a huge improvement in quality of life for people in these villages'
MP Reynolds said he is "extremely happy" about what he describes as "very good news for the Longdendale Valley".
He commented: "Instead of a very bad outcome, we now have a very good one. This will be the one of the biggest improvements in local air quality in Hollingworth and Mottram we have ever seen.
"Combined with the Bypass being built around Mottram, we are looking at a huge improvement in quality of life for people in these villages. As someone who has lived on both Mottram Moor and Broadbottom Road, I understand the difference this will make.
"I would like thank Councillor Brenda Warrington, Leader of Tameside Council, and Councillor Andrew Western, Leader of Trafford Council, who has led on this at a Greater Manchester level for their unstinting support in this matter. I would also like to thank the Transport Minister for listening to and engaging with us in order to sort this out."
'I hope this will lead to less HGV traffic through Tintwistle and Glossop'
High Peak MP Robert Largan also said he was "extremely pleased" with the inclusion of the A57 and A628 in the Clean Air Zone.
He commented: "Instead of a terrible outcome, we now have a good one, which should lead to fewer HGVs driving through either Glossop or Tintwistle. There will now be an obvious incentive for older HGVs to travel via the M62 rather than the Woodhead Pass or the Snake Pass.
"I've always said that I'm prepared to work across the political divide to put our area first. I'm very glad the Government have also been prepared to listen and agree a practical solution for our area.
"Along with the Mottram Bypass & Glossop Spur Road, this is a very positive step forward for the whole area, leading to reduced traffic and better air quality.
"I'm keenly aware that the current bypass plan doesn't give a proper traffic solution for Tintwistle. That's why I'm still fighting for phase two of the bypass to be built around Hollingworth and Tintwistle too.
"I'm also working with Tintwistle Parish Council on proposals to look at making Tintwistle part of Highways England's "village gateway" scheme to introduce significant traffic calming measures to the village.
"I'm concerned about the impact the clean air zone will have on lots of smaller businesses like taxis and will be working to provide support and assistance to anyone who is affected. If you have any questions about this, please do contact me."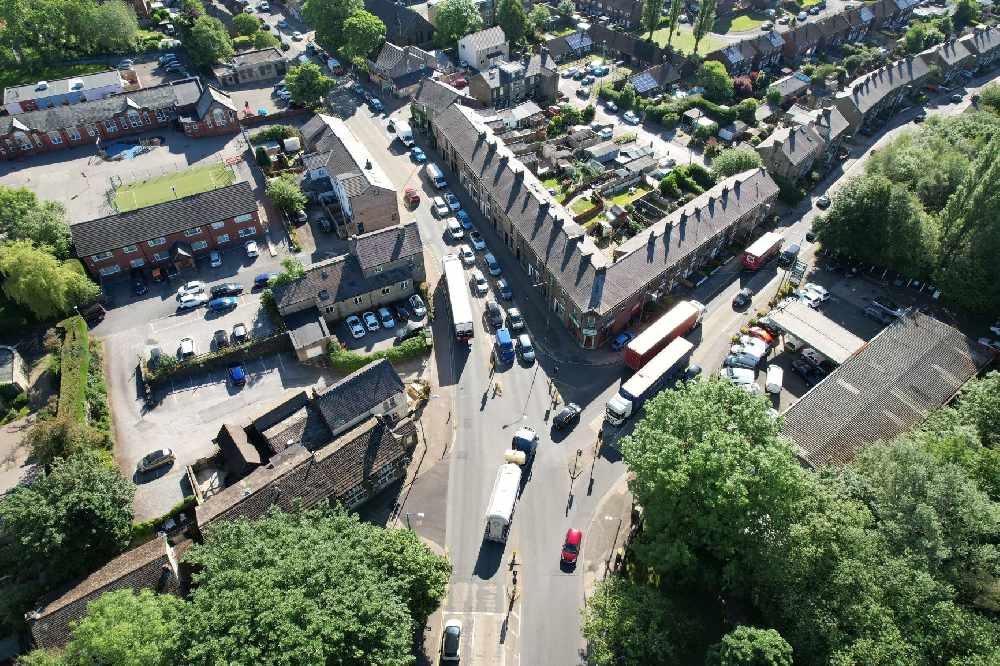 Drone footage of congestion through Hollingworth. Image: Tameside Council.
'This is probably the most significant step to improving public health in Longdendale in decades'
Tameside Council's leader says it will help protect all residents from the harmful effects of pollution.
Cllr Brenda Warrington said: "Tameside Council's officers, working in partnership with the Greater Manchester Combined Authority and Transport for Greater Manchester, have worked extremely hard to successfully make the case to the government for their inclusion and I'm grateful that we, and the local community, have been listened to and this decision taken. I'd like to thank everyone involved for their hard work and diligence in achieving this fantastic result.
"This is an important measure in bringing NO2 levels on local roads within legal limits as soon as possible and improving the air quality in Longdendale, alongside the rest of Tameside and Greater Manchester, bringing vital health and environmental benefits.
"These roads have historically been the most polluted in Greater Manchester and this is probably the most significant step to improving public health in Longdendale in decades. We now eagerly await progression of the long-awaited Mottram Bypass, which will take traffic on the A57 away from our villages, reducing congestion and further improving air quality."
The zone was supposed to come into effect this year but was delayed due to the Covid-19 pandemic and a standoff between councils and the government over funding.
But Greater Manchester mayor Andy Burnham has confirmed that the combined authority has received the £150 million it had asked for to help businesses and individuals with the transition.
Most of the funding – £120 million – will help people pay for new cleaner vehicles or upgrade their old ones, while the rest will pay towards infrastructure such as cameras to monitor the roads.
According to Highways England, around 25,000 vehicles travel through Mottram every day - including over 2,000 HGVs.
Long-suffering residents of Mottram and surrounding areas have waited over 50 years for a bypass to be built, amid increasing traffic problems on the congested route between Manchester and Sheffield.
But after a host of public consultations, the appointment of a contractor last year and the submission of a planning application due later this month, the crucial road is finally due to begin construction in spring 2023, at a cost of £228 million.