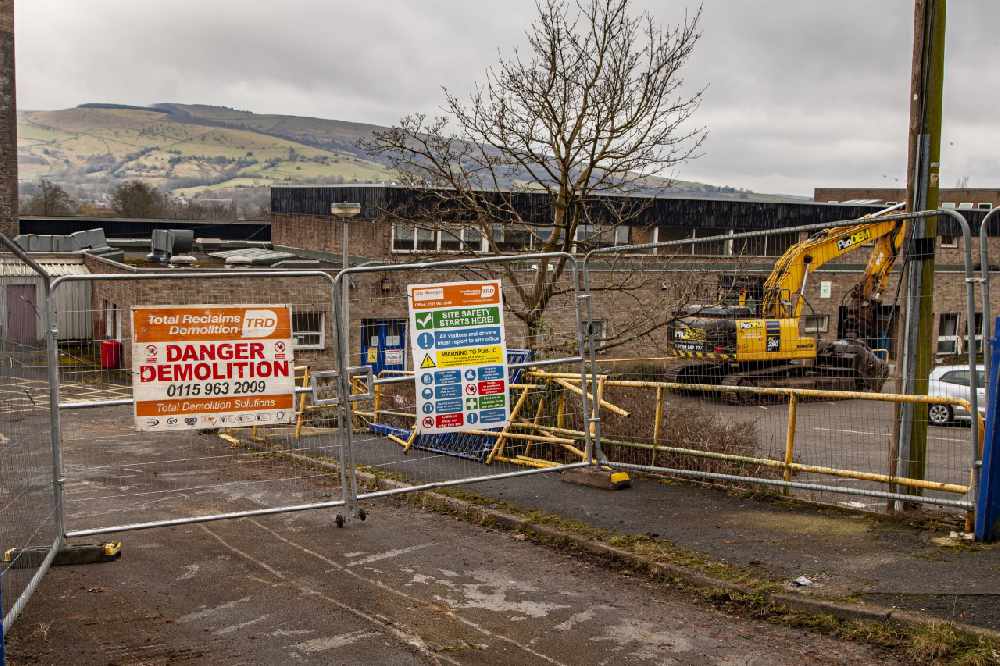 A Glossop action group says it is being kept in the dark over the future of the former community college site on Talbot Road.
Glossopdale Site Residents' Group - whose members' homes border the land - says it was not officially told when building demolition was starting - although it began on Monday.
Group representative David Quinn said: "We have been active in lobbying Derbyshire County Council and High Peak Borough Council since the Talbot Road school closed in September 2018. Our lobbying refers to the future use of the site and a desire to keep residents up to date with the proposed use.
"In January we received information from security at the site that their contract expired in two weeks and then the site was to be demolished.
"This information had never been relayed to us by DCC or HPBC. As far as we were concerned there were still very real issues with wildlife on the site, toxins in the ground and asbestos within the school buildings.
"Over the last two and a half years we have had dialogue with DCC and HPBC officials in connection with the future use of the site. It's probably fair to say the dialogue has been one-sided and replies or information from the authorities has been scant. We have been passed from one official to the other, replies from one bear no conformity or resemblance to what the previous official has said. Promises to keep the group up to date with information have been broke. It's only by our own tenacity we discover information appertaining to the future use of the site."
A spokesperson for Derbyshire County Council said: "We are surprised to hear that Mr Quinn feels we haven't kept him informed of our plans for this site as we have responded to his requests for information and had an email from him thanking us for our response. We are sorry that he still feels he has not had enough information about this project. It was always our intention to develop the old site to ensure we get best value for money for the tax payer.
"The demolition is subject to planning consent. All the necessary surveys, consultations and submissions have been undertaken to the satisfaction of the planning authority, which is High Peak Borough Council. The planners have consulted with Derbyshire Wildlife Trust and have issued approval notices. Any concerns on wildlife have been investigated by ecologists. The asbestos removal and removal of building materials pose no threat to the health and safety of residents. The asbestos will be removed by a licenced contractor.
"We set up Concertus Derbyshire Limited (CDL) as a joint venture company with Suffolk County Council last year and parts of our property services have transferred in. Some of our officers are therefore directors of this joint venture company and it is wholly owned by Derbyshire and Suffolk County Councils.
"CDL provide technical advice to Derbyshire County Council, and are managing the demolition on the council's behalf. They will also provide assistance with the marketing of the site once the demolition is complete. Any decisions relating to the sale of the former Glossopdale school site will be taken by Derbyshire County Council.
"We always aim to be fair and transparent. Information regarding our joint ventures and other partnerships is on our website or available on request."
Image: John Parkins
Read more from the Glossop Chronicle
Click here for more of the latest news
Click here to read the latest edition of the paper online
Click here to find out where you can pick up a copy of the paper