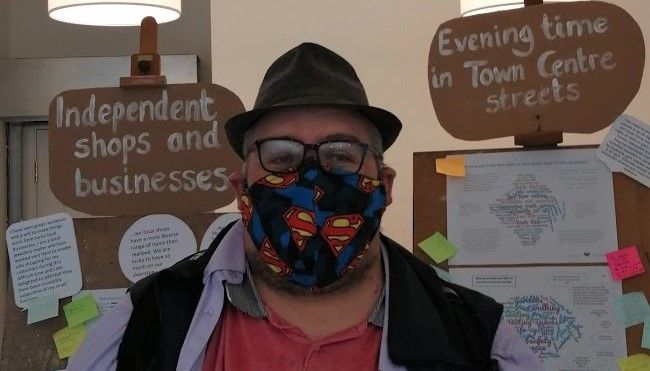 More than 50 'Millers' visited a community pop-up to celebrate why it's great to live in New Mills.
During June, Bounce Forward New Mills 2021 gave residents and businesses a chance to share what changes lockdown has made in how they shop and spend their downtime in the town and the surrounding area.
They were asked to share their lockdown revelations, their thoughts on what would make New Mills a better place for everyone who lives there and what actions the community would like to take to improve the town and its surroundings for locals and visitors alike.
Pop-up plans
At the 'pop-up', leaders of both New Mills Town Council, Paul Frost, and High Peak Borough Council, Cllr Anthony McKeown (pictured), saw what might be the next points for action.
Signage, seating, street lighting, planting, a town centre parklet and youth facilities were some of the options discussed.
The survey also looked at what facilities the town wanted to see.
The most popular choices were a family-priced Italian restaurant and a zero-waste shop, which is already being created.
Visitors added their thoughts to the survey's 'word clouds' on post it notes. The final reports will be shared with the town, borough and county councils.
Creative
The survey questionnaires are available to anybody who feels that they would like to do this for their own village or town.
Esther Morrison, Director of Paprika – the Food Consultancy and a member of Bounce Forward New Mills 2021, said: "New Mills is a creative town with people who are passionate about its potential and its history.
"They know that the best way for us to get things done is to do it ourselves. Now we can get started!"