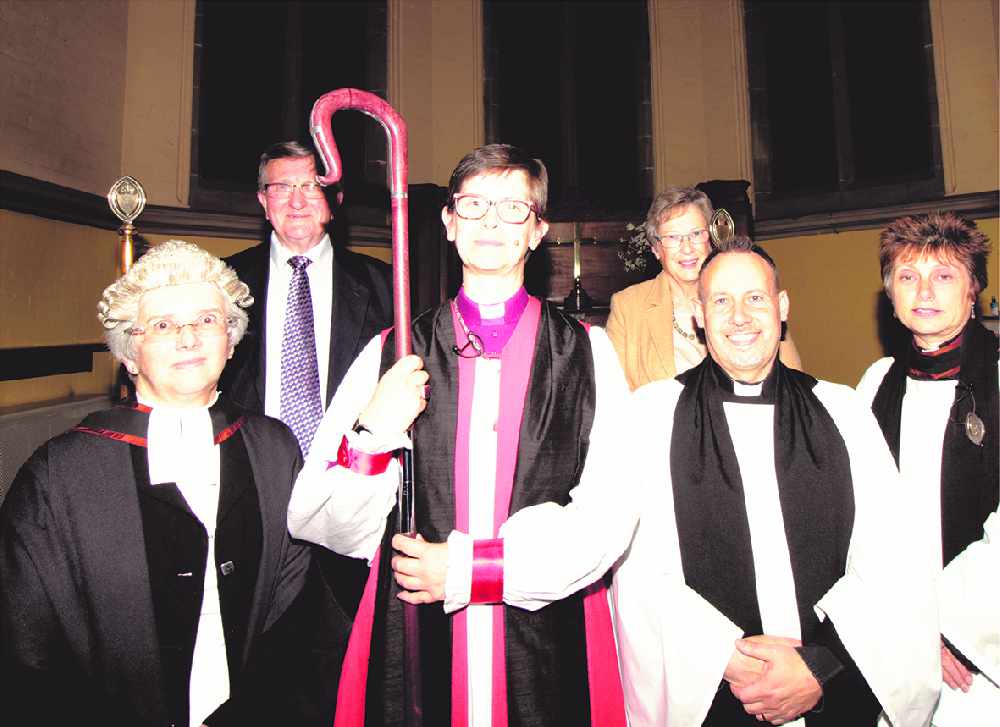 The Bishop of Derby, the Rt Rev Libby Lane, 'returned home' for an extra special service.
Bishop Libby was installing the Rev Nick Gurney, her first Priest in the Diocese, and it was to Holy Trinity which she joyously described as her 'home parish church.'
Having grown up in Glossop, Bishop Libby, who hit the headlines by becoming the first female Bishop of the Church of England, returned to Dinting Vale in Glossop, where her parents still live, to license her very first vicar.
It was a warm welcome to the Rev Gurney, the church of Holy Trinity haven't had their own dedicated vicar for 40 years.
Rev Gurney, a former radio presenter and producer, who was previously the vicar of Boulton at St Mary the Virgin Boulton-by-Derby on the edge of Derby city centre, was licensed in a very special service attended by many members of the community and local dignitaries including the High Peak Mayor and Mayoress Cllr Ed Kelly and Mrs Kelly.
The licensing also marked a departure from previous installations in that the Rev Gurney takes on a dual role for the local community, not only as the Priest-in-Charge for Holy Trinity, Dinting Vale, but also as a Pioneer Missioner to Glossopdale.
This role will help the community of Glossop, Gamesley, Charlesworth and Hadfield, and support and develop all the good local and church work that happens across the area.
Rev Gurney said: "I'm really excited to be in this wonderful part of the country and with the great people around.
"I can't wait to get to know and help to make this place an even better place for us all to live and be in," he commented.
Rev Gurney's first service as vicar will be this Sunday, which is the parish Harvest Festival at 9.30am.
Everyone is welcome and all donations will go towards the local food bank.
Rev Gurney replaces Robert Heeley, who left the parish at the end of September.
Main image:
A FIRST FOR DINTING: Registrar, Nadine Waldron; Bishop of Derby, Rt Rev Libby Lane; Priest in Charge of Holy Trinity and Pioneer Missioner of Glossopdale, Rev Nick Gurney; Archdeacon of Chesterfield, the Venerable Carol Coslett. Back row Keith Hough and Christine Schofield, churchwardens of Holy Trinity.