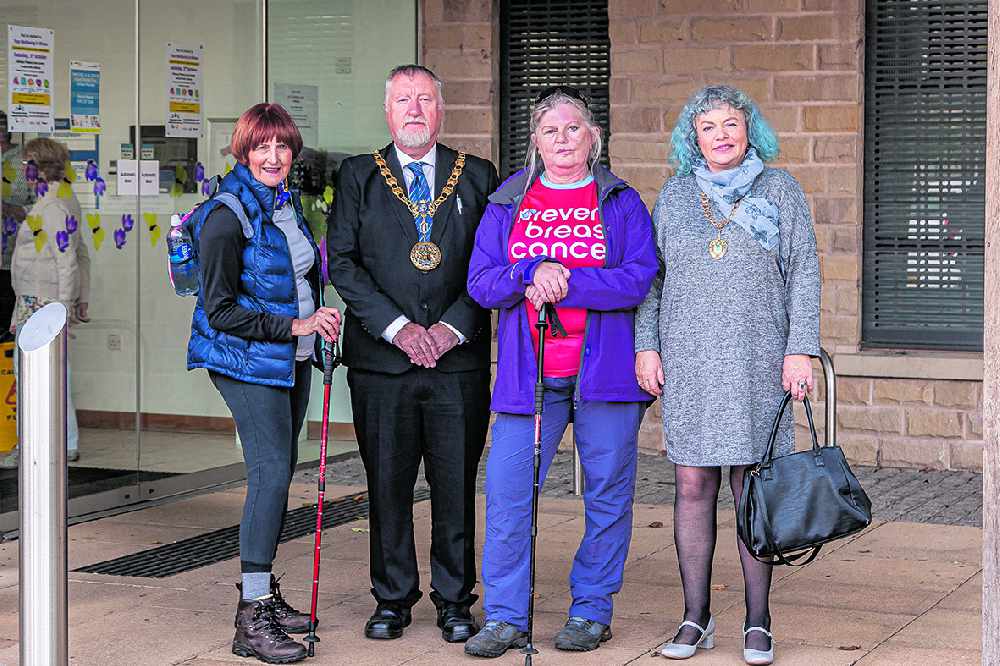 A Simmondley woman who successfully recovered from breast cancer will be embarking on a challenge of a lifetime to a Mount Everest Base Camp next month to help stop others suffering from the disease.
Debbie Lees, 61, was diagnosed with breast cancer two days before Christmas in 2002 and had a double mastectomy as part of her treatment.
"I have had a full bilateral (both sides) mastectomy with reconstruction," she said. "My breasts are now made up of implants and transplanted tissue from my back."
Now, she will be trekking to the base camp with her friend Elaine McDonald, and 30 other people, to help raise vital funds for Prevent Breast Cancer.
"I decided to do the trek just a few months after my 60th birthday," explained Debbie, who has two children – Martyn, 37, and Charlotte, 34 – and two grandsons – Ted, 12, and Tommy, four.
"I thought my knees and hips will start going soon! I wanted to do something to continue to raise awareness and I get newsletters from Prevent Breast Cancer and saw the trek.
"I usually don't like doing things where you ask people to sponsor you. I would only do it if it was doing something I wouldn't normally do to challenge myself and I'm definitely not a walker normally. I would describe myself as a car to the bar girl.
"People have been saying 'you will love it' but I'm not so sure! I have been walking around Glossop in preparation as we have lots of nice hills around here. I've done a couple of training weekends in the Lake District with around 20 of the people who will be doing the trek, so that's been good but I still wouldn't say I love it.
"I've done a few things before to support Prevent Breast Cancer, like painting fingernails pink. October is usually breast cancer awareness month and I've seen pink buses going around Manchester."
One in nine women, and one in 1,000 men, in the UK will develop breast cancer during their lifetime. The trek has been arranged by Prevent Breast Cancer, who claim to be the only UK charity dedicated to the prevention and prediction of the disease.
Coronation Street actress Sally Dyvenor, who plays Sally Webster, is also taking part as she celebrates 10 years since getting the all-clear this year.
Debbie, who has had her own business as an independent travel consultant since 2006, told the Chronicle: "We will be flying to Nepal on 9 November. We will stay that night at Kathmandu before flying to Lukla, which is considered to have one of the world's most dangerous airports as you are flying towards a cliff! We will then do a short walk after landing before getting going with the trek.
"The good thing is we have a few days off in between which helps us acclimatise and prevent altitude sickness. The trek is around 80 miles – which is half uphill and the other half downhill. Coming down will be a lot easier!"
Debbie, who has lived on Pennine Road for 33 years, will be supported on the trek by her friend Elaine, from Whaley Bridge.
"I met Elaine at a network meeting – she's a soroptomist," Debbie said. "Soroptomists are an international ladies group who work to raise money and awareness for girls and women worldwide and have a club based in Buxton.
"A few years ago, I got into public speaking and doing motivational talks, about the various challenges I have faced. As well as the Breast Cancer I was born paralysed on the left side of my face so my life has been pretty eventful. Elaine asked if I would talk to the soropomists group, so I did. I actually enjoyed it that much that I joined the club myself and me and Elaine became good friends.
"Funnily enough, I was on the phone to her at the time when I signed up for the trek and I said to her 'you'll never guess what I've signed up for?' and we chatted about it and then I suggested 'why don't you do it too?'
"She agreed so she's doing it to support me more than anything. She won't let me say how old she is but she's also got a significant birthday next May! She's older than me!"
Debbie and Elaine have been supported during the journey by Cllr Ed Kelly, the current Mayor of the High Peak.
"Ed has been really supportive of us," added Debbie.
"Me and Elaine have been volunteering in The Bureau in Glossop for a while. I'm a mentor for a young lad from the Bureau who has got Aspergers. Ed obviously works there so we have helped Ed and he has helped us. I'm also going to help him arrange the Mayor's ball next year."
Debbie and Elaine have so far raised £1,265 and want to raise as much as they can in the coming weeks.
To donate, visit their Virgin Money Giving page: https://uk.virginmoneygiving.com/Team/MadOldBirds.
Main image:
Everest fundraisers: Elaine McDonald (far left) and Debbie Lees (second from right) with High Peak Mayor Cllr Ed Kelly (second from left) and Mayoress Lynda Kelly (far right)