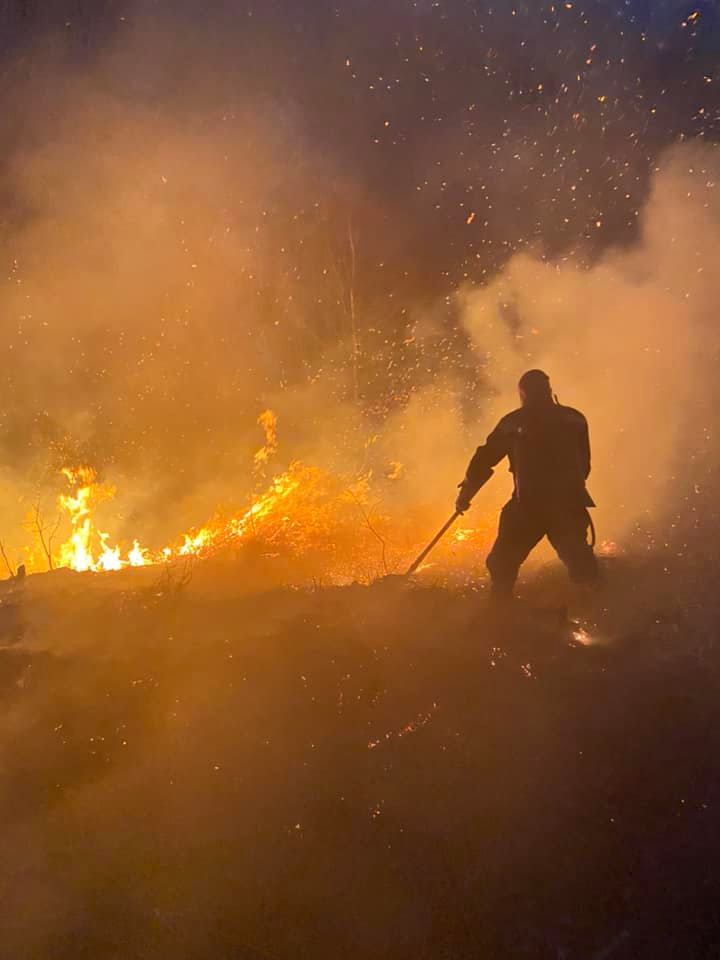 Glossop's firefighters are once again desperately pleading with the public to stay indoors and "stop creating unnecessary work" for them, after tackling two more moorland fires in just one evening.
At around 8pm on Good Friday (April 10), fire crews from Glossop's Whitfield Park station and Hyde were called out to a moorland fire just off the A628 on the Woodhead Pass, which was well alight when they arrived and they extinguished it with beaters. Police think this fire, close to the entrance to the Woodhead Tunnel and covered 200 sq m of moorland, was caused by a BBQ getting out of control.
Then, less than four hours later, Glossop's on-call firefighters and crews from Stalybridge were summoned again to another moorland fire on Torside, near Didsbury Intake, which was bigger in size. Beaters and water backpacks were required to put it out.
The two fires came less than 48 hours after they were on the Woodhead Pass again dealing with another moorland blaze at around 1.40am on Thursday morning (April 9). It was well alight on arrival and took around three hours to extinguish, using hose reel jets and beaters, with the help of West Yorkshire Fire and Rescue Service and the water carrier from Buxton.
All three fires are understood to have been started deliberately.
Glossop fire crews went back on the moors on Saturday morning to reinspect the moorland.
ANTI-SOCIAL BEHAVIOUR ON THE UP
Peak District Moorland Group say the gamekeeper confronted a group of male youths on the moor who were "extremely threatening and abusive" after starting the fire and anti-social behaviour of this type is on the up.
They said in a detailed Facebook post: "The stay at home message clearly isn't getting through to all members of the community.
"Tonight (Friday), a gamekeeper confronted a group of lads on the Woodhead Moor, they were both extremely threatening and abusive to him after causing a fire on moorland. Thankfully the police pulled the car in South Yorkshire, leaving the fire and rescue service and gamekeepers to deal with the fire.
"This follows on from another fire in the week on United Utilities ground, again in the Woodhead area. Anti-social behaviour is on the increase of this type - often the gamekeepers and farmers are the ones dealing with these incidents, as they are on site day and night.
"Our constant calls of having adequate and robust wildfire mitigation controls in place on the ground appear to be rubbished and ignored by so many, whilst these conversations and inactions carry on, fuel loads are increasing and it appears that for many, fingers are crossed in the hope that we don't have another Saddleworth scale disaster... or worse?
"This simply isn't about increasing numbers of shoot days, levelled at us by some anti shooting groups, extremists and individuals. It is about saving our cherished Moorland areas for all, preserving carbon sinks, helping to tackle climate change, protecting rare habitats for flora and fauna and of course protecting human health and ultimately life."
'STOP CREATING UNNECESSARY WORK FOR OUR FIREFIGHTERS!'
Once again, Glossop's dedicated fire crews are reiterating their message for people to follow the Government's instructions to stay at home.
Explaining Good Friday's fires, Glossop Fire Station posted on Facebook: "At 20:06pm, Glossop were mobilised to reports of a moorland fire on the Woodhead Pass. Upon arrival, crews found a fire well alight and got to work with beaters to extinguish the fire.
"This fire was thought to of been started maliciously. Please, we urge people to think of the consequences before causing unnecessary work for our firefighters, now more than ever in these current circumstances. Police and the Gamekeeper were also in attendance."
They later added: "Glossop On Call were paged yet again at 23:37pm to attend another moorland fire on the Woodhead Pass near Valehouse Reservoir.
"On arrival, crews found a fire well alight approximately 200m by 100m. Firefighters used beaters and water backpacks to extinguish the fire.
"This is the second moorland fire this evening and the third this week that Glossop have attended! It is extremely unlikely that any of these were started accidentally. We will say this over and over, stay indoors, stop creating unnecessary work for our firefighters!"
Firefighter Calum Beckett, who attended both fires on Good Friday, tweeted on Friday: "Tonight I've attended two moorland fires on the Woodhead Pass - both were started deliberately. Why can't people just listen to the advice they are given, stay indoors and not create unnecessary fires that me and my colleagues have to deal with."
'THE THOUGHT OF SOMEONE DELIBERATELY STARTING SUCH A FIRE IS DESPICABLE'
Derbyshire Fire and Rescue Service condemn the actions, saying it was "devastating" to see yet more moorland fires and the thought of someone starting it deliberately is "despicable".
Group Manager Paul Hawker said: "Clearly the stay at home message isn't getting through to some people and once again it's devastating to see fires burning on the moors.
"Moorland fires cause untold damage to the landscape and local wildlife and while crews are tied up responding to such fires, they aren't available to attend potentially life risk emergencies.
"At a time when we are all coming together to play our part in supporting the NHS and other key workers, saving lives and generally doing what we can to get through this pandemic, the thought of someone deliberately starting such a fire is despicable.
"The advice is quite simple, stay at home!"
Detective Inspector Toby Fawcett-Greaves, of Derbyshire Constabulary, said the fire at Woodhead is thought to have been caused by a BBQ which got out of control.
He said: "Flouting the guidelines puts not only yourselves at risk, but also those who are here to keep you safe. A number of officers and firefighters were deployed to this incident, one which was clearly avoidable.
"We are following a number of lines of enquiry to identify those responsible. I would ask local communities to remain vigilant and I encourage anyone with information that could help us with our investigation to contact us on 101. Please remember, stay at home, save lives and protect our NHS."