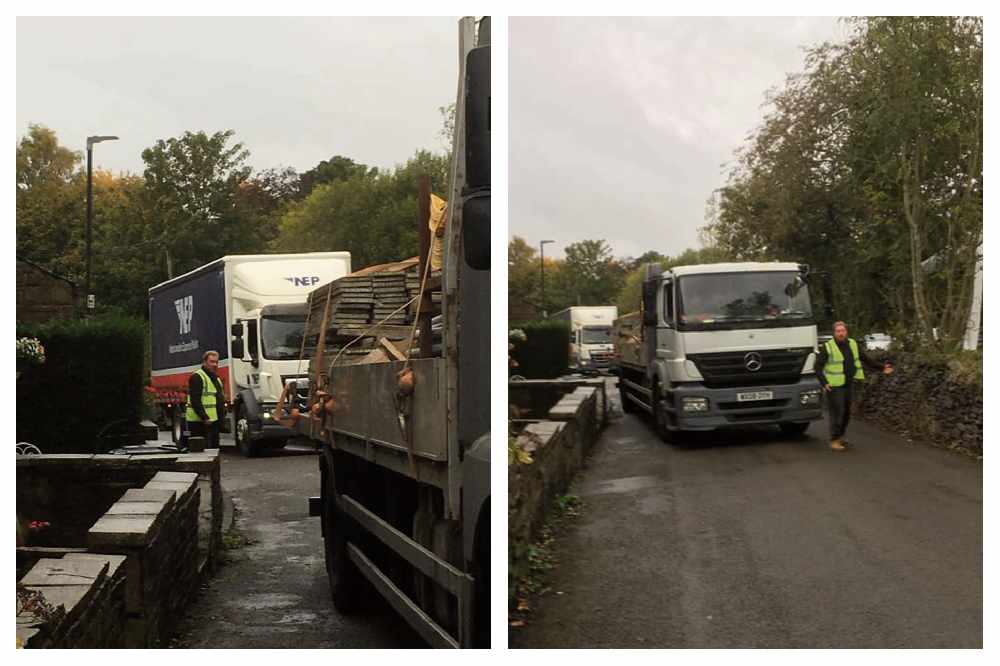 Old Glossop residents are hitting out at what they describe as 'working practices' at the latest residential development site in the village.
They claim building work on the former Hawkshead Mill land is resulting in lorries and heavy earth moving plant blocking narrow roads.
With winter just around the corner and the possibility of bad weather they fear the situation could only get worse.
A woman, who lives on Hope Street, said: "We are getting huge trucks going past making a right noise.
"It is a narrow street and because people park outside their homes they (the drivers) struggle to get past."
The resident, who asked not to be named, added: "On a couple of occasions the bus has been unable to get down."
Dave Scanlon, chair of Old Glossop Residents' Association, told us: "We were disappointed that work began clearing the Hawkshead Mill site without some of the relevant conditions being discharged.
"Residents in the village centre and on Hope Street, have been rightly angered by the site traffic - including HGVs and plant - that's been using the narrow streets to get to Hawkshead rather than going via the agreed route.
"People have been blocked in and the 390 bus had to turn around on at least one occasion.
"At the very least, there should be signage in place to guide site traffic.
"The roads in Old Glossop were built for horse and cart, not massive lorries.
"That's why there's a 7.5 tonne limit."
He added: "Many affected residents were given no prior warning by the developers that work was going to start, particularly as the planning condition requiring approval of the construction management plan has yet to be signed off by High Peak (Borough Council) planners."
The land is being developed by Mandale Homes, who are already advertising the two, three and four bedroom properties on what will be known as Hawkshead Grange.
The Chronicle put Old Glossop Residents' Association's grievances to the Stockton-on-Tees based company.
A spokesman said: "Thank you for your email and at this time we would respectfully decline to comment."
Main images:
NO HOPE? Pictures taken by residents showing heavy vehicles on Hope Street which Old Glossop Residents' Association say was 'built for horses and carts'.