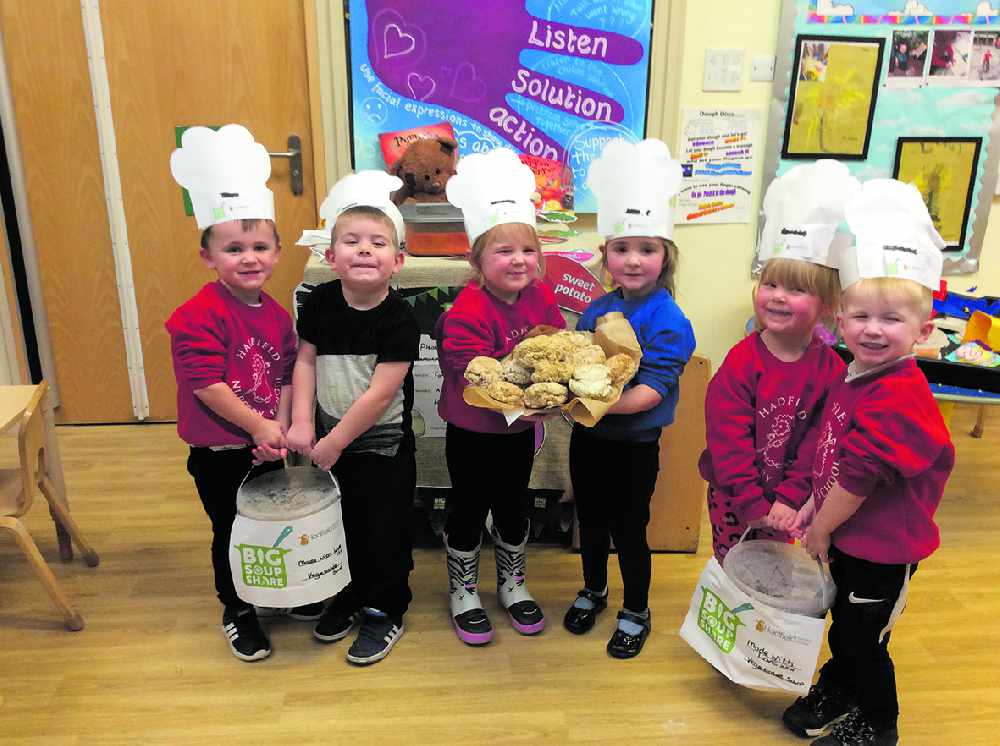 Pupils at Hadfield Nursery School were cooking up a storm last Monday, turning vegetables harvested from their allotment garden into tasty soups to be given to those living on the streets. 
Teachers Sara Jones and Sheila Brown were busy helping pupils serve up tomato, vegetable and leek and potato soup - after learning about the Royal Horticultural Society's Big Soup Share campaign.
The campaign encourages schools to utilise their gardens to help strengthen links with their local communities, with the soup made in this case being given to local homeless initiative UNITY Outreach.
Rachael Bailey, senior business assistant at the Queen Street school, said that they were 'overwhelmed' by the amount of vegetables they ended up with.
She said: "We often harvest the vegetables from the school garden which we sell to parents or make soup with, but with the Soup Share we also asked parents to donate any veg they might have and we were overwhelmed with the response.
"It's been a great day, with the children busy playing their part in prepping the vegetables and making bread as pans and pans of soup is bubbling away," she added.
"We'll dish it up and give it to UNITY Outreach for them to reheat on Tuesday night when they go out to Manchester, and hopefully we will get some photos of the soup being given out to show the children."
The Big Soup Share is a weekly campaign that takes place every year, giving the chance for schools, youth and community groups to celebrate their allotments or gardens and help others.
You can find out more on: https://schoolgardening.rhs.org.uk/Competitions/Big-Soup-Share.