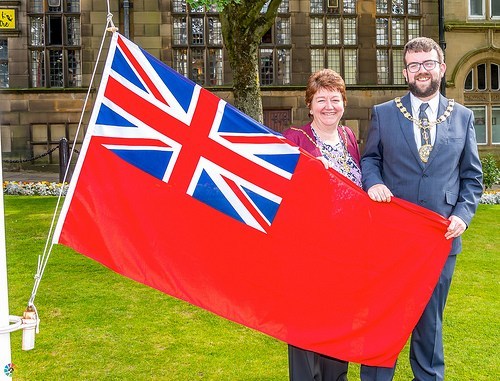 Glossop Royal British Legion is setting up a Touchpoint service in the town.
It's open to former members of the Armed Forces and anyone now serving 'Queen and country'.
The Royal British Legion has Touchpoint branches all over the country.
They are places where veterans and serving personnel can call in for help, advice or simply for a chat with a friendly face over a cup of tea.
Glossop Touchpoint will be at The Bureau on Henry Street on 3 September.
Glossop Royal British Legion chairman David Halligan said: "We will meet the first Tuesday of every month."
The launch will be a special occasion - it is also Merchant Navy Day and the Red Ensign will be flown.
Royal British Legion standards will also be unfurled by Glossop Legion members. There will be plenty of opportunities to talk to legionnaires about the organisation's work and aims and to discover what benefits are available.
In a message to former and current personnel, Mr Halligan, who is also the parade marshal at the annual Glossop Remembrance Day processions and services in Norfolk Square, said: "Come along, even if it's only for a brew."
The flag raising will be at Norfolk Square from 12pm on Tuesday.
Today we will be flying the Red Ensign for the Merchant Navy at Pavilion Gardens, Buxton, 10.00am and Norfolk Square, Glossop 12.00 noon. The Deputy Mayor, Cllr Paul Hardy will attend at Pavilion Gardens and the Mayor, Cllr Ed Kelly, will be at Norfolk Square, Glossop. pic.twitter.com/vuBOWhcOoU

— High Peak BC (@HighPeakBC) September 3, 2019
At the ceremonies, the Deputy Mayor in Buxton and the Mayor of the High Peak in Glossop will say a few words before raising the flag.
In Glossop, people are asked to arrive by 11:50 am for a midday start at the flagpole in Norfolk Square.
While, earlier in the morning in Buxton, people are encouraged to arrive by 9:50 am for a 10 am start at the flagpole by the Band Stand in the Pavilion Gardens.
Anthony Mckeown, leader of High Peak Borough Council, said: "This campaign, by Seafarers UK, remembers the sacrifices, salutes the courage and supports the future of the often unsung personnel of our Merchant Navy.
"Too often they are the forgotten or invisible service, and by raising the Red Ensign, we will ensure that at least on this day they are remembered."
Main image:
Flying the flag: Cllrs Lynne Stone and Matt Stone on Merchant Navy Day in 2018 (Picture by Anthony Mckeown)