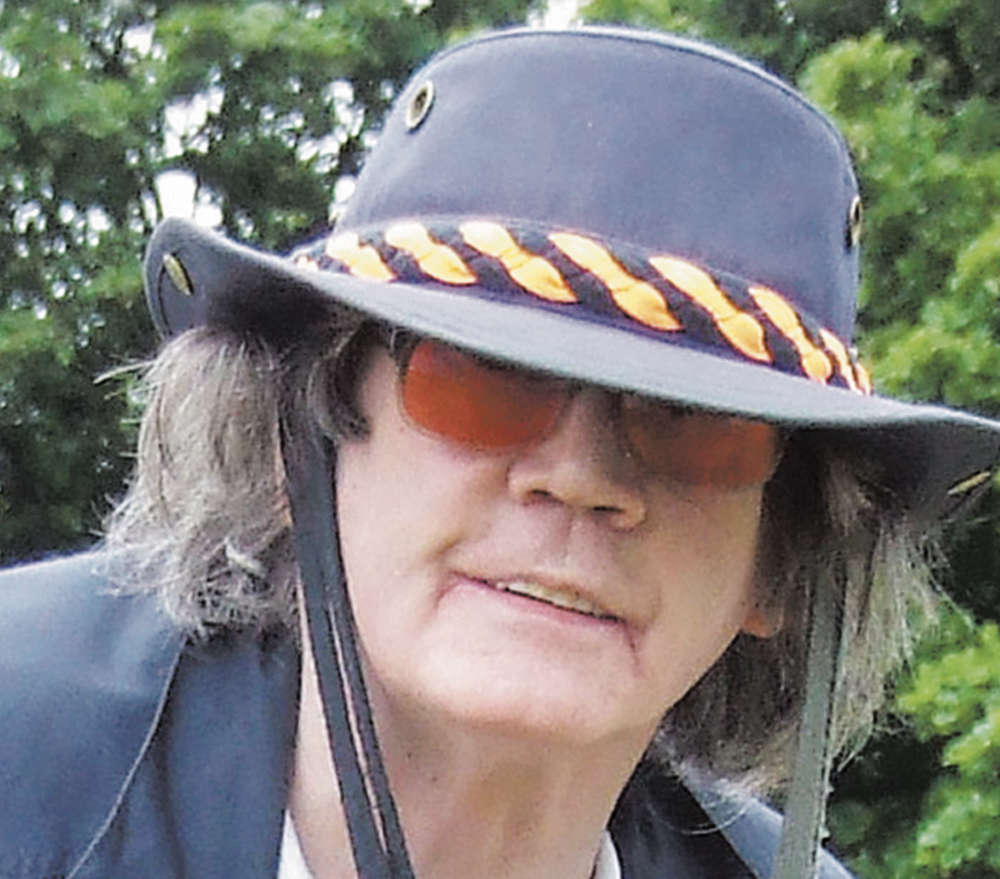 Jeff Burrows, aka the Sundance Kid.
A real Glossop character who put a smile on the face of everyone who knew him has died.
Jeff Burrows, who was better known as the Sundance Kid, passed away on Wednesday, September 29, at Balmoral Care Home, Mottram.
Jeff was a familiar figure in Glossop in his trademark black cowboy hat, dark glasses and black tee-shirt, with The Sundance Kid proudly emblazoned on the front.
He loved going into Glossop shops, cafés and pubs, chatting to people and enjoying life to the full.
A popular customer in the then Co-op on Norfolk Street, he loved shouting down the aisles to anyone who recognised him, saying 'howdy cowboy.'
Jeff was a regular visitor to the Glossop Chronicle offices on High Street West, we looked forward to his visits and we wrote story after story on his various antics.
Several were about the hundreds of calendars he designed and had printed every year, which he generously gave to anybody who wanted them.
The 78-year-old will be buried in Glossop Cemetery at 12.30pm on Monday, sharing the grave with his father who he was devoted to.
There will be a graveside service and staff at Balmoral and funeral directors W Brindley's Funeral Services of Mottram, would love it if people turned out to pay their respects.
Jeff, although popular, had few family members and it would be nice if there was a good turn-out to give Sundance a fitting send-off.
It's a sentiment that Amanda Broadhurst, of the Old Road care home, hopes will happen, saying: "Jeff was a lovely man, part of our family and we will miss him.
"He was a joy and a character."
Jeff also loved the social life at Balmoral and Amanda said he was particularly fond of rock and roll nights.
Jeff's affection with the Sundance Kid stems from the film Butch Cassidy and the Sundance Kid which he watched time and time again.
He lived the character and started wearing the outfit when he shared the family home on Goddard Lane, Padfield, with his dad. Both were involved in the building industry.
Jeff, alias Sundance, often put on an American accent and when people asked where he came from, he would jokingly say 'Wyoming.'
Jeff later sold the home and after living at Cornmill House, Glossop, moved to Balmoral Care Home when his health began to fail.
Jeff - who would love to be remembered simply as the Sundance Kid - you will be sadly missed.
Read more from the Glossop Chronicle
Click here for more of the latest news
Click here to read the latest edition of the paper online
Click here to find out where you can pick up a copy of the paper