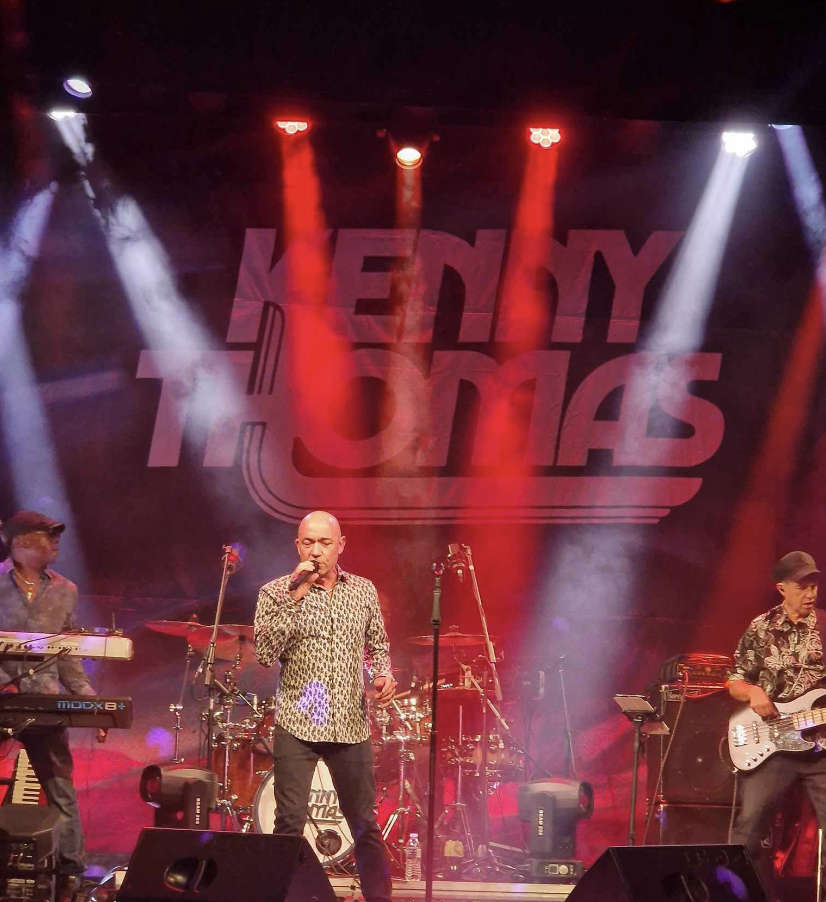 I had a brilliant date night this week with my wife Sofia, and also saw the best live performance I've attended in years! If you were around in the early 90s, I'm sue you'll know several of Kenny Thomas's eight Top 40 hits.
Outstanding, Thinking About Your Love, Best Of You and Tender Love all enjoyed lots of radio airplay, and Trippin' On Your Love also garnered lots of plays just as I was starting my 'A' levels in 1993.
We watched Kenny at City Varieties in Leeds, which is a beautiful venue dating back to 1865. It's an architectural delight, tucked away from the bustling city centre streets, and it felt so good to be back enjoying live music again. Aside from a superb OMD gig in Manchester a couple of years ago, which I attended with my fellow Tameside Radio presenter Martin Emery, I've only been to a couple of outdoor gigs since the pandemic began. These were New Order and Paul Weller at Halifax's Piece Hall, which is a superb setting for an al fresco concert, providing the weather is nice!
Back to Kenny Thomas, and what a voice! He is seemingly the Benjamin Button of soul music, as I'm sure he hasn't aged a day since he broke into the music scene with Outstanding, saved for his penultimate song of the evening. Dressed in a dapper shirt, he exuded cool on stage, and had some good banter with the Yorkshire crowd. It was his first time in Leeds in over 20 years, and also the opening night of his tour, and his excitement at being back on stage was palpable.
I'm always a little mystified by people who film large portions of gigs on their smartphones, and wonder if they ever watch any of the videos back. However, the friendly security staff on our way in did make it clear photos and videos were both absolutely fine, unlike some gigs I've been to where they've swooped in like a seagull on Whitby seafront to nab an illicitly used device.
Kenny Thomas's debut album, Voices, sold an impressive 600,000 copies in the UK alone, and he made nine appearances on Top Of The Pops back in the day! He also performed Thinking About Your Love with Gary Barlow during lockdown on the Take That front man's Crooner Sessions, plus released his autobiography in 2021, which I am definitely keen to read once I get through my burgeoning book mountain.
The shared experience of watching live music is something I really missed during the Covid pandemic, and it felt so cathartic to be experiencing the same buzz as everyone else in the room! I used to get a bit irritated by people clapping along out of time, or caterwauling over the live vocals, but I've come to appreciate that they are all part of the fun. We were treated to a good solid 90 minutes of soul, and it really warmed the cockles on a chilly Tuesday evening.
The audience was polite, friendly, multicultural, and mostly on the older side, so there was an added bonus that we felt quite youthful! In fact, the music took us right back to the 80s and 90s, and more carefree times. Kenny's band fizzed with cool energy, and if you get chance to catch him live, I can't recommend it enough.
Also this week, I'm delighted that ticket offices are to be retained at the likes of Stalybridge Station. I recently embarked on a series of Mondays out and about, travelling by train. Although our rail network in the north is certainly far from perfect, and sadly shows no signs of immediate improvement following Rishi Sunak's recent cancellation of the HS2 Manchester leg, I still love travelling by train. It gives you some space to read, enjoy the scenery, catch up on work, or just daydream whilst gazing out of the window. Ticket offices are vital to so many who rely on them, and I don't think the train companies or government were prepared for the wave of opposition their announcement unleashed.
I'm sorry that staff had to go through so much unneccessary stress, but thank them for remaining professional throughout. I do think the fare system needs simplification though, so that it's easier just to buy the best value ticket without having to resort to split tickets and lots of faff. But one step at a time.