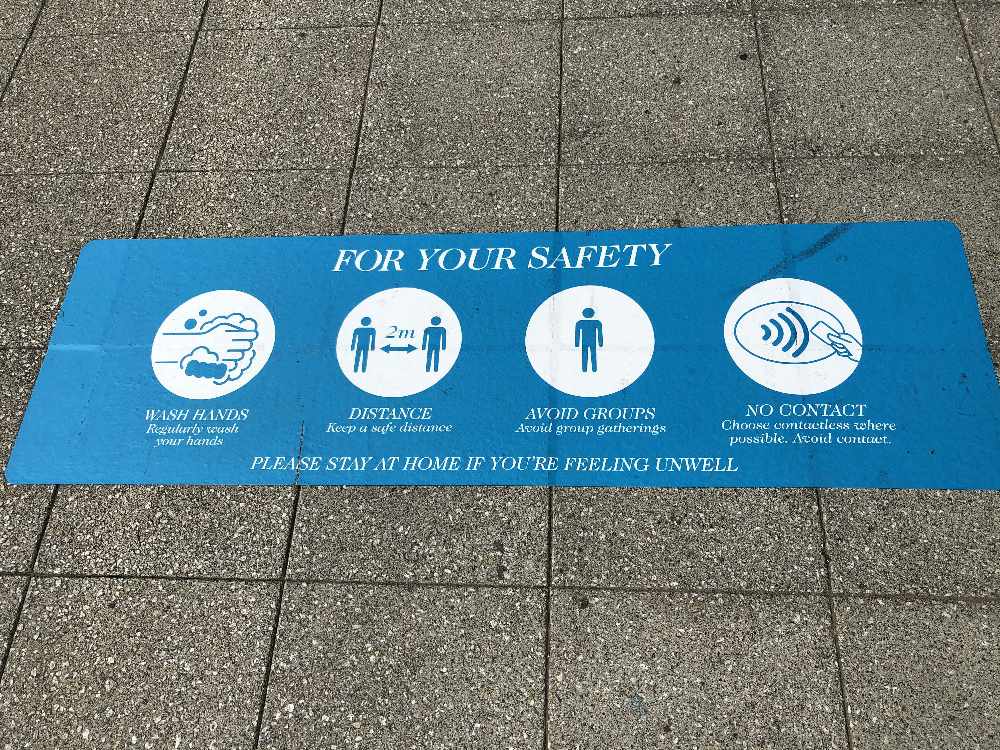 From 00.01am on Friday 23 October, Greater Manchester will be under the 'very high' Covid alert and Tier 3 coronavirus restrictions. This is what it means...
Pubs and bars must close, unless they are serving substantial meals (i.e. operating as a restaurant to serve a main lunchtime or evening meal) and alcohol can only be served as part of such a meal. The national 10pm curfew still applies to all venues allowed to stay open.

People must not socialise with anybody they do not live with - or have not formed a support bubble with - in any indoor setting, in any private garden or at most outdoor hospitality venues (such as beer gardens) and ticketed events.

People must not socialise in a group of more than six in an outdoor public space such as a park or beach, the countryside, a public garden, an allotment, a playground, a forest or outdoor sports courts and facilities.

People should try to avoid travelling into or out of the very high alert level (Tier 3) area - other than for work, education or for caring responsibilities; or to travel through the area as part of a longer journey (such as when going to an airport, port or international rail terminal to travel abroad). People can continue to travel to venues which are open but must reduce the number of journeys where possible. Read more on travel guidance by clicking here.

Casinos, bingo halls, betting shops, adult gaming centres and soft play areas must close.

Gyms, leisure centres, hairdressers, public venues (e.g. libraries and community centres), tourist attractions, performing arts venues, retail, places of worship and healthcare services can stay open - subject to the social contact rules outlined above.

Schools and FE colleges can stay open but universities must reflect the wider restrictions with the option to move to greater online provision.

Office workers who can work effectively from home should do so. Public sector employees working in essential services, including education settings, should continue to go into work where necessary. Anyone else who cannot work from home should continue to go to their place of work.

Residents should avoid staying overnight in another part of the UK, and others should avoid staying overnight in any part of Greater Manchester.

Registered childcare providers (including nannies, people in a support bubble and people in a childcare bubble) can provide childcare support in private homes and gardens.

A maximum of 30 people can attend funerals, while a maximum of 15 people can attend wakes and related ceremonies, as well as weddings but only at Covid-secure venues or in public outdoor spaces. Wedding receptions are not permitted.

Residential care is closed to external visitors other than in exceptional circumstances.

Organised sporting activity or licensed physical activity (including exercise classes) is allowed in outdoor settings but indoor organised sport must follow the social contact rules outlined above (other than youth or disabled sport).

You can still move house if you currently live in Greater Manchester.
For more detail on these restrictions, visit the government website here: https://www.gov.uk/guidance/local-covid-alert-level-very-high.
Is there any advice for vulnerable people?
When Tier 3 restrictions come into force on Friday, there is additional guidance for people who are clinically extremely vulnerable to help them protect themselves from coronavirus.
The main advice is to:
stay at home as much as possible
avoid all but essential travel
significantly reduce shopping trips
Here's the additional guidance in full: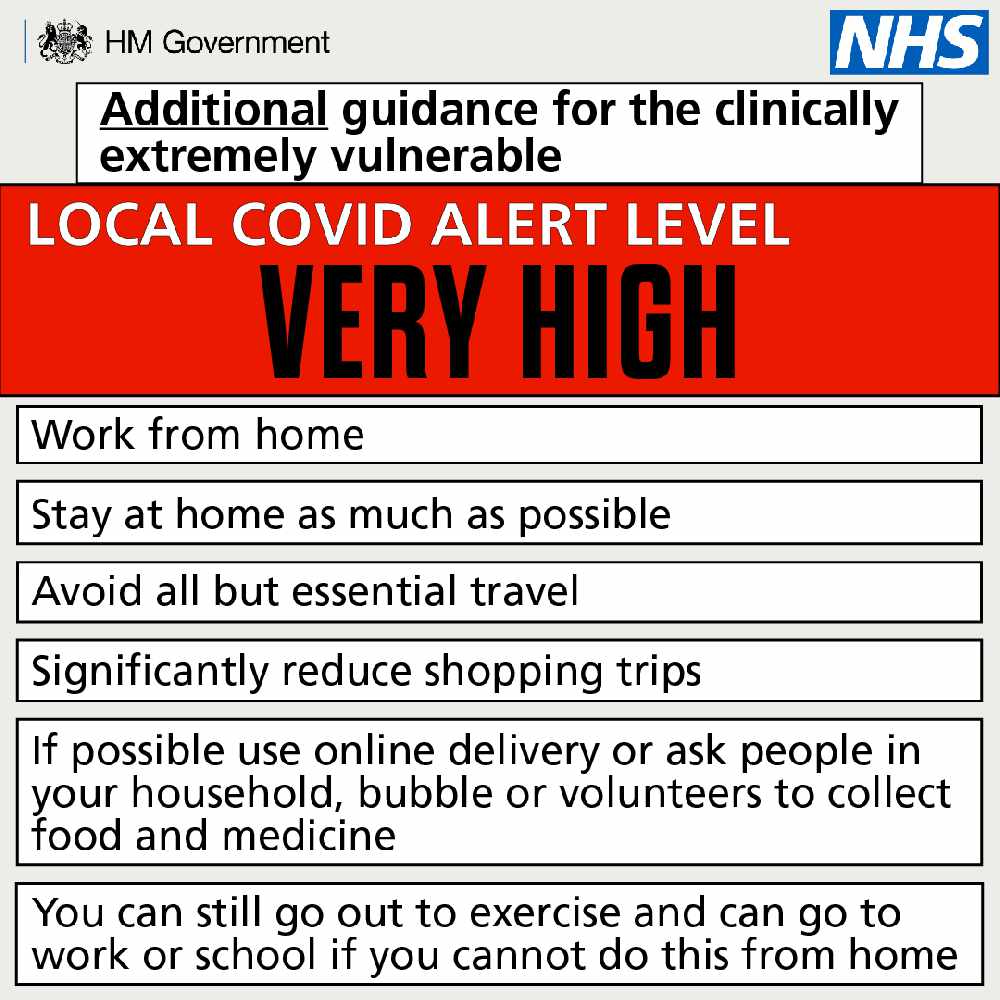 Where do these new rules apply?
They apply to all 10 boroughs of Greater Manchester, which are:
Bolton
Bury
Manchester
Oldham
Tameside
Trafford
Rochdale
Salford
Stockport
Wigan
If you're unsure if the new measures will affect you, type your postcode into the government's checker here https://www.gov.uk/find-coronavirus-local-restrictions to see which alert level applies in your area.
The NHS Covid-19 app will also tell you. If you haven't downloaded it on your smartphone yet, you can find out how to do so here.
How long will they be in place for?
The measures are set to be reviewed every 28 days once they come into force on Friday 23 October, with the first review due to take place by 11 November.
The government has said the restrictions will only be in place "as long as necessary" with case rates and epidemiology "reviewed regularly".
Why have we been moved into Tier 3?
Greater Manchester was initially placed in Tier 2 - the high alert level - when Prime Minister Boris Johnson confirmed the new tier system for coronavirus restrictions on 12 October.
He said at the time that Tier 3 would apply to areas where transmission of the virus is rising rapidly and the NHS could be under "unbearable pressure".
In Greater Manchester, infection rates are among the highest in the country and the overall infection rate in the region is continuing to rise.
As of 12 October, the weekly average for new cases was 1,591, an increase of 302 per cent in one month since 12 September.
According to Public Health England data, the number of Covid-19 cases in the region per 100,000 people as of the week ending 16 October is 399.4, with the average in England being 169.8. Tameside's rate is 351.9 and Oldham's rate is 422.6.
The government has said that there are now more Covid-19 patients in Greater Manchester hospitals than in the whole of the South West and South East combined, and on the current trajectory the number of Covid-19 patients in Greater Manchester will exceed the numbers from the first peak in April in early November.
Keep up to date with all the latest local and national developments here: https://www.questmedianetwork.co.uk/news/daily-coronavirus-updates/.