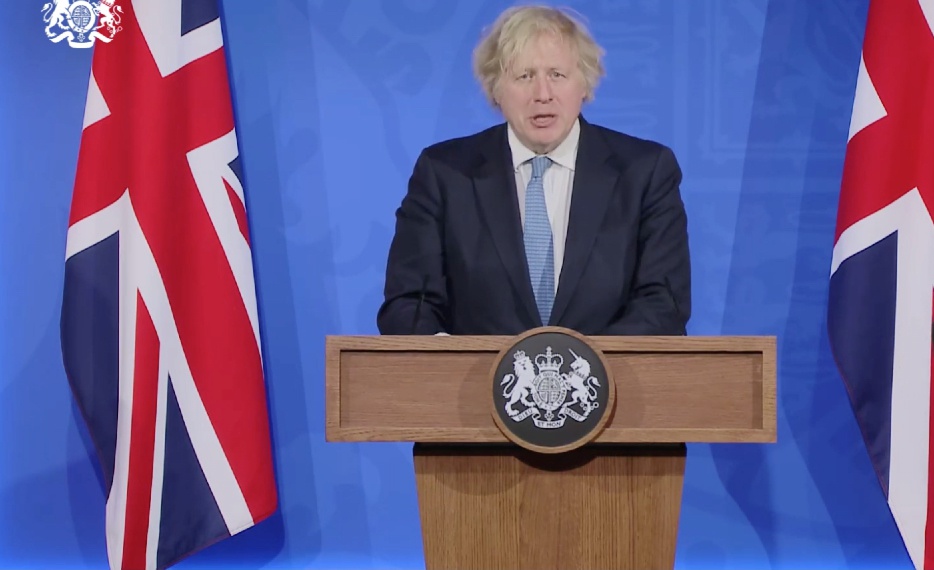 Prime Minister Boris Johnson has confirmed that the next stage of lockdown easing in England will go ahead as planned on Monday 12 April.
The government previously set out four 'tests' for relaxing measures: that the vaccine programme continues successfully; vaccines are effective in reducing hospital admissions and deaths; infection rates do not risk overwhelming the NHS, and the variants of concern do not pose a large risk.
Mr Johnson has said each of these tests have been sufficiently met in order to proceed with step two of the roadmap for easing restrictions next week.
It means that people will be able to head to outdoor pubs and restaurants, non-essential shops, gyms, hairdressers and zoos.
He went on to say that he "sees nothing in the present data that makes us think we'll have to deviate from the roadmap" and the government will be "sticking to the roadmap like glue".
But he warned people not to become complacent about the pandemic amid rising Covid cases in mainland Europe.
Mr Johnson announced the news at a briefing on Monday afternoon (5 April) in his new £2.6 million media room at 9 Downing Street, where he was joined by chief scientific adviser Sir Patrick Vallance and England's chief medical officer Professor Chris Whitty.
The UK reported 2,762 new cases of Covid-19 and 26 deaths in figures released earlier on Easter Monday - on the day that hairdressers, homeware shops and garden centres reopened in Scotland.
What is now allowed to happen on 12 April?
With the four tests for easing the lockdown in England met, the prime minister has confirmed the next stage of the roadmap for relaxing restrictions can go ahead.
It means the following will be able to happen:
Non-essential shops, close-contact services like hairdressers and barbers, gyms and spas, zoos, theme parks, libraries and community centres will be able to reopen.

Restaurants and pubs can start serving customers outdoors, without a requirement to order a substantial meal to be served alongside alcohol, and no curfew. However, people will have to eat and drink while seated.

Members of the same household can take a holiday in England in self-contained accommodation.

Weddings attended by up to 15 people can take place.

The number of care home visitors allowed will increase to two per resident.

All children will be able to attend any indoor children's activity, including sport.

Parent and child groups of up to 15 people (not counting children aged under five years old) can restart indoors.
But people should continue to work from home where they can and minimise domestic travel, while international holidays will still be illegal.
Outdoor gatherings must still be limited to six people or two households, while people must not socialise indoors with anyone they do not live with or have not formed a support bubble with.
How have the four tests been made?
Professor Chris Whitty said that the vaccines are being rolled out at "a remarkable rate" and the figures are "heading very much in the right direction".
More than 31.5 million people in the UK have now received their first dose of a coronavirus vaccine, while over 5.4 million people have had two doses.
Prof Whitty also said the data shows there is a "significant reduction" in people being admitted to hospital after receiving a first vaccine dose.
He added that means the vaccines are effective but they are not 100 per cent effective after one dose so it is essential that people go back for their second jab.
Meanwhile, hospital admissions have continued to fall since the peak of the second wave and the vaccine has played a large part in reducing the average number of deaths from a peak of 1,300 to an average of 47 a day.
Prof Whitty also said that the UK variant remains dominant and that more cases of the South African variant are being detected at the UK border but it's not increasing over time.
Vaccine passports could be coming but not any time soon
Mr Johnson said vaccine passports or Covid-status certification - which has been causing a political row in recent days amid ethical concerns - will definitely not be needed to go to a pub or restaurant from next week.
He also ruled out their use for the third stage of lockdown easing from 17 May and repeatedly said there were still "fences" to be jumped over before that point is reached.
But he said that the idea of vaccination status being useful for international travel is something "all countries are looking at" and "we need to deal with that".
There are three ways Covid certification can be granted "for a big mass event" - immunity in the past six months, having a vaccine or having a negative Covid test.
He says the government is being careful to avoid a "discriminatory" system as pregnant women and others cannot get vaccinated for medical reasons, while it needs to work out what its proposal might be on vaccine passports before putting it to a vote in Parliament.
Large-scale events such as theatre trips and sports matches will "absolutely" need measures such as testing when they are allowed to resume again, the prime minister also said. Trials will begin by mid-April in theatres, nightclubs and mass events to help manage the risks.
Mr Johnson also said that the government is today publishing its "early thinking" on four reviews - to assess how long we need to maintain social distancing and face masks; the resumption of international travel; the potential role of Covid status certification; and the safe return of major events.
No decision yet on international travel
In bad news for people planning summer holidays abroad, the prime minister gave no news on when international travel will be able to resume - saying no decision has yet been made but that he was "hopeful" that it could "get going" again next month.
He apologised for the lack of clarity on this but says he does not want to "give hostages to fortune" or "underestimate" the risk of travellers importing the virus into the UK, and promised the travel sector that he would give "as much notice as we possibly can" about resumption.
The government has said that a traffic light system for foreign travel will be introduced - but not until 17 May at the earliest.
The Global Travel Taskforce will report later this week with 'recommendations aimed at facilitating a return to international travel as soon as possible'.
People encouraged to take regular Covid tests
Mr Johnson is urging people to take coronavirus tests on a regular basis - even if they are not feeling unwell.
As expected, he confirmed that rapid twice-weekly Covid tests will be made available to everyone in England from local testing centres and pharmacies from Friday, while they will also be available to order from the government website and can be delivered to your home.
Results from the tests will be available in 30 minutes.
Mr Johnson said that lateral flow testing will be "a great advantage to us all" and revealed that he takes one before every public visit.
Sir Patrick Vallance pointed out that the tests are not 100 per cent effective but they are part of picking up more people with Covid-19 than would be the case without them - with one in three people thought to have the virus without experiencing any symptoms.
'I will cautiously but irreversibly raise a glass'
The prime minister revealed that he will be among those heading to the pubs when restrictions are eased on 12 April.
He said that he will "cautiously but irreversibly raise a glass" to the success of the vaccine rollout and the easing of rules.
Mr Johnson also said that the public's "patience" and "collective efforts" in following the rules is "paying off".
Keep up to date with all the latest local and national developments here: https://www.questmedianetwork.co.uk/news/daily-coronavirus-updates/.