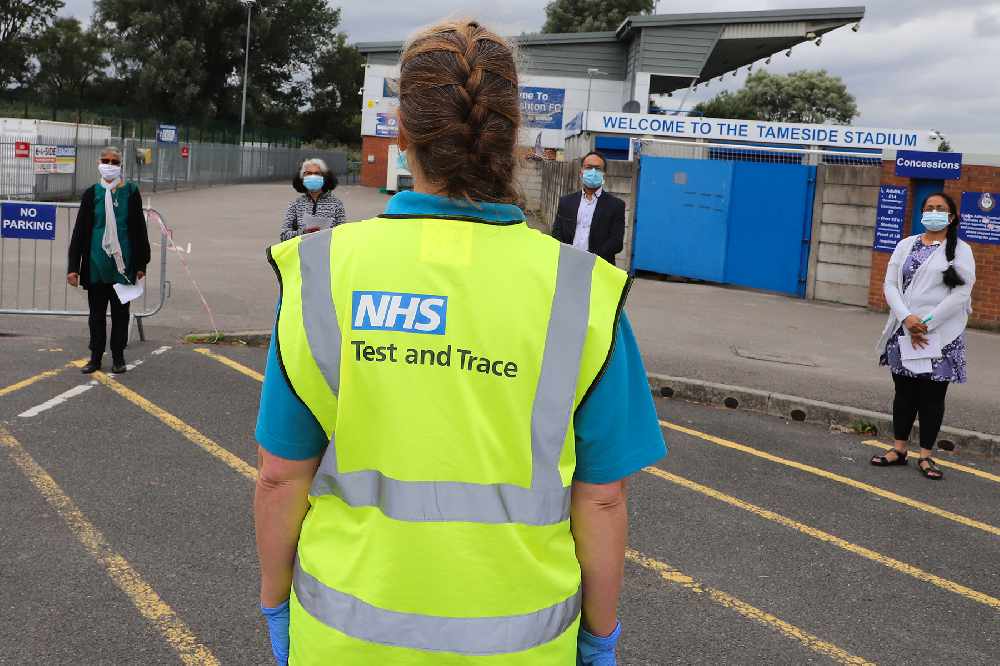 Tameside's health bosses say they are becoming increasingly concerned about a rise in coronavirus cases throughout the borough and insist everyone must "increase our efforts now" to halt the spread of Covid-19.
The rise in the infection rate - which was at 68.8 per 100,000 people as of last Sunday (6 September) and is trending upwards - has pushed Tameside into a 'red alert', when the rate is over 50.
Hyde has become Tameside's biggest Covid-19 hotspot but a heat map of the country shows that cases are cropping up all across Tameside, with council leader Brenda Warrington saying the continuing rise in infections was "of concern".
Tameside Council's Director of Public Health, Dr Jeanelle de Gruchy, has said more people returning to the office and education establishments so far this month is leading to an increase in positive Covid-19 cases and those people subsequently passing on the virus, but most of the cases are as a result of households mixing.
She also highlights that there's a "worrying increase" in older people being infected and insists "we all need to act now" to protect those more vulnerable to serious illness.
Dr de Gruchy warns that "we're at a critical stage" and outlines what can be done to prevent wider outbreaks of coronavirus, as well as enable schools and businesses can stay open as we head towards winter.
'We all have to increase our efforts now to halt the spread'
She said in a detailed statement: "The general trend of positive tests for coronavirus has continued to increase quickly, with the Tameside rate at 68.8 as of last Sunday. This is the case across Greater Manchester too, and we are very concerned. We all have to increase our efforts now to halt the spread.
"We knew that there was an increased risk of transmission as we saw more of friends and family, went to shops and restaurants and pubs again, and our children went back to schools and colleges. Unfortunately we are now seeing that this increased activity is leading to an increase in people becoming infected with COVID and passing it on.
"Most of the cases we're seeing are through household transmissions so it is vital we don't mix with anyone outside of own household/bubble indoors or in private gardens. Also there is now a new national restriction that people must not gather in groups of more than six. Unfortunately we're starting to see a worrying increase in older people, who are more vulnerable to real harm from COVID. We all need to act now to protect those who are much more likely to get very ill from COVID.
"We're heading into winter months, we want our schools and businesses to stay open. We are working closely with our schools, businesses and leisure venues to help them ensure all the necessary safety measures are in place to be COVID safe. We have a robust test and trace programme in place and are working hard to encourage those with symptoms of COVID to get a test, stay at home with those in their household, and share who they've been in contact with so we can be in touch with these contacts. This is how we can help stop the spread of COVID and prevent any wider outbreaks.
"However we're at a critical stage and all need to keep focus on our hands, face and space – wash our hands, wear a face covering and keep our social distance. We also need to stick to the additional rules in Tameside by not mixing with other households indoors or in gardens, so we don't see further restrictions. For further guidance see www.tameside.gov.uk/itworks.
"We have to balance educating our children and supporting the local economy while also working together to stop transmission and keep the local community as safe as possible."
The council is still calling for people who live or work in Tameside to volunteer to become Community Champions, to play a "vital role" in reassuring people about how to protect themselves and prevent the spread of the virus. More information can be found here.
From Tuesday (8 September), casinos, bowling alleys, skating rinks, exhibition halls, conference centres and indoor play areas (including soft play areas) were allowed to reopen in Tameside, while close contact services - such as facial beauty treatments and applying make-up - are now permitted, as well as socially-distanced indoor performances.
But social gatherings of more than six people, both indoors and outdoors, will be banned by law in England from Monday 14 September.
Residents who have symptoms of coronavirus are being encouraged to get tested at local sites which will be situated in Tameside in the coming days and weeks.
Keep up to date with all the latest local and national developments here: https://www.questmedianetwork.co.uk/news/daily-coronavirus-updates/.