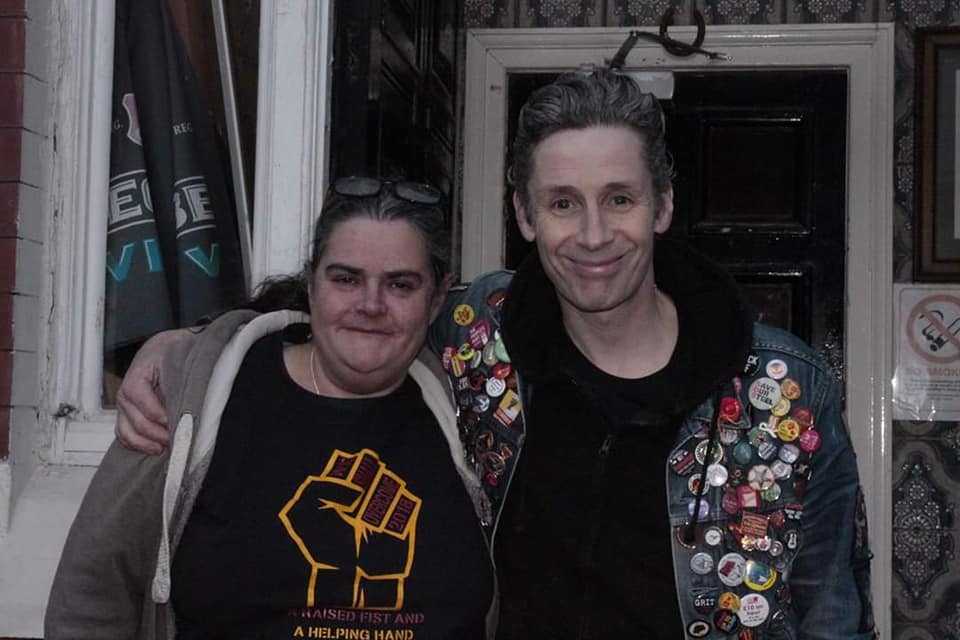 A virtual music festival has been organised to keep a vital community pub open during the coronavirus crisis.
The Station Hotel in Ashton, run by Pauline Town, is a crucial hub for the borough's homeless population, with Pauline supplying vital housing support, packed lunches and supplies through the We Shall Overcome charity.
After the government advised people on Monday to stay away from pubs, restaurants and theatres, a number of fundraising gigs due to be held at the Station were cancelled.
To support Pauline during the time of uncertainty, the charity has planned a virtual 'We Shall Overcome Isolation Festival'.
It will be an all-day online gig, using a Facebook event at www.facebook.com/groups/weshallweekend to broadcast short music and poetry sets by multiple performers. People can watch the gig from the safety of their homes and the artists can work from a rehearsal space, so everyone stays safe.
Twenty acts have so far been announced with many more to come. It will take place on Saturday, April 11 from 12 noon.
Those who get involved are encouraged to comment on threads to encourage the acts and support those in self-isolation.
In return, people are asked to donate to a GoFundMe page that has been set up to keep Pauline and her critical work ticking over. You can donate at www.gofundme.com/f/we-shall-overcome-2020.
"It's an absolute lifeline," Pauline said. "I'm so excited about the virtual festival. We will keep the music going!"
Speaking about supporting the homeless throughout the crisis, Pauline added: "I am waiting for advice on what they are supposed to do if they start to show symptoms. We have a meeting later this week and I'm hoping I'll know more then.
"At the minute, I am letting them use our toilets to wash their hands when they come for packed lunches. I'm still operating daily to keep them fed and I had hoped to put hand sanitisers in the packed lunches, but sadly it's been impossible to source them because of all the people panic buying.
"Until we are forced to do otherwise, The Station will remain open. We've lost most of the upcoming events but we are going to do our very best to weather the storm and hopefully still be here when we come out the other side of this.
"Even if pubs and restaurants here are closed, we will continue to provide food and support for those in need and have already started planning forward for that eventuality.
"We have always been here for this community and those in need, and the likelihood is that they are going to need us more than ever over the next few weeks. One way or another – We Shall Overcome!"
Keep up to date with all the latest local and national developments here: www.questmedianetwork.co.uk/news/daily-coronavirus-updates/.