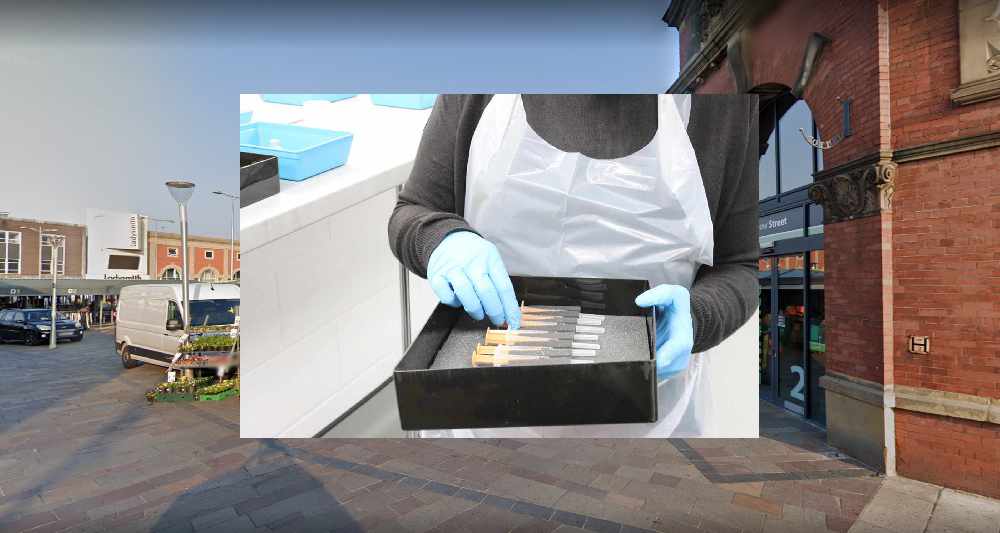 A Covid vaccination van will be touring Tameside and Glossop this summer to deliver jabs to the heart of communities.  
The van will be visiting a variety of locations in June and July to bring the vaccines to people and make it easier than ever to get the jab.
It will be targeting areas with the least vaccine take-up to provide protection to as many people as possible and prevent the risk of the virus and variants spreading.
Eligible residents - which is now anyone aged 25 or over - who are registered with a Tameside and Glossop GP and yet to have their Covid vaccination can just turn up to these pop-up clinics with no appointment needed.
The first destination will be Ashton Market Square on Friday (11 June) and Saturday (12 June) between 10am-4pm.
It's planned for the Vaccine Van to then make visits to different locations within Ashton, Denton, Hyde, Stalybridge and Glossop.
To get the latest schedule visit www.tameside.gov.uk/covidvaccine. Each visit will also be promoted on the Tameside Council and CCG's social media accounts.
The van has been chosen to enable easier access to Tameside and Glossop's town centres and bring the vaccines to the heart of communities. Those eligible who live near the locations, are out shopping or are visiting local facilities will be able to conveniently drop in to receive their first vaccination.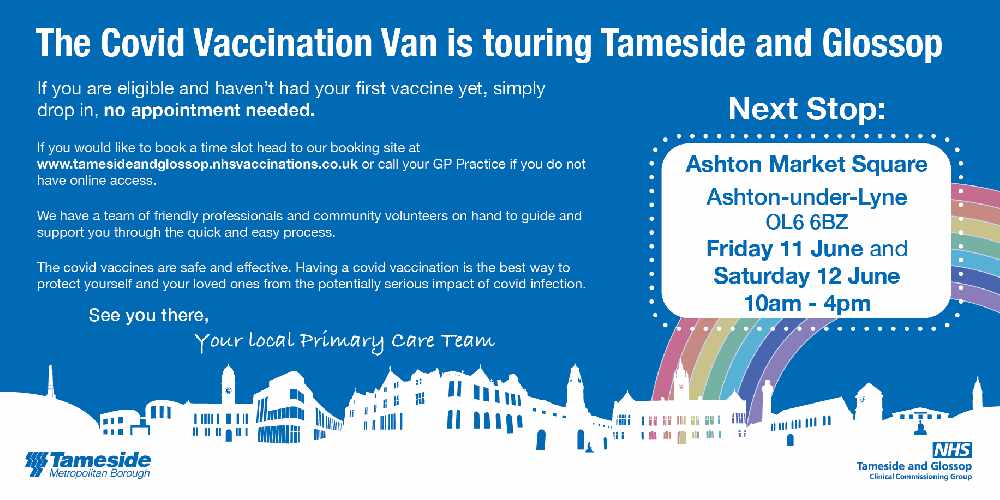 Councillor Eleanor Wills, Tameside Council Executive Member for Adult Social Care and Population Health, said: "I'm delighted that the Vaccine Van will be touring Tameside and Glossop to deliver vaccinations to where people will be out and about, making it easy, quick and simple for our residents to get their life-saving jab.
"Thank you to everyone involved who has made this possible and please, if you've not yet had your vaccine, visit these pop-up clinics so that we can protect as many people as possible. Our vaccination programme has been a huge success with well over 200,000 doses given out but we want to do even better."
NHS Tameside and Glossop Clinical Commissioning Group (CCG) Co-chairmen Dr Asad Ali and Dr Ashwin Ramachandra said: "We have identified locations where we know the uptake of vaccines isn't as high, so the Vaccine Van will be delivering right where it's needed. And a team of friendly professionals and community volunteers will be on hand to guide and support people through the quick and easy process.
"We'd urge everyone to have their vaccination. Every single vaccine helps protect you and others and reduces transmission and the risk of variants, stopping the spread of coronavirus and helping us get back to normal."
A time slot can be booked in advance at www.tamesideandglossop.nhsvaccinations.co.uk or people can call their GP practice.
Keep up to date with all the latest local and national developments here: https://www.questmedianetwork.co.uk/news/daily-coronavirus-updates/.