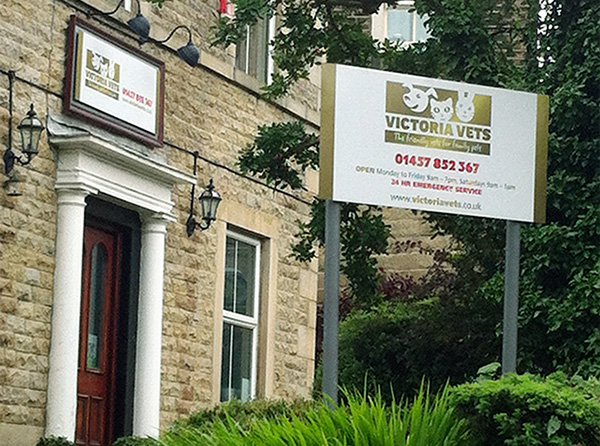 Victoria Vets in Glossop has confirmed it will be only providing emergency treatment only, after the Government imposed stricter coronavirus measures on Monday evening.
People will now only be allowed to leave home for limited purposes as Prime Minister Boris Johnson announced major restrictions amid the coronavirus pandemic.
The Victoria Street practice has said it will be operating with reduced staff, while the clinic on Thornbrook Road in Chapel-en-le-Frith will now be closed until further notice.
Pet owners are being urged to only phone the Glossop practice - on 01457 852367 - if your pet has a serious illness or emergency condition.
In a statement, the practice added: "A vet will triage your call and, if required, your animal will be seen at Glossop ONLY. Please understand that our reduced staffing is going to mean that the treatment options offered may not necessarily be those that we would offer under normal circumstances.
"IF YOU HAVE A COUGH, FEVER OR LOSS OF SENSE OF SMELL, OR HAVE BEEN IN CONTACT WITH SOMEONE THAT HAS, YOU MUST TELL US BEFORE YOU COME TO THE PRACTICE.
"We can still arrange for your animal to be treated, but we MUST know in advance.
"For less serious illnesses, please email us on enquiries@victoriavets.co.uk including your name, your pet's name, a BRIEF outline of the problem and your contact telephone number, and we will get back to you by phone or email to arrange a distant consultation by phone/video link. This may not be the same day depending on demand and urgency of the issue.
"For repeat prescriptions, please email us on prescriptions@victoriavets.co.uk including your name, your pet's name, the drug(s) requested and your contact telephone number. We ask you to give 72 hours notice for any prescription. We will be doing our best to deliver all medication to your door, please do NOT come to the practice unless specifically instructed to do so.
"Please DO NOT send requests for flea and worm treatments, vaccinations etc as we will not have the staff to deal with this.
"Please treat us with respect and courtesy at this extremely difficult time for everybody. Our staff are doing their best to provide emergency care to your pets at their own risk, we ask that you respect this.
"Finally, PLEASE follow government advice, and stay safe. Thank you for your understanding."
Keep up to date with all the latest local and national developments here: https://www.questmedianetwork.co.uk/news/daily-coronavirus-updates/.