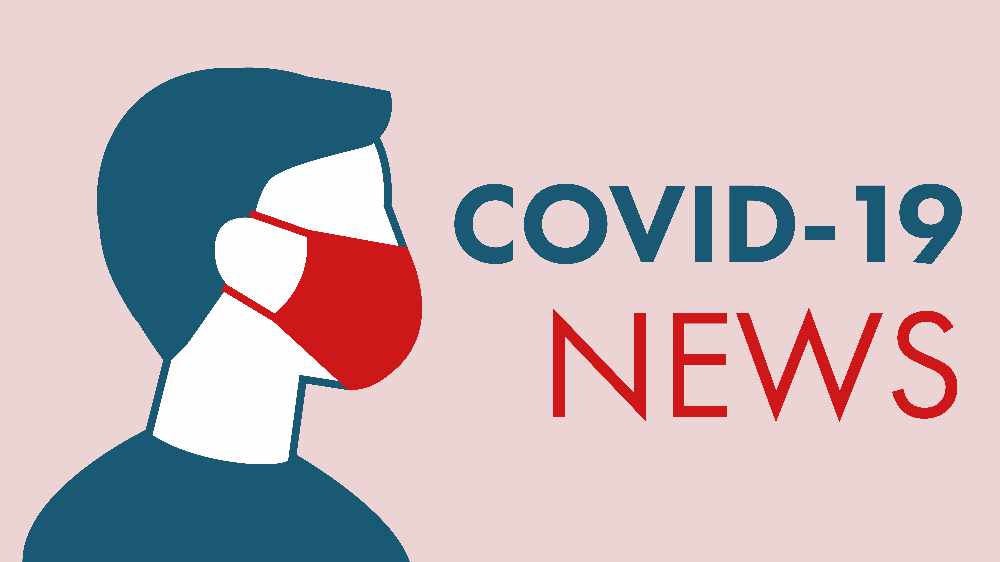 Residents of the High Peak, Tameside and Oldham will be living under even stricter coronavirus restrictions from New Year's Eve (Thursday 31 December).
The government announced on Wednesday afternoon (30 December) that the whole of Derbyshire and Greater Manchester will be among 23 more areas in England to enter Tier 4.
As well as washing hands regularly, staying apart and wearing a face covering unless exempt, it means:
People must not leave home except for specific purposes: food, medical reasons or work.
You should not travel unless necessary and you should work from home if you can.
People are limited to meeting in a public outdoor place with their household, or one other person.
All non-essential shops, hairdressers, sports facilities and leisure and entertainment venues must close.
Here's a further guide to what the restrictions mean in full: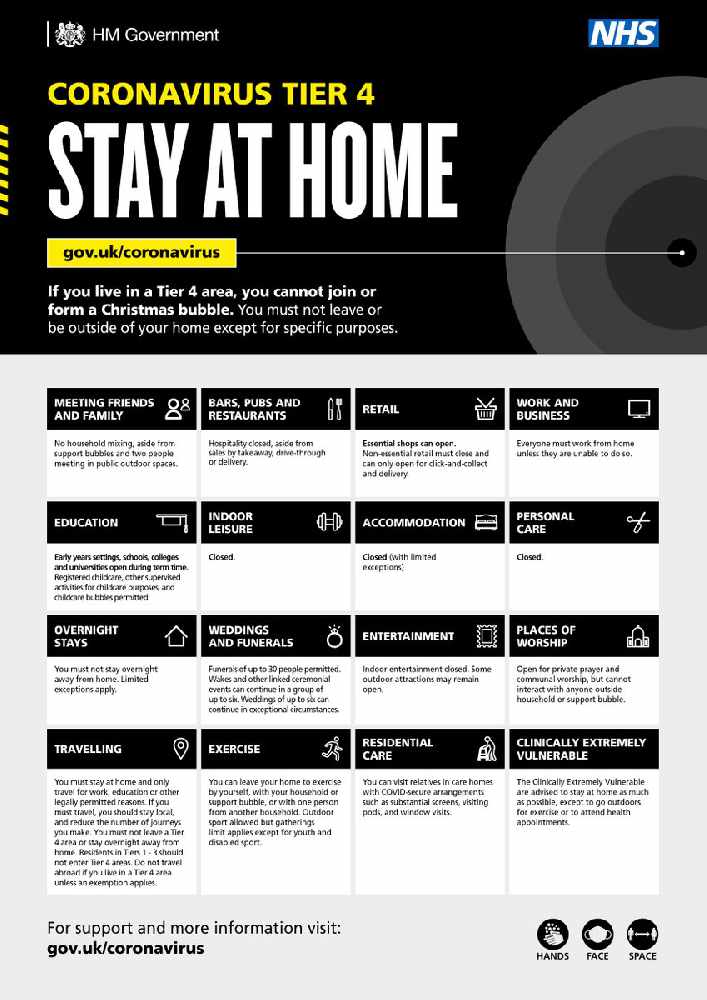 For more details of the restrictions, visit https://www.gov.uk/guidance/tier-4-stay-at-home
Return to school delayed for secondary pupils
Meanwhile, secondary schools and colleges across most of England are to remain closed for an extra two weeks for most pupils, with the government saying it will help cut chains of coronavirus transmission and allow more time to set up mass testing which the armed forces will assist with.
Education Secretary Gavin Williamson told the House of Commons that exam-year pupils would return in the week of 11 January - one week earlier than everyone else, who will return full time in the week of 18 January.
All primary schools in England - with the exception of some in London, Essex, Kent, East Sussex, Buckinghamshire and Hertfordshire - will reopen as planned on Monday 4 January.
The news comes just 24 hours after the government insisted it was going ahead with plans for primary school and older secondary school children to return to classrooms next week.
Three quarters of England will be under highest tier
Derbyshire and Greater Manchester had previously been under Tier 3 restrictions and the 'Very High' Covid alert level.
Announcing the rule changes, Health Secretary Matt Hancock said: "I know that tier three and four measures place a significant burden on people, and especially on businesses affected, but I am afraid it is absolutely necessary because of the number of cases that we've seen."
The announcement comes at a time when the second, more transmissable variant of Covid-19 is sweeping across the country - with 53,000 new cases reported on Tuesday alone.
Experts believe the new strain is 70 per cent more infectious than the one previously being dealt with.
The changes will move an additional 20 million people into Tier 4, meaning a total of 44 million people (78 per cent of England's population) will be in the toughest tier.
While 12 million people will move into Tier 3 - 22 per cent of England's population. No areas will be in Tier 2 and the Isles of Scilly will stay in Tier 1.
The new measures will be reviewed every 14 days, with the first one due to take place on 13 January 2021.
Earlier on Wednesday, the government announced that a second Covid-19 vaccine has been approved for use and can be distributed from 4 January. Mr Hancock said the AstraZeneca-Oxford vaccine "is our way out of the pandemic".
Local reaction to Tier 4
Robert Largan, Conservative MP for High Peak, said on his Facebook page: "I am very disappointed to report that High Peak, along with the rest of Derbyshire, Cheshire, Greater Manchester, will be joining much of the Midlands, South and London in Tier 4. This announcement comes as pressure on the NHS is mounting, including locally.
"With the vaccine being rolled out, it is vital that we do everything we can to stop the NHS from being overwhelmed and save lives, to allow time for the vaccine to be fully rolled out to all vulnerable people.
"Nobody wants these restrictions and we all look forward to getting not just out of Tier 4 but being able to get rid of the Tier system altogether! I'll be meeting with both Ministers and local public health professionals within the next day or so and will share any extra information as soon as I get it."
Derbyshire County Council Leader Councillor Barry Lewis said: "It is disappointing for huge swathes of Derbyshire that have low rates of Covid-19 that the whole of the county is to be placed in Tier 4.
"It is also a devastating blow to businesses that will be affected by these tougher restrictions and the possible impact this will have on jobs in the county, particularly in the hospitality industry, which is why I've called for extra government support.
"I would urge everyone to adhere to these new rules, including during New Year celebrations, to continue to wash their hands regularly, keep apart and wear a face covering.
"There is a silver lining. By showing our Derbyshire Spirit, by getting tested when more centres open around the county and by getting the vaccine when offered we will all be able to get back to the things we love more quickly."
Angela Rayner, Deputy Labour Party leader and MP for Ashton-under-Lyne, tweeted:
The weeks and months ahead are going to be tough for all of us. In GM we have been in local lockdown since the summer and the toll has been immense.

We need to look out for each other, we need to take care of our neighbours, we need to get through this with solidarity. 🐝🐝🐝 https://t.co/JoJ51LSUsL

— Angela Rayner 🌹 (@AngelaRayner) December 30, 2020
Andrew Gwynne, Labour MP for Denton and Reddish, said in a statement: "I didn't support the Government's tiering system because it just does not work. Greater Manchester has been under COVID restrictions since 29 July which is testament to the system not working.
"I have always favoured a hyper-locally targeted approach to test, trace and isolate similar to the successful schemes in Scandinavia. That always made much more sense to me, ensuring that those households or neighbourhoods affected got sufficient support whilst the rest of us could go about our daily lives (with precautionary measures like social distancing) again. That should have been rolled-out over the summer. It was a wasted opportunity.
"The crucial thing now is we defeat the virus. The vaccine roll-out must be done swiftly and we have to get our lives back to normal as quickly as we can. Switching lockdowns on and off with multiple confusing rule changes has been a public health disaster."
Jonathan Reynolds, Labour MP for Stalybridge and Hyde, said on his Facebook page: "I know this brings more pain and frustration for families and small businesses, but unfortunately, the current infection rates prove it is necessary, having risen dramatically locally and nationally in the last few days.
"With a new variant, the virus is spreading rapidly, and sadly additional restrictions are needed to avoid our NHS being overwhelmed. No-one is exempt from Covid - my own family are currently isolating after a member of my household tested positive, and I really do urge everyone to simply Stay At Home - even quick errands carry risk.
"Above all, it's now urgent that vaccination is rolled out further ASAP. We've had great news of the Oxford AstraZeneca vaccine today- the pressure is now on Government to get as many people vaccinated as quickly as possible."
Keep up to date with all the latest local and national developments here: https://www.questmedianetwork.co.uk/news/daily-coronavirus-updates/.