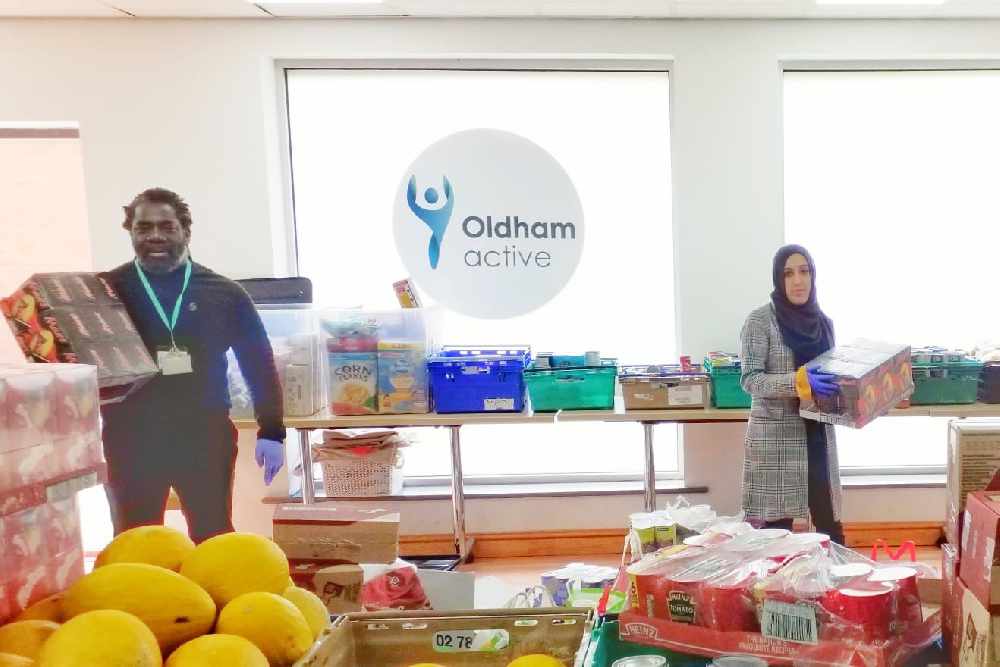 When Oldham Council employee Areeta Iqbal was asked if she would take up a new role in a food redistribution centre, she jumped at the chance to go out and help Oldham residents who needed it.
Usually a Youth worker, Areeta (pictured, right) was no longer able to go into schools and residential homes to talk to young people due to the coronavirus crisis, so when the chance came to get out on the front line and help she immediately said yes.
Starting her new role as Hub lead at The Clemency House in Glodwick, she got to work getting food supplies to those most at need, organising deliveries and ensuring people were looked after.
She said of her new role: "I have found working in this new area of work a brilliant and exciting new experience. It has been a positive experience although is it different to my normal job, it is all about adapting the skills and knowledge I have and working together as a team to ensure we meet the needs of the vulnerable and in crisis community.
"I have met lots of new people and I am working with other organisations such as The Ghazali Trust who run this building and Action Together using their volunteers to help with the daily needs."
After working for five days in a row, she insisted she work two more so she could keep helping, going above and beyond to help Oldham residents during this crisis.
Areeta went on to say: "Highlights for me have been how considerate and compassionate all the new people I have met have been. It's all about Team Oldham spirit and looking out for each other."
With the coronavirus crisis making many Oldham Council employees unable to work in their usual jobs, it's not just Areeta who has taken to a new way of working.
Leanne Whitehead usually delivers PE health sessions in primary schools as an Activity Development Officer. Whilst Matt O'Grady (pictured below, right) works as an Outdoor and Environmental Education Tutor at the Castleshaw Centre.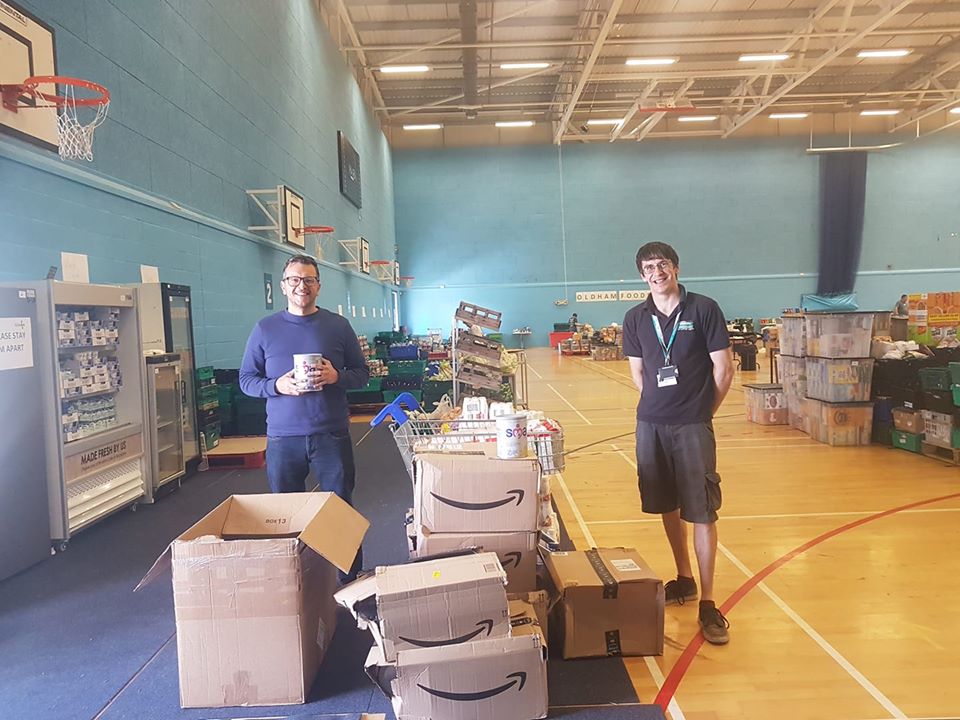 With both unable to keep doing their usual jobs due to the lockdown, they've also been working in a food redistribution centre set up at Oldham Leisure Centre. Co-ordinating supplies and delivering food to those who need it, they've both been giving it their all to help Oldham residents.
Leanne said: "I have loved working in this new area, working alongside other organisations, helping the neediest residents in Oldham and all whilst keeping spirits up of everyone in such horrible, uncertain times. I have made some fantastic friends out of the process and certainly met people that I wouldn't have met as our paths would not have crossed.
"Getting to work with the food bank has been lovely to see the great work they all do voluntarily and due to it having to be scaled up, helping them make it become bigger and better."
Matt said: "A highlight for me has been getting out there and delivering the food parcels to people who need them. I have received so much praise and gratitude from the customers and you really do go away feeling like you have done some good in the world.
"I must also mention the endless stream of donations from local people and businesses, most of whom are donating anonymously. In this day and age it is so easy to fall into the line of thinking that everybody is only looking after themselves, working at the foodbank has shown me this truly isn't the case, there is an amazing number of people out there who are helping in any way they can.
"I feel like I am part of something much bigger than just the council, I feel like I'm part of an unstoppable army of helpers doing some incredible work."
Councillor Arooj Shah, Deputy Leader of Oldham Council, said: "Oldham Council employees have been absolutely amazing during this crisis. When our residents have needed us the most they have pulled together to be there for them. I can't thank them enough for their hard work and dedication."
The council, together with Oldham Foodbank and Action Together, are delivering food, medicine and other essential personal and household items to people in need.
It's for people of any age who are unable to leave the house and don't have a trusted friend, neighbour or family member to help them.
The group aims to get back to people within 24 hours and arrange for a package to be delivered in the following days.
If you need help, call 0161 770 7007. It's open from 9am to 5pm on weekdays and 11am to 2pm at weekends.
Keep up to date with all the latest local and national developments here: https://www.questmedianetwork.co.uk/news/daily-coronavirus-updates/.