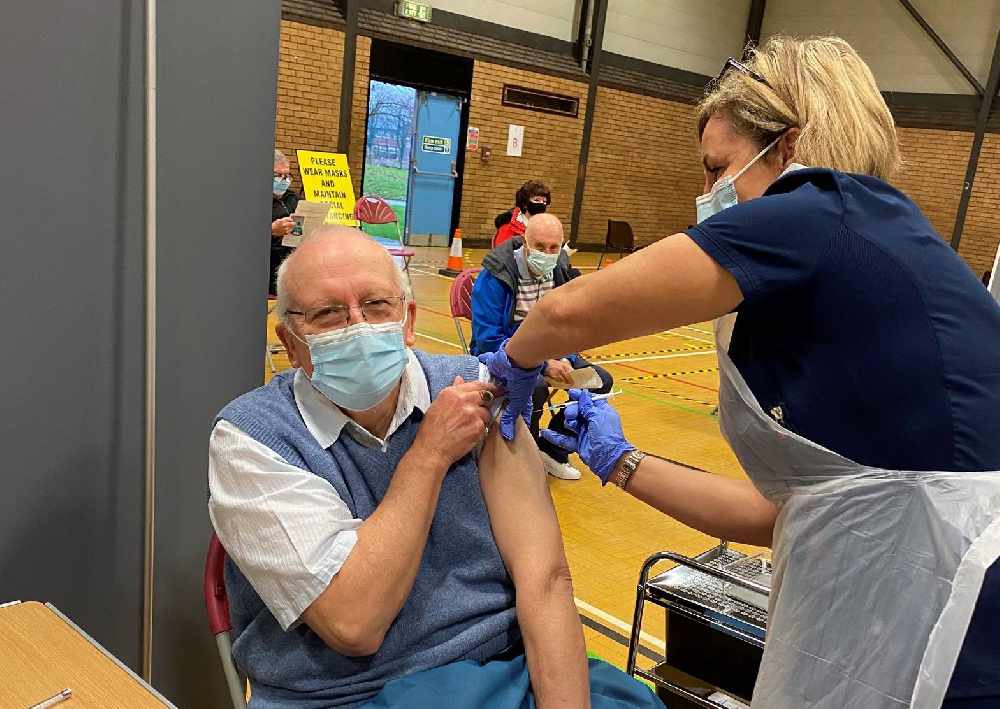 A man receiving his Covid-19 vaccine.
Tameside and Glossopdale residents are being urged to 'grab a jab' this month, to help keep themselves and others safe from Covid-19. 
Local vaccine hubs will be open on set days in the early evening throughout August, in a push to get as many people vaccinated as possible during the summer.
All the evidence shows that the vaccines are highly effective against symptomatic disease, hospitalisation and death from Covid and its variants.
Tameside Council and NHS Tameside and Glossop Clinical Commissioning Group say it's vital that people get their life-saving jab, which will also help reduce the amount that Covid-19 is spreading.
With uptake among younger people slower, they are being encouraged to be vaccinated to help them enjoy summer plans such as festivals, holidays and socialising.
Pregnant women are also being encouraged to get a vaccine, with local hospitals seeing more pregnant women with Covid-19 than ever before.
Pregnant women are at greater risk of serious illness if they get Covid, and those with severe Covid are twice as likely to experience a stillbirth and three times as likely to have a preterm baby.
Nationally, of the pregnant women in hospital with Covid, 95 per cent were unvaccinated. Public Health England data shows that more than 50,000 pregnant women have received at least one dose.
The Pfizer-BioNTech and Moderna vaccines are recommended for pregnant women in the UK because these vaccines have been given to over 130,000 pregnant women in the US and the data has not raised any safety concerns.
Tameside Council Executive Member for Adult Social Care and Population Health, Councillor Eleanor Wills, said: "People are still getting very poorly or suffering with long Covid so we all need to do everything we can to protect ourselves and others.
"The Covid vaccines are the best defence against infection so I'd urge everyone to get their jab."
NHS Tameside and Glossop Clinical Commissioning Group (CCG) Co-chairman Dr Ashwin Ramachandra said: "It is encouraging that thousands of pregnant women have received their vaccine and I'd strongly urge anyone who has not yet taken up the offer to get both doses as soon as possible and for pregnant women to come forward for their second dose 8 weeks after their first dose.
"Getting the vaccine is the best way to keep you and your baby safe. If you have any questions or concerns please don't hesitate to discuss these with a healthcare professional."
The five Vaccine Hubs are open to drop in – for first or second dose (after 8 weeks) AstraZeneca and Pfizer vaccines – from 5.30pm to 7.30pm, unless indicated, on the following days:
Monday – Ashton: Oxford Park Sports Centre, Pottinger Street, Ashton, OL7 0PW.
Tuesday – Glossop: Glossop Cricket Club, North Road, Glossop, SK13 7AS.
Wednesday – Stalybridge (4.30pm to 7.30pm): George Lawton Hall, Stamford Street, Mossley. OL5 0HR.
Thursday – Hyde (4pm to 7.30pm): British Gas site, Stockport Road, Hattersley, SK14 3QU.
Friday – Denton: Denton Festival Hall, 13 Peel St, Denton. M34 3JY.
And Tameside and Glossop's Vaccine Van is continuing to deliver jabs to the heart of communities, with more pop-up clinics planned.
The next one takes place at Ashton Market Square on Saturday (7 August) from 9am to 4pm. No appointment or ID is needed with the Pfizer and AstraZeneca vaccines available for anyone over 18 for first and second doses (after eight weeks).
Anyone wanting to book an appointment at one of the hubs or pop-ups can do so at www.tamesideandglossop.nhsvaccinations.co.uk or call their GP Practice.
Alternatively, people can book at the mass vaccination centres by visiting www.nhs.uk/coronavirus-vaccination or by calling 119.
Keep up to date with all the latest local and national developments here: https://www.questmedianetwork.co.uk/news/daily-coronavirus-updates/.