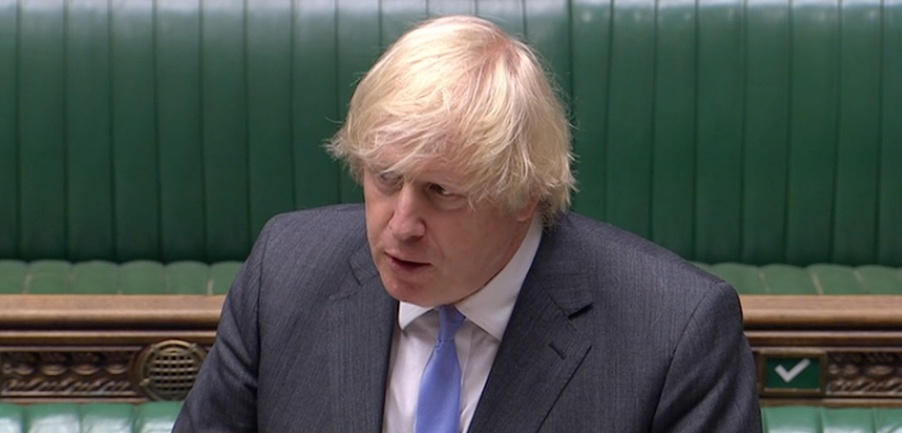 Prime Minister Boris Johnson has confirmed that there will be a further easing of restrictions from Saturday 4 July, including a reduction in social distancing.
In a statement in the House of Commons, he has announced the following updates:
There will be a "one-metre-plus" rule, where people will be advised to keep 2m apart where possible, but where it is not, they should keep one metre plus. One metre plus means that in circumstances where two metres cannot be kept, there should be other mitigating factors. This includes wearing a face mask on public transport, hand washing, screens, limiting time with people and being outdoors.

Households will be able to mix with one other household indoors at a time, but households should continue to social distance when inside.

People from two households will also be able to meet outside, regardless of size. Outside, the guidance remains that people from several households can meet in groups of up to six. Mr Johnson has made clear the government is not recommending meetings of multiple households indoors.

Restaurants, pubs, hairdressers, outdoor gyms and playgrounds, cinemas, museums, libraries, galleries, hotels, bed and breakfasts, campsites and caravan parks, places of worship, theme parks, funfairs, amusement arcades, social clubs, community centres, workplace canteens, boarding houses and model villages will be allowed to reopen on 4 July.

Restaurants and pubs can open both indoors and outdoors if they put in safety guidelines including table service online, while hair salons and barbers can open but with visors worn.

Nightclubs, casinos, spas, indoor soft play areas, bowling alleys, indoor skating rinks, indoor gyms, nail bars, swimming pools and water parks, exhibition or conference centres, and massage, tattoo or piercing parlours will remain closed.

The government will work with the arts to enable choirs, orchestras and theatres to resume as soon as possible.
'Each step will be conditional and reversible'
Mr Johnson told MPs the lockdown easing has been "entirely conditional" and points to a decrease in infections - saying the number of new infections is now declining by between two and four per cent every day.
The PM also said: "At every stage, caution will remain our watch word. Each step will be conditional and reversible."
He says the government doesn't believe there is "currently a risk of a second peak of infections that might overwhelm the NHS" and says we are continuing to meet the five tests for easing lockdown.
However, he did say there will be "flare-ups" of coronavirus for which local measures might be needed.
Mr Johnson also said the government "will not hesitate to apply the brakes" on lockdown easing if needed, even at a national level.
But he acknowledged that our "long national hibernation is beginning to come to an end" and "the bustle is starting to come back" and the government will continue to "trust in the common sense of the British people".
'Labour to scrutinise details but welcome statement'
In response to the measures unveiled by the Prime Minister, Labour leader Sir Keir Starmer said the party will "scrutinise the details" of the announcement and "study the guidance" but adds that he welcomes the statement.
He said: "Overall I welcome this statement, I believe the government is trying to do the right thing, and in that we will support them."
Mr Starmer said there are no "easy" decisions to be made and any unlocking of restrictions carries "risks", but says he has a "number of questions" about the "basis" for these decisions - including whether they have been agreed with the government's Sage advisers, the chief medical officer and the chief scientific adviser.
He also asked what overall assessment has been made about the overall transmission of the virus and on the R rate - the reproduction rate of the virus - "both nationally and regionally".
Keep up to date with all the latest local and national developments here: https://www.questmedianetwork.co.uk/news/daily-coronavirus-updates/.