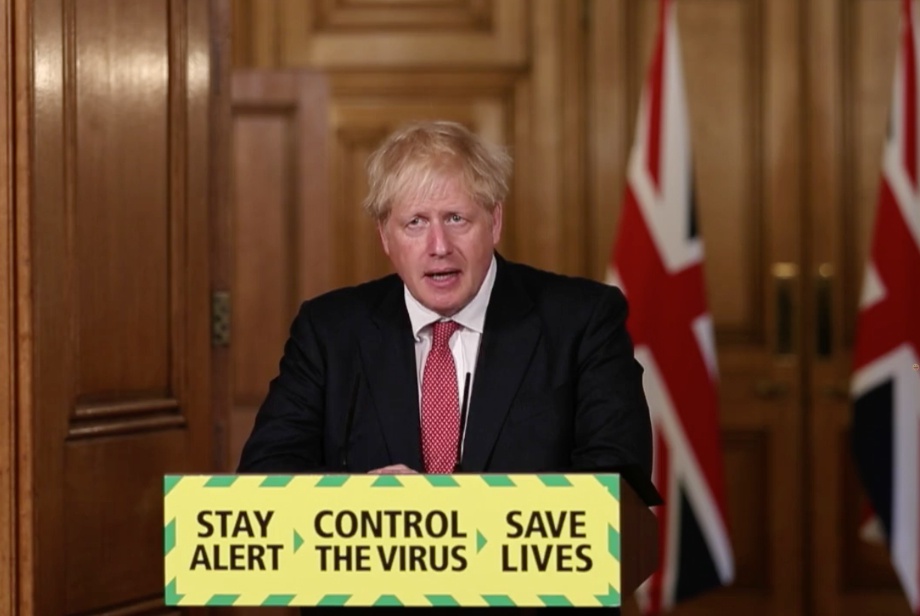 Prime Minister Boris Johnson has outlined the next steps of a 'roadmap' in the UK's plans to recover from the coronavirus pandemic.
After a Cabinet call on Friday morning, he held a press conference at Downing Street. This is what he announced...
Daily deaths continue to fall
The number of daily deaths is continuing to fall thanks to the phenomenal efforts of the British people, he said.
Local authorities to have new lockdown powers
From Saturday (18 July), local authorities will have new powers enabling them to shut public spaces and close down events, meaning smaller lockdowns can be instigated faster.
Ministers will be able to shut down whole sectors, local stay at home orders, prevent people leaving areas, reduce size of gatherings beyond national rules and restrict public transport in areas.
He also said this may seem unjust for people living near others who are not in lockdown but stressed that it is effective.
Antigen tests to be increased
Mr Johnson said the government has made "substantial" progress in testing, saying it has increased "100 fold to more than 200,000 tests a day".
He says: "Anyone anywhere in the UK with symptoms can get a test without delay".
But, as winter approaches, he says testing will have to go further and committed to a target of increasing it to 500,000 a day by the end of October.
Government is 'planning for the worst'
In a bold move, the Prime Minister announced the biggest flu vaccination programme the country has ever seen.
This also includes an increased number of ventilators to nearly 30,000, as well as widening the pipeline of personal protective equipment (PPE).
As expected, he confirmed an additional £3 billion of funding for the NHS in England, to allow the NHS to continue to use hospital space from the private sector and Nightingale hospitals to remain open until the end of March 2021 - whilst preparing for a potential second wave.
"We're planning for the worst but we should hope for the best, looking ahead with optimism," Mr Johnson said.
Further lockdown easing
The following update on the relaxation of measures was also announced by the Prime Minister:
Anyone can use public transport from now
From 1 August, updates about going to work will be announced. Employers will be given more discretion, which could mean working from home or could mean working from the work place after it is made COVID secure.
Most remaining leisure settings - indoor music and entertainment venues with audiences, bowling alleys, indoor skating rinks, casinos, bingo halls and beauticians - can resume from 1 August.
Night clubs and soft play areas need to be kept closed.
Wedding receptions for up to 30 people will be allowed
From no earlier than 1 October, large concerts, business events and conferences will be allowed, while spectators will be allowed to return to football stadia - subject to successful trial events.
Return to work at discretion of employers
Mr Johnson was asked by the BBC's Political Correspondent Vicki Young if his announcement was saying that employers need to bring their employees into the office, when many have said they were not planning on doing that until January.
In response, the Prime Minister stated that it is up to employers but if they need employees in the workplace then they need to make them COVID secure - adding that it's not up to the government how employers should run their companies.
He said from 1 August there needs to be a discussion between employees and employers. He added that lots of people are productive at home and it has taken lockdown for people to find that out, but it is not good for everyone.
'Significant normality' by mid-November
Mr Johnson expressed his hopes that the country will return to "significant" normality by the middle of November, with the remainder of restrictions eased "possibly for Christmas" - including dropping social distancing.
However, he stressed that the plan "remains conditional" and "we will not hesitate to put on the brakes if needed" - but if the country pulls together, the UK can win its "long fight" against the virus.
App to be introduced as test and trace gears up for winter
Baroness Dido Harding, head of the track and trace programme, was also at the press conference and said that local authorities and local NHS trusts will work together.
She said people in Leicester have been offered testing at their homes and information in multiple languages has been provided to residents.
Ms Harding also said the new framework will make it easier for test and trace, while an app and backwards contact tracing will be introduced.
She said making sure test and trace is ready for the winter is her and her team's job for the summer, whilst reiterating that people who have any symptoms of Covid-19 should "please go and get a test".
'We hope families can spend Christmas together'
The Prime Minister was asked by one journalist whether families will be able to spend Christmas together this year.
In response, he once again said it is important "we hope for the best but plan for the worst".
He added the steps being taken throughout the autumn are "all conditional on our ability to defeat the virus".
Mr Johnson also issued a warning, saying "if you look at other countries around the world, we can see what happens if we don't continue to follow the guidance".
He said we have a new panoply of tools to fight it, new local powers, track and trace and testing - but it ultimately depends on the British public adhering to the rules.
Keep up to date with all the latest local and national developments here: https://www.questmedianetwork.co.uk/news/daily-coronavirus-updates/.