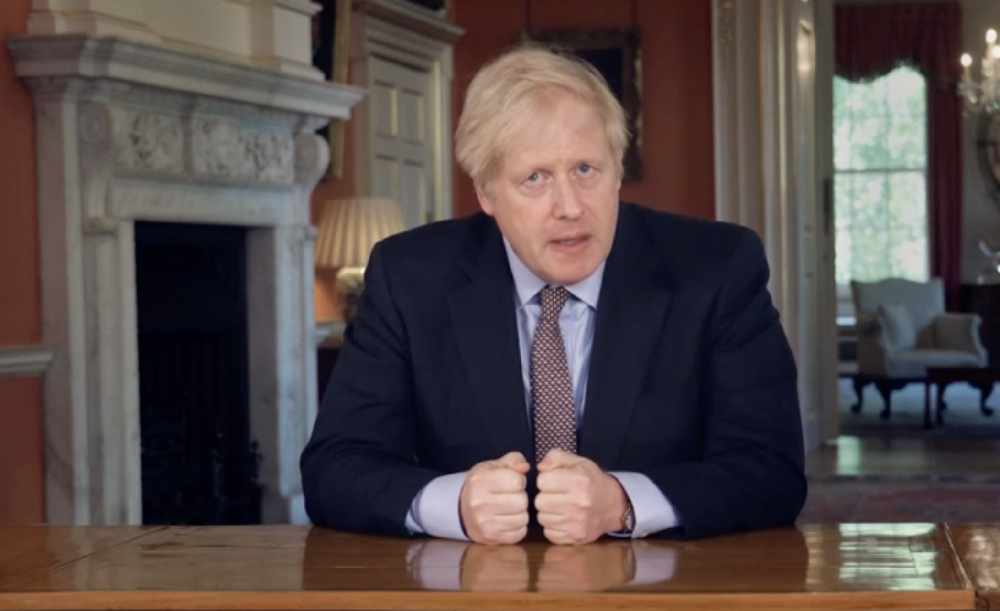 Prime Minister Boris Johnson has set out the next steps in the country's response to the coronavirus, explaining gradual changes to lockdown measures and launching a threat level alert system.
In a pre-recorded address to the nation on Sunday evening at 7pm, he gave the "the first sketch of a road map for reopening society" and easing lockdown restrictions but stressed it is "a conditional plan" and the government "will not hesitate to put on the brakes" if there are further outbreaks of the virus.
He also reiterated that it is "not the time simply to end the lockdown this week" but instead take "the first careful steps to modify our measures".
Read a full transcript of his address here.
This is a breakdown on what he said:
From tomorrow (Monday), people who can't work from home - such as construction workers and manufacturers - should be actively encouraged to return to work if it is safe to do so and avoid public transport if at all possible, instead travelling by car, cycling or walking.

The government has been working to establish new guidance for employers to make workplaces COVID-secure.

From Wednesday, people will be encouraged to take more and even "unlimited amounts" of outdoor exercise - sitting in the sun in your local park, driving to other destinations, and even playing sports but only with members of your own household and obeying social distancing rules. Police will be able to give out increased fines to ensure this is enforced properly.

Schools and some shops will have a phased reopening from June 1 "at the earliest", with primary schools returning first - beginning with reception, Year 1 and Year 6 pupils.

The government's ambition is that secondary school pupils facing exams next year will get "at least some time with their teachers before the holidays" and detailed guidance on how to make it work in schools and shops and on transport will be set out shortly.

Some of the hospitality industry and other public places could open by the start of July at the earliest, provided they are safe and enforce social distancing.

It will "soon be the time" to impose quarantine on people coming into this country by air.

There will be a Covid Alert System to rank the threat level of coronavirus in England, which will use a scale of one to five. The system - with alerts ranging from green (level one) to red (level five) - will be adjusted according to data and will be similar to the one used to keep the public informed about the terror threat level.

The PM says we have been at level four during the lockdown, but "thanks to your sacrifice we are now in a position to begin to move in steps to level three". However, he says "everyone will have a role to play in keeping the R down… by staying alert and following the rules."

The plan over the next two months, which he says will get us through the next phase of the pandemic, will be driven by the "science, data and public health" and not by "hope or economic necessity".

The government will be monitoring the R (the infection rate) and the number of new infections and if, as a nation we begin to fulfil the conditions set out, they may be able to "go further" in the "next few weeks and months".
He said he will set out the plans he is announcing in more detail in Parliament, where he will answer questions from MPs, and take questions from the public on Monday.
The Prime Minister ended by saying that the UK will be "changed by this experience" but the country will come back from "this devilish illness", return to "robust health" and can be "stronger and better than ever before".
Backlash to 'stay alert' message
The PM - who chaired an emergency COBRA meeting earlier in the day - tweeted this afternoon to announce the update to the government's coronavirus message from "stay at home, protect the NHS, save lives" to "stay alert, control the virus, save lives".
The rules also outline that people should:
Stay at home as much as possible
Keep your distance if you go out (two metres apart where possible)
Work from home if you can
Limit contact with other people
Wash your hands regularly
If you or anyone in your household has symptoms, you all need to self-isolate
Everyone has a role to play in helping to control the virus by staying alert and following the rules.

This is how we can continue to save lives as we start to recover from coronavirus.#StayAlert pic.twitter.com/2z9yl1Fxs4

— Boris Johnson (@BorisJohnson) May 10, 2020
However, despite being defended by ministers, the message has received widespread criticism from opposition parties, leaders, other parts of the UK and members of the public for being too vague, too ambiguous and the wrong course of action at this time.
In Wales, Scotland and Northern Ireland, where the lockdown has already been extended until 28 May, the devolved governments who control health have made clear they will keep the original slogan - stay at home, protect the NHS, save lives.
Mr Johnson delivered the pre-recorded speech on Sunday, when it was confirmed a further 269 people who have tested positive for coronavirus have died across the UK - bringing the total number of deaths in hospitals, care homes and the community to 31,855 - and the government has failed to meet its target of 100,000 daily tests for the eighth day in a row.
Keep up to date with all the latest local and national developments here: https://www.questmedianetwork.co.uk/news/daily-coronavirus-updates/.