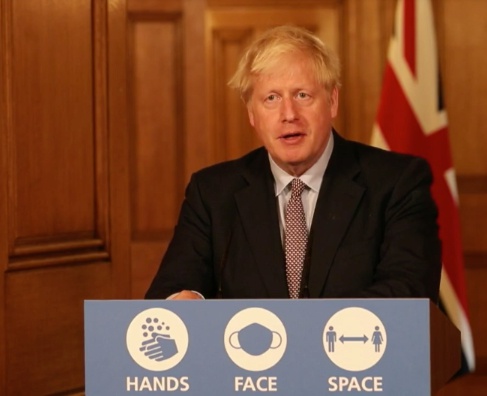 Prime Minister Boris Johnson has confirmed that social gatherings of more than six people will be banned by law in England from Monday 14 September, as he outlined a host of other measures in a bid to curb an alarming rise in coronavirus cases across the country.
In his first Downing Street press conference about coronavirus in nearly six weeks, on Wednesday afternoon (9 September), he also said the "most important thing for all of us is to remember the basics" - to wash hands, wear a covering and make space by socially distancing - as part of the government's new public awareness campaign.
The Prime Minister said that "we must act" to avoid another nationwide lockdown after Professor Chris Whitty outlined that cases have risen "really quite sharply" among some age groups, adding that positive Covid-19 cases among 17 to 18 year olds and 19 to 21 year olds have been going up "really quite steeply since the middle of August".
After widespread criticism of the lack of tests being available across the country recently, including from Labour leader Sir Keir Starmer at Prime Ministers Questions earlier in the day, Mr Johnson reassured people that testing capacity will grow - but reminded the public that they should only book a test if they have symptoms of coronavirus.
It came as the UK reported another 2,659 coronavirus cases, the fourth day running that over 2,000 cases have been recorded.
How the 'rule of six' will work
In an obvious change of tone to more talk about enforcement rather than encouragement, Mr Johnson said that the public must still limit social contact "as much as possible" and restrict social interactions.
From next week, the government will introduce the "rule of six" - which will replace the existing bans on more than 30 people meeting and the rule of only two households allowing to mix.
The new legal limit is being lowered to ban larger groups meeting anywhere socially indoors and outdoors, acting on feedback from the police and the public.
The new rule applies to people of all ages in private homes, indoors and outdoors, and places such as pubs, restaurants, cafes and public outdoor spaces.
Covid-secure venues like places of worship, gyms, restaurants and other hospitality premises will still be able to hold more than six people in total. But within those venues, there must NOT be individual groups larger than six people and groups cannot mix socially or form larger groups.
Work settings and education establishments such as schools and colleges are unaffected by the rule, as well as organised sport, weddings, funerals and households of more than six people.
Those who break the rules can be dispersed, fined and arrested. The fines will be £100, but will double for repeat offences up to a maximum of £3,200.
Mr Johnson said the restrictions would be kept "under constant review" and will only be in place for "as long as necessary".
Aiming to simplify 'complicated' rules and avoid second national lockdown
Mr Johnson admitted that the rules have changed over time so now they are "complicated and confusing" but he promised that they will be simplified and made easier for both people to understand and the police to enforce.
He went on to say that hospitality businesses will be forced to collect the contact details of customers and those who refuse to do so, or premises that are found to not be Covid-secure, will face fines.
Mr Johnson said that Covid-secure "marshals" will also be employed in town and city centres that local authorities can use to ensure social distancing is adhered to.
He added that premises in local areas could also have their opening hours restricted, as is now in the case in Bolton - without specifying any other places where this will be applied to at this time.
The Prime Minister also said that measures at the border will be stepped up to ensure quarantine rules are followed, while the passenger locator form - which is filled out by travellers returning to the UK to enforce quarantine rules - will be simplified.
The government will revise plans to pilot larger audiences and review stadium plans, Mr Johnson went on to say.
"These measures are not another national lockdown. The whole point of them is to avoid a second national lockdown," he added.
The Prime Minister said that he is "sorry" and he "wishes" he did not have to take these steps, later saying "it breaks his heart to have to insist on these restrictions" - but added: "As your prime minister, I must do what is necessary."
A plea to university students
Mr Johnson said that opening universities again is "critical" and the health risks to students are "low" but admitted that many students are in the age bracket - 20 to 29 year olds - where cases are rising rapidly.
He also made a direct plea to students going back to university to follow the rules in order to keep others safe.
"Please for the sake of your education, parents' and grandparents' health, wash your hands, cover your face, make space and don't socially gather in groups more than six now and when term starts," Mr Johnson said.
He also went on to say that closing schools again would be "a very, very last resort".
Professor Chris Whitty said that infection rates are currently low in schools but current policies "would have to be looked again" if that was to change.
Mass testing plan for near future
Mr Johnson told the briefing that he wants to roll out new, faster tests which are simple, quick swabs and turn around results in as low as 20 minutes.
He has plans for them to be on a "far bigger scale than any country has achieved" and a "moonshot" effort to help the country return to normal, for example to test people at theatres and sports venues - with those who test negative being allowed in "exactly as in the world before Covid".
The approach will be piloted in Salford from next month in outdoor and indoor venues with a hope to go nationwide after that possibly by next spring, he said, whilst admitting that it is an "ambitious agenda".
The Prime Minister also said the government is "working hard" to increase testing capacity to 500,000 a day by the end of October.
Indication on vaccines 'hopefully soon'
Sir Patrick Vallance, the government's chief scientific adviser, also told the press conference that vaccines and drug treatments are going to be a very "important part of how we get on top of this virus".
He said there are around 200 vaccine projects across the world, and eight of those are in the last phase of clinical trials.
He added: "We will start to get some indication hopefully before the end of the year of vaccines that do work and have the right safety profile."
Sir Patrick also addressed the news that Oxford vaccine trials have had to be paused, saying it is "not an unusual thing in a Phase Three programme" and it is "critically important" to establish whether the vaccines are safe.
He added that the UK can think about the possibility of vaccinations "next year some time at larger levels".
'Too early' to say about Christmas
When asked if people will have to accept Christmas won't be like normal without mass testing, Mr Johnson admitted that it's "just too early to say".
But he said he is hopeful that the "rule of six" will get the current spike down.
The Prime Minister had claimed back on 17 July that he hoped there would be a "significant return to normality" in the autumn.
Keep up to date with all the latest local and national developments here: https://www.questmedianetwork.co.uk/news/daily-coronavirus-updates/.