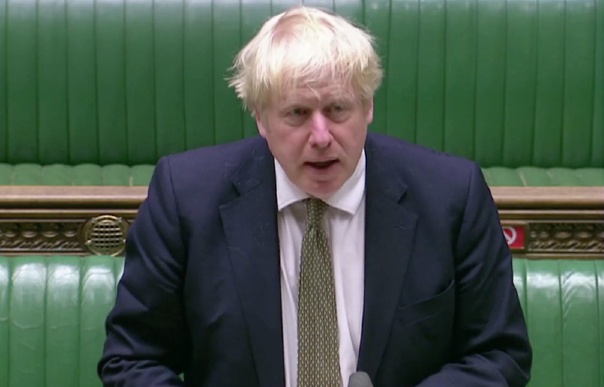 Prime Minister Boris Johnson has finally confirmed what the widely-reported new three-tier system for lockdown measures will consist of.
In a statement to the House of Commons on Monday afternoon (12 October), Mr Johnson set out the system for England - which will label regions as being on medium, high or very high alert depending on local infection rates and each level will have different lockdown restrictions.
This is what it means:
Medium alert level (Tier 1) - this includes the current national restrictions such as the rule of six and the 10pm curfew for pubs, bars and restaurants. It will be in place for most of the country.
High alert level (Tier 2) - people will be prevented from socialising with other households indoors and the rule of six applies outdoors as well as in private gardens. This will largely cover areas where interventions are already in place.
Very high alert level (Tier 3) - people will be banned from socialising with other households both indoors and in private gardens, while bars and pubs will be closed unless they can operate as restaurants. Residents will also be advised against travelling in and out of these areas, while it will be up local politicians regarding whether other leisure venues such as gyms and casinos should also close. However, non-essential shops, schools and universities will remain open. It will apply where transmission is rising rapidly and the NHS could be under "unbearable pressure".
A postcode checker on gov.uk will show which alert level applies in each area and the NHS Covid-19 app will also direct people to this information. This will be live by the end of Monday.
'Second national lockdown not the right course'
Mr Johnson began his statement by stating that the number of coronavirus cases has quadrupled in the last three weeks and there are more people in hospital with Covid-19 than when the country went into the national lockdown back in March.
But he insisted that enforcing a second national lockdown - which would involve closing schools and businesses as well as telling people to stay at home - would not be "the right course" of action.
However, he also said that letting the virus "rip" would lead to an "intolerable death toll" and the NHS would be under such a strain that staff wouldn't be able to devote themselves to treating other ailments.
"We must act to save lives, and the evidence shows in changing our behaviour... our actions are saving lives."
He also had a warning for people who perhaps think that the virus is something that only affects the elderly, saying there are still many young people for whom Covid-19 "remains lethal".
The PM also reported that the current R rate - the average number of people someone with the virus passes it on to - is between 1.2 and 1.5 nationally.
Financial support for local authorities
The Prime Minister pointed out the "unprecedented" financial support package that has been unveiled by Chancellor Rishi Sunak to effectively replace the furlough scheme, which will cover two-thirds of the wages for employees of businesses forced to close by restrictions.
Mr Johnson also said that the government will provide about £1 billion of new funding to local authorities across the UK, in addition to the £3.6 billion Towns Fund.
He also confirmed there will be further financial support for improved contract tracing.
'I have no doubt we will succeed together'
Concluding his Covid statement, Mr Johnson told MPs that "this is not how we want to live our lives" but it is "the narrow path we have to tread between social and economic costs of a full lockdown and the massive human and indeed economic cost of an uncontained epidemic."
He added: "I must warn the House the weeks and months ahead will continue to be difficult and will test the mettle of this country. I have no doubt at all that together we will succeed."
How did Labour respond to the Prime Minister's announcement?
Labour leader Sir Keir Starmer said that the country is at a "critical moment" with the virus is spreading in all areas of the UK.
He says that nobody "should be under any illusions about where this is heading or the need for decisive action" but he added that "the question today is whether the restrictions announced by the prime minister can bring the country back from the brink".
Starmer went on to say that Labour will consider the package of new measures and discuss it with local leaders and MPs, but he says he is "now deeply sceptical that the government has actually got a plan to get control of this virus".
He said that it "increasingly feels like the PM is several steps behind the curve" and he says previous measures announced by the government have not worked.
Starmer rounded off his response by addressing the critics of further restrictions, saying "the worst thing the prime minister could do is not act quickly and decisively enough".