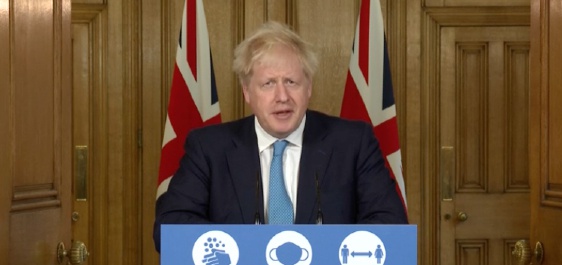 Prime Minister Boris Johnson has said that he will "need to intervene" to "save the lives of residents" if agreement cannot be reached with Greater Manchester's leaders over placing the region into the toughest coronavirus restrictions. 
Speaking at a Downing Street press conference on Friday afternoon (16 October), Mr Johnson confirmed that the government has not yet reached agreement with Mayor Andy Burnham, MPs and council leaders in Greater Manchester - which includes Tameside and Oldham.
He said he "completely understands Mr Burnham and his colleagues' reluctance" to move to Tier 3 - and 'very high' Covid alert - of the new coronavirus lockdown system.
But the Prime Minister warned that "the situation is grave" in the region and "worsens with every passing day", saying cases in the area have doubled in the last few days and high infection rates have been creeping up the age range.
He added: "In two weeks, there will be more patients in ICU than at the peak of the first wave of the pandemic."
Mr Johnson urged Mr Burnham to "reconsider" and "engage constructively" with the government on the situation in Greater Manchester, with "time of the essence".
He argued that efforts will be "more effective" if the government and Mr Burnham work together, but warned if no agreement is reached that he will "need to intervene" to "protect Manchester's hospitals and save the lives of Manchester's residents".
Greater Manchester leaders have unanimously opposed plans to impose the severest coronavirus restrictions on the region, insisting they are "standing firm" and "fighting back for fairness and for the health of our people".
Mr Burnham said on Thursday that Greater Manchester and other parts of the North West are "being set up as the canaries in the coalmine" for "an experimental regional lockdown strategy" by the government.
Meanwhile, the Prime Minister also said in his news briefing that talks with local leaders on harsher restrictions across the country were "tough discussions" and "difficult decisions".
Earlier in the day, Lancashire joined the Liverpool City Region in moving to Tier 3 from Saturday.
What would moving to Tier 3 actually mean?
Currently, Greater Manchester is under the Tier 2 'high' Covid alert - which means mixing of households indoors is not allowed, the rule of six and social distancing applies to private gardens and outdoor spaces, while pubs and restaurants can remain open, but no mixing of households is allowed inside and the 10pm curfew is in place.
But if Tier 3 was imposed, it would mean the following:
No mixing of households indoors and outdoors, including in private gardens
Pubs and bars to close
Restaurants, and pubs that can operate as restaurants, allowed to stay open
No wedding receptions
Local politicians will decide if gyms, betting shops, casinos, hairdressers and beauty salons should close
Non-essential shops, schools and universities to remain open
Avoid non-essential travel
Travel outside area advised against
Avoid staying overnight in another part of the UK if resident in a Tier 3 area
People resident elsewhere should avoid staying overnight in a Tier 3 area
You can read more about the different restrictions on the government's website at https://www.gov.uk/guidance/local-covid-alert-levels-what-you-need-to-know.
Rapid tests to be used
Mr Johnson said that faster and cheaper coronavirus tests will be trialled over the next few weeks - to be used for NHS and care home staff, students and areas with local outbreaks.
He said it's "becoming clear" that some of these tests developed by scientists are "highly effective" and local health teams in high-infection areas will be "prioritised" in getting testing kits.
The Prime Minister added that the UK is now testing more people than any other country in Europe, but it's vital to catch more asymptomatic cases to restrict the virus's "vicious spread".
He also said that the government is taking "every possible step" towards creating a coronavirus vaccine.
Keep up to date with all the latest local and national developments here: https://www.questmedianetwork.co.uk/news/daily-coronavirus-updates/.