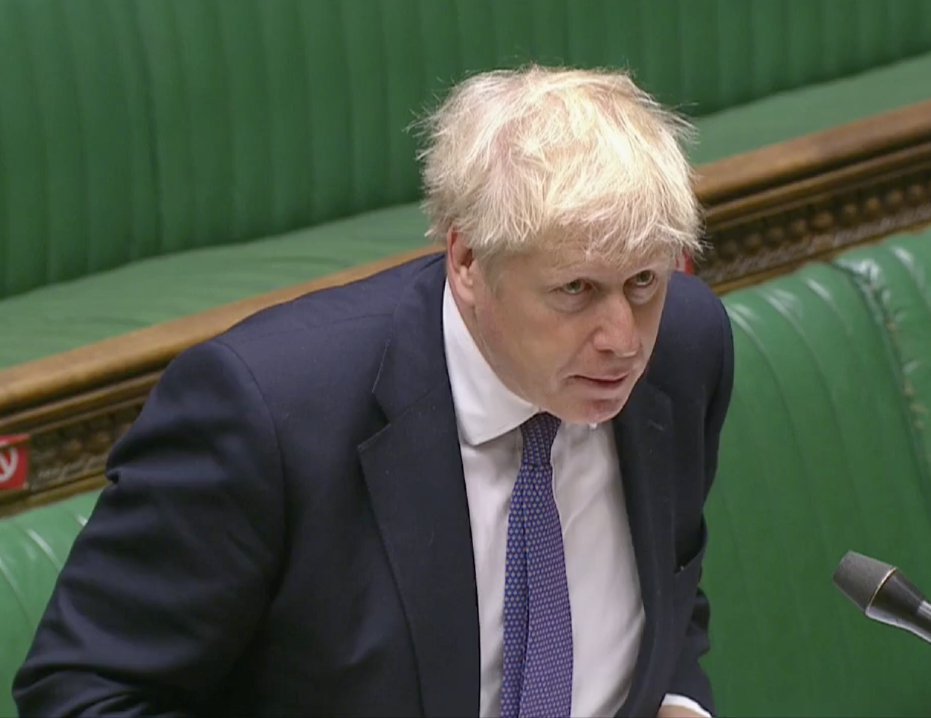 Prime Minister Boris Johnson has said that Greater Manchester will receive the £60 million that was offered to support the region's businesses which will be affected by the Tier 3 coronavirus restrictions.
The money will be distributed to Greater Manchester's 10 boroughs - including Tameside and Oldham.
Mr Johnson made the announcement in the House of Commons during Prime Minister's Questions (PMQs) on Wednesday afternoon (21 October).
It comes after the PM confirmed on Tuesday evening (20 October) that the region will move to Tier 3 - the 'very high' Covid alert and toughest coronavirus regulations in the new system - which will come into force at 00.01am on Friday (23 October).
Greater Manchester mayor Andy Burnham told a press conference on Tuesday that he and local leaders had agreed that £15 million a month was needed to support the 2.8 million people living in the 10 boroughs to effectively top up the furlough scheme to 80 per cent, at a cost of £90 million to the end of the financial year.
Mr Burnham said he was prepared to accept £75 million or even go to £65 million as the "bare minimum" that was "needed" and not "wanted" in order to "prevent a winter of real hardship".
But he said the government - which offered £60 million - "refused to accept this" and they "walked away" from talks at 2pm on Tuesday afternoon, following 11 days of fractious negotiations.
Mr Johnson then told a news briefing at Downing Street that Greater Manchester will initially receive £22 million to protect public health and local economies such as contact tracing and enforcement - which equates to approximately £8 per person - and is "on top of the £1 billion we're providing in funding for local authorities across the whole country".
He said the government is offering a "comprehensive package of support" and the Job Support Scheme means people affected by businesses which will have to close will still be paid. People on Universal Credit will also receive 80 per cent of their full income, he added.
But Mr Johnson had repeatedly refused to say whether the government would give the extra £60 million in support for businesses, instead saying that "our door is open to continue that particular conversation".
However, in the Commons on Wednesday, he told MPs: "I am very proud that this government has already given Greater Manchester £1.1 billion in support for business, £200 million in extra unringfenced funding, £50 million to tackle infections in care homes, £20 million for Test and Trace, and another £22 million for local response that we announced yesterday.
"Yesterday, the mayor of Greater Manchester was offered a further £60 million which he turned down, with no encouragement - I may say - to support from the Right Honourable Gentleman [Labour leader Keir Starmer].
"So I can tell the House today that that cash will be distributed to the boroughs of Greater Manchester and I want to thank my Honourable and Right Honourable colleagues across the House - from Heywood & Middleton, Bolton North West and Bolton North East, Bury South, Bury North, Cheadle, Leigh, Altrincham and Sale, and Hazel Grove for the support that they have given in this matter."
Labour leader Keir Starmer had criticised Mr Johnson for not being able to "find" £5 million.
"I think the Prime Minister has crossed a Rubicon here - not just with the miserly way he's treated Greater Manchester but in the grubby 'take it or leave' way these local deals are being done - it's corrosive to public trust," he said.
Communities secretary Robert Jenrick has since written to the region's 10 council leaders inviting them to open talks on claiming their share of the £60m.
The move seems designed to cut Andy Burnham out of any further negotiations.
Keep up to date with all the latest local and national developments here: https://www.questmedianetwork.co.uk/news/daily-coronavirus-updates/.