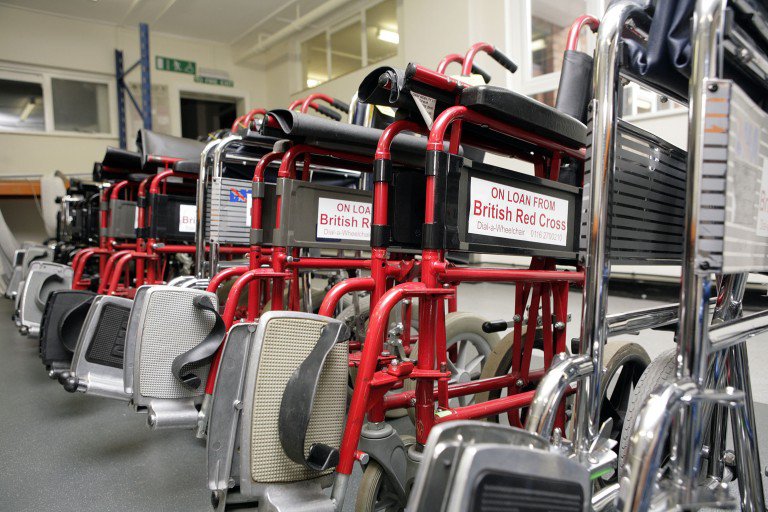 People from Oldham who need wheelchairs and other mobility aids during the coronavirus crisis do not have to go without because of the national emergency.
That's the message from the British Red Cross, which provides short-term loans of wheelchairs and other mobility aids across the UK, and has teamed up with Big Yellow Self Storage to scale up its offering in response to Covid-19.
The Red Cross is working in 70 hospitals, providing mobility aids that assist with patient discharge, while most of its 100+ community-based mobility centres remain open so people can order and collect items like wheelchairs.
In some areas, the British Red Cross can deliver to homes.
Mobility aids support people to recover from illness and injury, improving choice, independence and wellbeing, and that helps take the strain off NHS professionals. Benefits can include reducing pressure on services, speeding up recovery time and enabling people to return home sooner.
People who need a mobility aid in the short term can order one online.
In recent weeks, the British Red Cross has been scaling up its mobility aids service, providing support to additional healthcare sites, including the new Nightingale Hospital in Birmingham and Covid-19 rehabilitation units in parts of northern England such as Knowsley and Cleveland.
The organisation is supporting NHS trusts from locations which include Oldham.
The British Red Cross has also teamed up with Big Yellow Self Storage, which has provided 27 storage locations free of charge, so that the charity can store mobility aids and distribute them to hospitals, local resilience forums and even homes.
Big Yellow Self Storage has provided sites which include in Manchester.
British Red Cross operations manager for mobility aids, Geoff Cheshire, said: "No one should have to stay in hospital for lack of a wheelchair or other mobility aid.
"The lack of a mobility aid can prevent someone from doing even simple tasks around the house, let alone enjoying some meaningful exercise, indoors or out, popping to the supermarket or picking up a prescription.
"Those concerns can be the difference between someone having to stay in hospital or being able to return home, and we want clinicians and emergency responders embedded in communities to know we are here to support them."
Big Yellow Self Storage chief executive Jim Gibson said: "As part of our commitment to local communities, we support charities up and down the country. Now more so than ever, it is important for us to work together to help in any way we can.
"By donating space across the UK to the British Red Cross, we're able to provide additional secure, accessible and clean facilities for the organisation to store its mobility aids while enabling its wonderful volunteers to continue with their invaluable work at this time."
British Red Cross research shows wheelchairs can help people manage day-to-day life better and aid rehabilitation inside and outside the home.
This support gives them a better chance of returning to good health, an independent life and a fulfilling day-to-day routine.
The British Red Cross backs the We are Undefeatable campaign that encourages people with long-term health conditions to remain active, even in the face of restrictions on movement and social contact, and believes that it is crucial people are able to make the most of their daily period of exercise even if they have mobility issues.
Wheelchairs are generally available to hire for £15 per week for up to 20 weeks and are free to borrow for people who cannot afford to pay.
In the current crisis, when an organisation is working in support of the NHS, the service is free at the point of access for those who need it.
British Red Cross wheelchairs are cleaned and disinfected, and all Red Cross centres comply with social distancing and hygiene requirements.
To find out more about our mobility aids service for clinicians, local authorities and emergency responders call 0300 4561914.
For more information about mobility aids loans in the community visit the British Red Cross website.
For more information about the British Red Cross visit www.redcross.org.uk.
Keep up to date with all the latest local and national developments here: https://www.questmedianetwork.co.uk/news/daily-coronavirus-updates/.