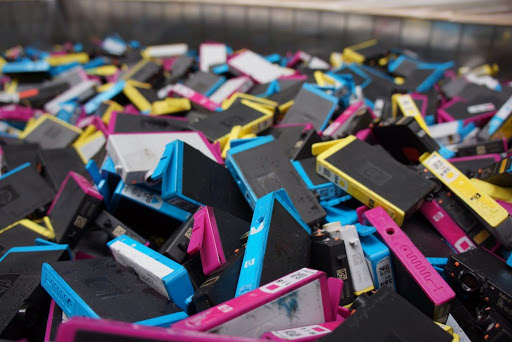 Think Inks, a UK printer consumables recycling organisation based in Oldham, is donating up to £5 to the NHS Charities Together COVID-19 Urgent Appeal for every single used ink cartridge they receive from the public for recycling.
Think Inks' recycling initiative allows people to raise money and contribute to the wellness of the environment, all through sending in their used print cartridges and without the need for giving cash.
According to research by Energy Central, 11 ink cartridges are thrown away per second, which equates to one million cartridges per day. Altogether, more than 375 million empty ink and toner cartridges are thrown out every year, with most of them ending up in landfills.
With 97 per cent of ink cartridges made from recyclable materials, everyone can play their part to help reduce the abundance of plastic waste by recycling the cartridges they have at home.
Think Inks is asking the UK public to help from home by sending in their used ink cartridges that demand for used toner cartridge recycling, Think Inks has partnered with hundreds of local & regional charities to enable collections of toner & ink cartridges, raising over £560,000 in the process. Now, Think Inks is devoting its efforts to help NHS workers and volunteers on the frontline and campaigning to help raise millions more for NHS Charities Together COVID-19 Urgent Appeal.
Think Inks Managing Director, James O'Connor, said: "With increasing numbers of people working and learning at home due to the COVID-19 distancing measures, it is possible that up to 30% more Inkjet cartridges (typically used in home printers or small desktop printers) than normal will be discarded, which is why we are calling on the public to recycle their used cartridges.
"The pandemic has impacted the way we live and work, but the biggest impact is to our NHS and the people who are risking their lives to save ours. With most methods of conventional fundraising paused, we are proud to be able to raise substantial funds without asking the public for cash."
Ellie Orton, Chief Executive of NHS Charities Together said: "We are truly impressed with the sheer volume of support we are receiving. The innovative Think Inks campaign not only helps those wonderful NHS staff and the volunteers working day and night to save lives at a time of critical importance for us all, but is also healthier for our planet."
The partnership between Think Inks and NHS Charities Together COVID-19 Urgent Appeal was set up as a way to reach millions of people directly at home.
NHS Charities Together COVID-19 Urgent Appeal provides emergency funds for a variety of initiatives to help NHS staff, volunteers and patients.
These include well-being packs/gifts of refreshments/wash-kits, temporary accommodation, parking costs, volunteer expenses, food deliveries and electronic communication devices to help patients in isolation stay connected to their family and friends.
Sending empty cartridges to Think Inks is easy; request a FREEPOST bag from the Think Inks website www.inksnhs.com and it will be sent to your address. Fill the bag with your empty cartridges (two to ten cartridges are permitted in each bag) to recycle. The bag can then be posted in any post box, for free. No direct contact with others is required.
For more information on how to get involved, visit www.inksnhs.com.
Keep up to date with all the latest local and national developments here: https://www.questmedianetwork.co.uk/news/daily-coronavirus-updates/.