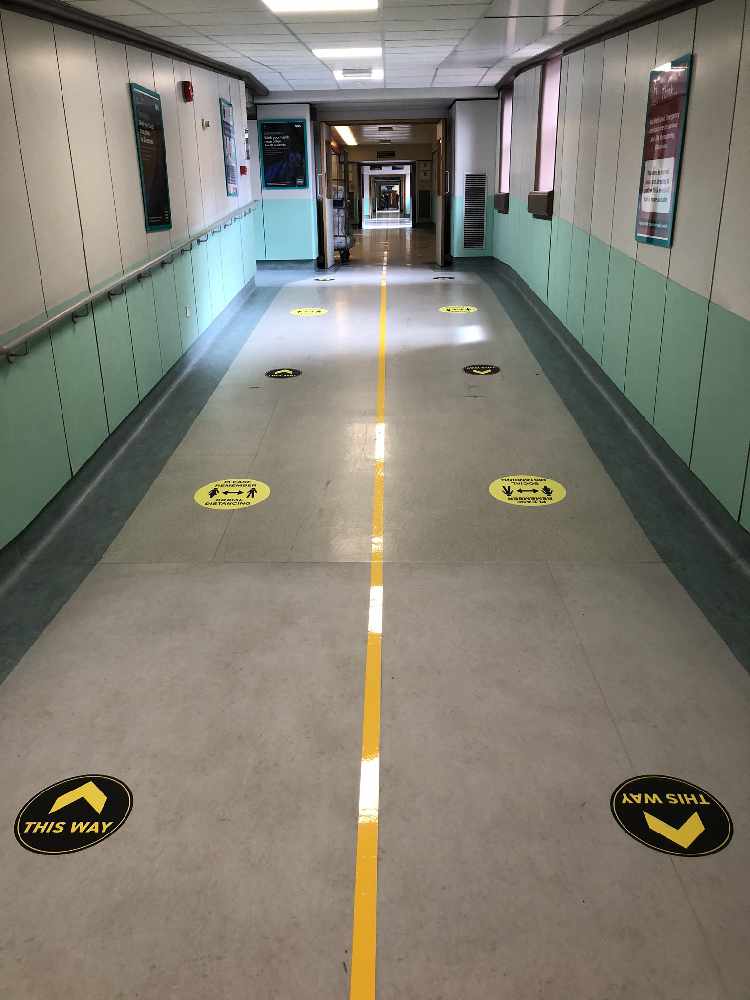 A number of new measures have been introduced at Tameside Hospital in order to keep people safe and enable social distancing.
Tameside and Glossop Integrated Care NHS Foundation Trust, which runs the Ashton-based hospital, say the changes have been made so that patients, staff and visitors are "as safe as possible" when they enter one of the hospital's sites.
All visitors, staff and patients must wear a face mask or covering in public areas, indoors and across all sites. The Trust say it will be providing NHS face masks at the main entrances of the hospital and clinics, but is also reminding people with Covid-19 symptoms that they and their household must isolate at home in line with Public Health England guidelines.
There are a number of hand sanitiser points across the hospital sites and new signage with markers directing people to maintain social distancing while queuing in the restaurant, the Amigos shop and Costa Coffee.
General reminders about the need to remember social distancing are also located throughout the hospital, where there is of course a greater need to prevent the spread of coronavirus.
There is also a directional system along hospital corridors to help ensure all staff, visitors and patients maintain social distancing, as well as signage on chairs to ensure that there is adequate spacing between people to maintain government guidelines.
The lifts around the hospital are now limited to only two visitors at any one time and the Trust is encouraging staff, visitors and patients to use the stairs wherever possible.
As well as installing new signage and providing face masks, the Trust say it has also increased the number of cleaning staff, who have ramped up cleaning and deep cleans around the hospital.
Mike Veale, Deputy Director of Estates and Facilities at the Trust and who has been leading on social distancing in public areas, said: "We are making every effort that we comply with government guidance and are committed to ensuring a safe environment for everyone while they are on our sites.
"We have lots of signage up giving clear instructions so that the changes we have made are as clear as possible for everyone to follow. We want our visitors, staff and patients to feel reassured that we are taking every precaution, so that if they need to come to the Trust they will be as safe as possible."
Main image:
Some of the directional signs on a hospital corridor which have been introduced.
Keep up to date with all the latest local and national developments here: https://www.questmedianetwork.co.uk/news/daily-coronavirus-updates/.