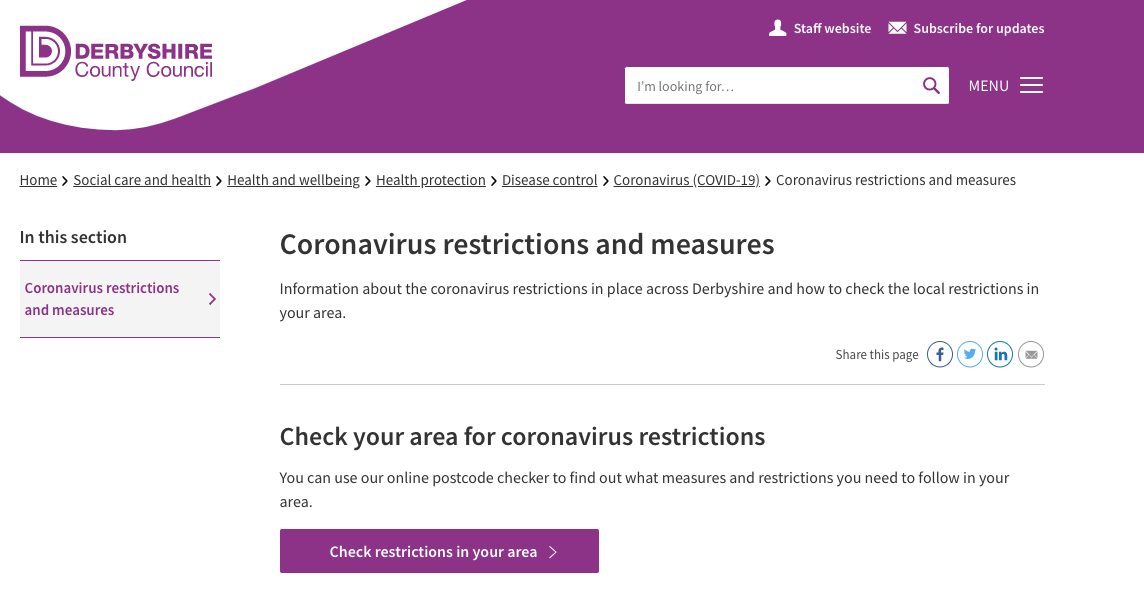 Residents across Derbyshire can find out coronavirus restrictions for their area with a new postcode checker on the county council's website.
On Monday, Prime Minister Boris Johnson announced the government's new Covid three tier alert system – placing areas at 'medium', 'high' or 'very high' alert.
Glossopdale was placed in Tier 2 measures – or on 'high' alert – with extra measures in place following a rise in confirmed cases in the area.
The new online checker – www.derbyshire.gov.uk/covidmeasures - allows people to put in their postcode, scroll down to their address and find out immediately the alert level for their area.
Residents will also be able to see a full explanation of the restrictions in each of the three tiers and what they mean for households.
Derbyshire's Director of Public Health Dean Wallace said: "We realise that understanding what the restrictions are and which areas they cover might be confusing for people.
"The new restrictions now in force across parts of the High Peak cover a very specific area and may not follow natural boundaries that local people understand - it might even be the case that people living in the same street could be subject to different rules.
"Our online checker enables everyone across Derbyshire to find out at-a-glance the alert level for their address and what that means to them.
"And while we hope that all our efforts to stop the spread of coronavirus will be enough to prevent any other areas of Derbyshire having tighter restrictions imposed, if this does happen in the future the checker will be updated to reflect that."
Residents in Glossopdale must follow tighter Government restrictions, as well as those currently in place, to help stop the spread of the virus. These include:
• Different households or support bubbles should not mix anywhere indoors
• Outdoors people should stick to the Rule of Six, including children
• If going on holiday, this should only be with the people they live with or that are in their support bubble
• Family and friends can provide informal childcare as part of a childcare bubble. The bubble is limited to two households only so informal childcare is provided by the same carers each time
• Only visit care homes in exceptional circumstances
• All businesses, leisure facilities and other places that are allowed to open by law can remain open providing they meet Covid-19 secure guidance
• Pubs, bars and restaurants and other hospitality venues close at 10pm. Drive-through services, click and collect and delivery services can continue after 10pm
• Sport and physical activity is allowed outdoors but organised indoor exercise classes are only permitted if it's possible to avoid mixing with people you don't live with or share a support bubble with. There are exceptions for people with a disability.
The rest of the High Peak currently remains on 'medium' alert so people need to continue to stay apart, wash their hands regularly, wear a face covering and stick to the Rule of 6, including children, inside and outside.
For more information about coronavirus, visit www.derbyshire.gov.uk/coronavirus.