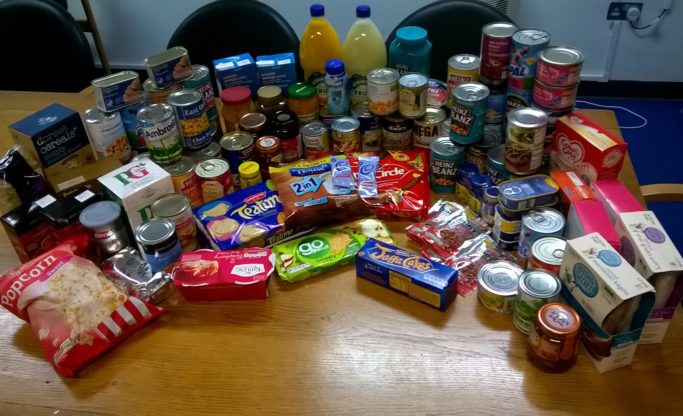 A High Peak food bank has said it is expecting a "significant rise" in referrals for vital food packages due to the Covid-19 pandemic.
New Mills Foodbank has said it had already been seeing an increase in referrals from the town and the Covid-19 pandemic is to cause another surge.
Katy-Lou Evans has worked at the food bank from 2013, since it was set up, carrying out the role of volunteer coordinator.
Residents must be given a referral to receive food and other items from food banks. They can self-refer for one week only.
She is currently self-isolating due to a member of her family showing symptoms of the virus.
Ms Evans told the Local Democracy Reporting Service: "We run a delivery service so we will be less affected because we don't have people coming down to give us items or to donate, but when volunteers have to self-isolate, that's when we will notice an impact.
"We have clients who say they may not be able to sort out referrals and so these may be relaxed a bit.
"I wouldn't say we have had a big increase in referrals yet, but we are expecting a significant rise soon, we are getting very busy.
"We had already been seeing a rise over the past six months, from the usual five or six deliveries a week to 12 deliveries just in our town.
"We are stocked up on supplies but are expecting more referrals because of the financial position more families are going to find themselves in and others that are not able to shop.
"We want to focus on those who do not have the financial means. We would ask the community to try and help themselves as much as possible if they are just unable to go to the shop but have the money to pay.
"We have started the New Mills Helping Hands Kindness Card group on Facebook to help coordinate people trying to help their own neighbours and we are hoping that will mean less pressure on the food bank over the next few weeks and months.
"These cards can be printed and posted through people's letterboxes and filled out if they need or want help with shopping or just a phone call.
"We need to protect the food bank as much as possible and keep supplies for people in a financial crisis.
"Items we may run out of are things we can't bulk-buy anymore like UHT milk.
"We are playing our part to avoid spreading coronavirus by washing our hands before and after each delivery and we are leaving deliveries on people's doorsteps.
"Disruption may be caused if more of our volunteers have to self-isolate, but we have lots we can call on. The best thing people can do for us at the moment is to help each other with the kindness cards."
To find the kindness cards, visit Facebook and search for "New Mills Helping Hands Kindness Card community group".
Keep up to date with all the latest local and national developments here: https://www.questmedianetwork.co.uk/news/daily-coronavirus-updates/.