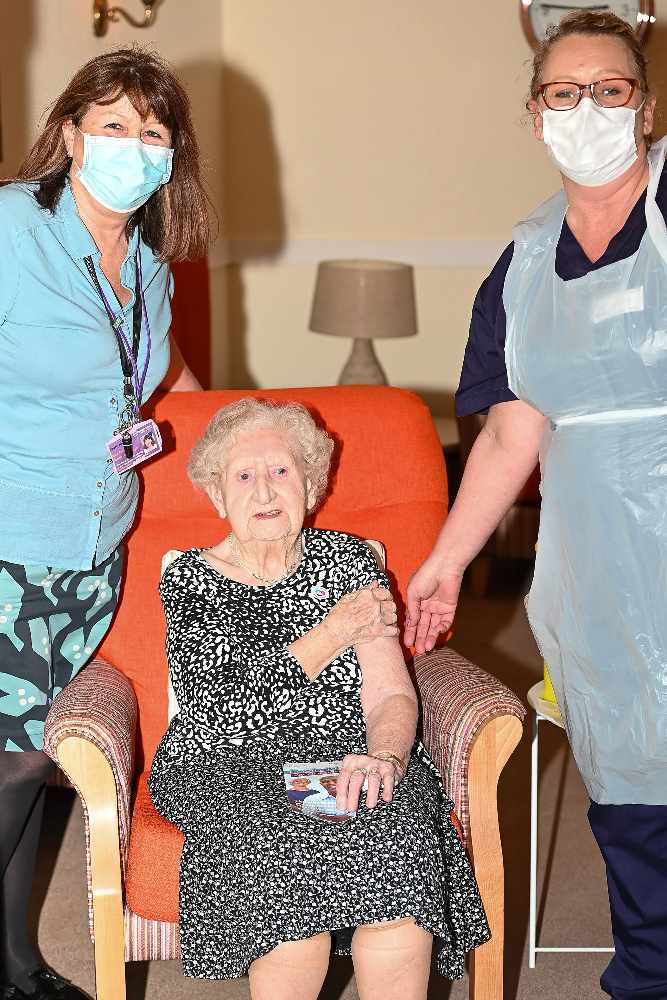 Residents at Goyt Valley House care home in New Mills have been among the first people in the High Peak to receive the much-awaited Covid-19 vaccine. 
A 99-year-old Covid survivor was among the residents to be given the jab through the NHS vaccination programme, which is being rolled out across the country.
It's great news for the elderly people in the Jubilee Street care home, who are among the most vulnerable to the virus.
Speaking after receiving the first dose of the Oxford AstraZeneca vaccine on Monday, Ivy Dawson, who will be 100 in October, said she was very relieved to get the vaccine.
"Being here is the next best thing to being at home and I hope the vaccine means we can soon move forward," she said.
Ivy has lived at the county council's Goyt Valley House home for older people for more than two years and came down with the virus in May but has now recovered.
'These are momentous times for our residents'
Glossopdale councillor Jean Wharmby, who is also the county council's cabinet member for adult care, said getting the vaccine was an enormous relief to everyone.
"These are momentous times for our residents, who are among the most vulnerable in Derbyshire," she said.
"Getting the vaccine now is a tribute to the hard work, dedication and brilliance of everyone involved, including our own staff who are supporting their colleagues in the NHS to make this happen.
"I hope this giant step will help bring a more normal way of life nearer and ensure we can be reunited with our loved ones as soon as we can."
Cheryl Hudson, Unit manager at Goyt Valley House in New Mills, where vaccinations got under way on Monday, added: "We're all so glad this day has arrived. It means so much to us, particularly the residents and their families.
"It's been a very difficult time for everyone, and I know things won't be back to normal for a while, but this is such a ray of hope for us all."
Care home residents and social care staff are in the first priority group outlined by the government, which says it hopes to vaccinate all care home residents by the end of the month.
Councillor Wharmby added: "I'd like to pay tribute to our colleagues in the NHS as well as our own care staff for working tirelessly to deliver the vaccine programme. The vaccine is a shining light at the end of a long tunnel and I'd encourage everyone to take it up when it's offered."
High Peak MP Robert Largan said: "I'm really pleased to hear the news that residents and staff at Goyt Valley House care home in New Mills have received their first dose of the vaccine. It's a brilliant care home with really dedicated staff. Last year, I was proud to take part in the cross-party campaign to keep Goyt Valley House open.
"I'll always stand up for our local care homes and I'm keeping a close eye on how the vaccine is being rolled out to them, which is a vital part of saving lives. That's why care home residents and staff are such a high priority to receive the vaccine. So far, the roll out is making good progress. But there's lots more to do.
"Thanks again to all our care home staff who work so hard and to everyone helping to get people vaccinated!"
Meanwhile, by the end of this week, three Covid vaccination hubs will be up and running in the High Peak.
Residents have already received a jab at clinics based at Glossop Cricket Club and Thornbrook Surgery in Chapel-en-le-Frith, and a site at Buxton Medical Practice will begin inviting patients to get their first vaccine dose from Friday (15 January).
It comes as Derbyshire has clocked 5,000 Covid-19 cases in a week for the first time as infections surge across the county.
Main image:
Ivy Dawson, centre, with left, unit manager Cheryl Hudson and vaccinator Tina Wild.
Keep up to date with all the latest local and national developments here: https://www.questmedianetwork.co.uk/news/daily-coronavirus-updates/.