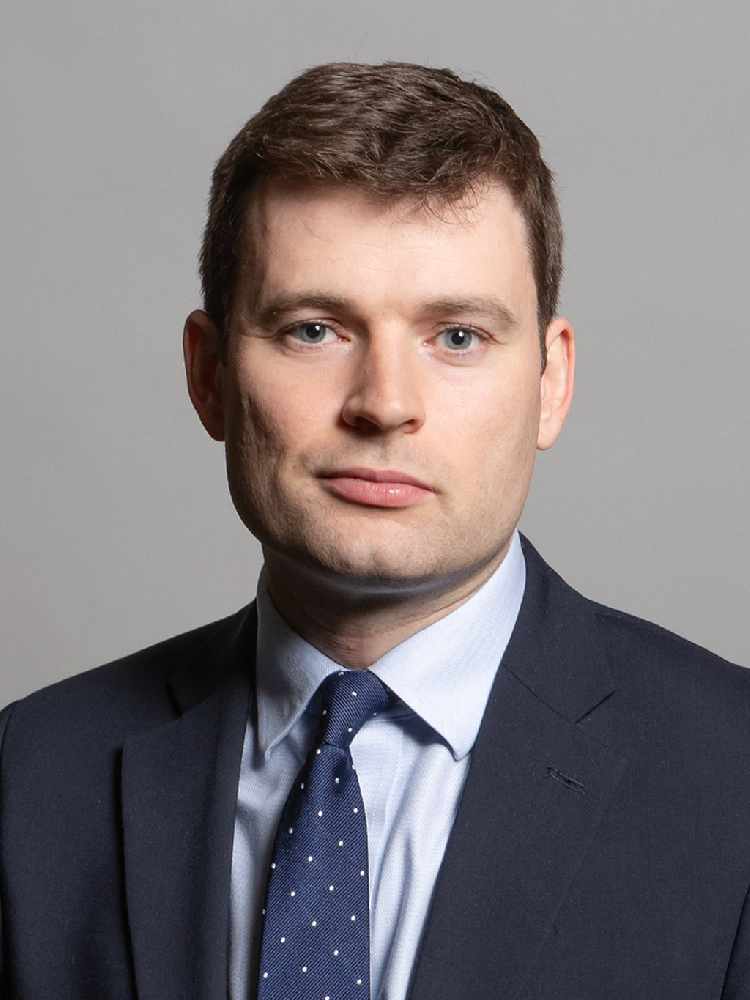 High Peak MP Robert Largan says he wants to avoid a 'circuit breaker' lockdown in England "if at all possible" and believes it's important for all politicians to work together to "get us through this pandemic". 
This week, Wales have announced a two-week 'firebreak' lockdown and Northern Ireland a four-week 'circuit breaker' - with both set to begin on Friday (23 October) - in a bid to stall the rise of coronavirus infections.
Last week, the three-tier lockdown system was introduced in England - where areas are placed on medium, high or very high alert depending on local infection rates, and each level has different lockdown restrictions. But Labour have called for a national circuit breaker to be introduced immediately with financial support, arguing that it would mean far less hardship in the long term.
In an interview with Tameside Radio, Conservative MP Largan (pictured) was asked whether the tier system offers enough protection to save lives and if we should be opting for a circuit breaker with half-term approaching for schools.
"I want to avoid a future national lockdown again," he said. "Let's be blunt, that's what a circuit breaker is – it would be another national lockdown. There have been no guarantees about exactly how long such a lockdown would last – it started off saying it would be two weeks, then the suggestion was three weeks, now that's creeped up to a month and before you know it we'll be looking at spending the entire winter locked down. That is a real concern for me.
"I think that we can't end up in a situation where we're just in this repetitive cycle of easing and tightening restrictions. We need to figure out a better way to live with this disease and remember that the cost of a lockdown would be lost jobs, businesses going bust and also remember that poverty also creates excess deaths.
"But at the same time, we've got to be pragmatic about this – there's no point in having any ideological position, we've got to follow the evidence. If the situation changes, we need to reflect on that but I really hope we can avoid another lockdown if at all possible."
'I don't want to tell Mr Burnham how to run his city'
Over the border from his constituency, Greater Manchester - which was initially placed in Tier 2 and under 'high' alert - have been locked in talks with the government for 10 days about imposing Tier 3, the toughest restrictions, on the region. Local leaders have been given until midday on Tuesday to reach an agreement with ministers on a financial support package.
Mayor Andy Burnham has resisted the introduction of tougher measures to hold out for more government support - in particular calling for a "full and fair" 80 per cent furlough for all affected workers, 80 per cent of income support for self-employed people, and a "proper compensation scheme" for businesses.
MP Largan said Mr Burnham's stand shows the effectiveness of devolution but warned that "we have to think very carefully" about which tier to place areas in.
"I think the reason that this government created the Metropolitan Mayors with devolved powers, like the Mayor of Greater Manchester, so that you would have these regional champions who would stand up for their cities," he said.
"So, in many ways, this is a good thing to see devolution working this way with a Mayor speaking up for his city. I don't want to tell him how to run his city at all, but I'd say that we have to think very carefully about the next steps when it comes to what tier people end up in.
"I'm pleased that so far Glossop remains only in Tier 2 and that the rest of the High Peak is in Tier 1. I don't think anyone wants to see additional restrictions but, at the same time, we've got to get the virus under control and prevent the NHS from getting overwhelmed which could cost lives."
'We need to work together'
The situation in Greater Manchester has seen local MPs and council leaders from the Conservative and Labour parties unite to form a defiant stance in opposing the imposition of Tier 3 restrictions without greater financial support for workers and businesses.
MP Largan said the cross-party consensus was encouraging and feels all politicians must work together in order to achieve the most important goal at present which is saving lives in the midst of the coronavirus pandemic.
"I think it's important that we do find a way to work together," he added. "I'd note that in Greater Manchester there seems to have been common cause between both the Conservative and Labour MPs and the Conservative and Labour council leaders which is encouraging to see.
"We do need to work together – I think there needs to be a bit less politicking and focusing on what really matters which is getting us through this pandemic and saving lives."

Keep up to date with all the latest local and national developments here: https://www.questmedianetwork.co.uk/news/daily-coronavirus-updates/.