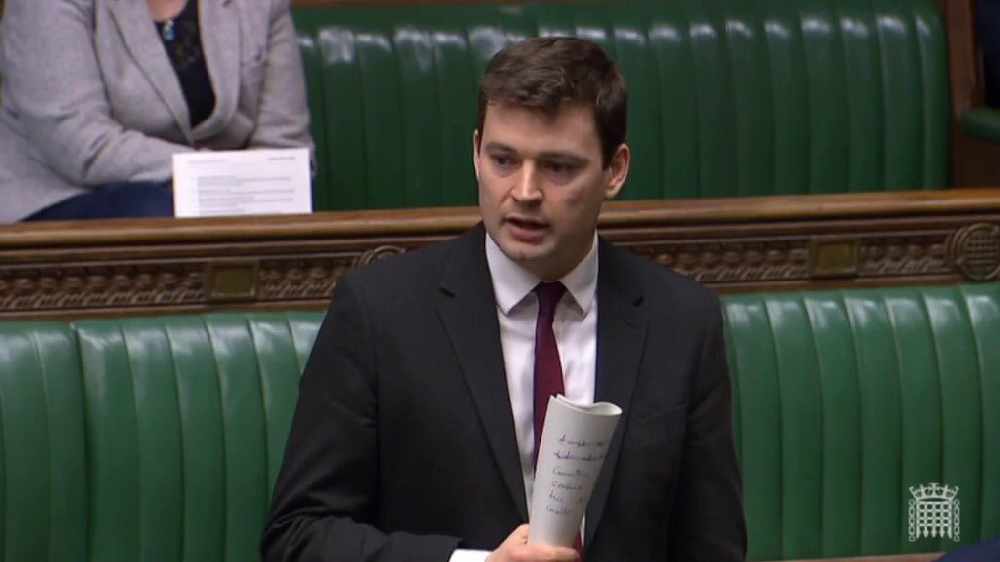 High Peak MP Robert Largan has defended his decision to vote against a motion which proposed weekly coronavirus testing for NHS and social care staff on the frontline. 
An amendment was brought in the House of Commons last week by Shadow Health Secretary Jon Ashworth and other Labour colleagues.
It called on the government to "implement a routine weekly testing programme for all NHS and Social Care staff to enable NHS services to safely resume and ensure the continuity of services throughout the winter alongside a functional, national, public test, trace and isolate system".
The Royal College of Nursing director Susan Masters had also said that testing health and care workers and the people they are caring for - even if they have no symptoms - "has to be a priority".
Throughout the pandemic, the safety of health and care staff has been of concern to politicians and the public, and there have been worries across the country about a shortage of Personal Protective Equipment (PPE).
The current government policy is for regular testing of asymptomatic staff following an outbreak or "where necessary".
But the motion wasn't passed after 344 MPs voted against it - compared to 198 who voted in favour of it. Of the 344 who rejected it, 334 were Conservative MPs - including Mr Largan.
In a lengthy statement on his Facebook page, he explained why he voted the way he did, saying he was in favour of the NHS staff testing policy advised by the Chief Medical Officer for England, Chris Whitty.
He said: "To be very clear, I am not against regular testing of NHS staff. I am in favour of NHS staff testing policy as advised by the Chief Medical Officer.
"This includes continuing to prioritise testing of all NHS staff with symptoms, regular testing of asymptomatic staff in situations where there is an incident or outbreak, and regular surveillance testing across all staff.
"The government is continually reviewing clinical evidence to ensure regular testing of staff without symptoms is undertaken where appropriate.
"As I'm sure you can understand, the Government are taking a targeted approach to this testing, so that it is focused on the most high-risk areas. Clinical advice is to focus intensive asymptomatic testing in those areas or settings identified to have high prevalence.
"Staff working with patients on wards, for example, will benefit from regular testing far more than NHS staff working in offices or administrative roles where they do not come into regular contact with patients. This approach is crucial as, when prevalence of the virus is very low, the risk of misleading results is higher. This can undermine the value of testing.
"The Shadow Health Secretary in his opening remarks at yesterday's opposition debate said Labour are calling for weekly testing of NHS staff, 'if necessary'.
"But 'if necessary' was not in the wording of their motion, which instead called for blanket weekly testing without any qualification – proving this was nothing more than a political stunt by a Labour party that could not even agree among themselves what they were asking for.
"Their motion had no force in law and had no proposals for how their motion would be workable in practice. It was simply a stunt to try and create the misleading impression that the government is against testing for NHS staff.
"The NHS has saved my life twice and I will always fight to defend local healthcare services and support our amazing NHS and care workers. I'm campaigning hard to get new Urgent Care Centres built at both Stepping Hill Hospital and Tameside Hospital, as well as working with the local NHS to try and deliver a brand new major health centre for Buxton.
"I'll let others play politics. I will continue to support a clinically-informed approach to testing, as advised by the Chief Medical Officer."
Keep up to date with all the latest local and national developments here: https://www.questmedianetwork.co.uk/news/daily-coronavirus-updates/.