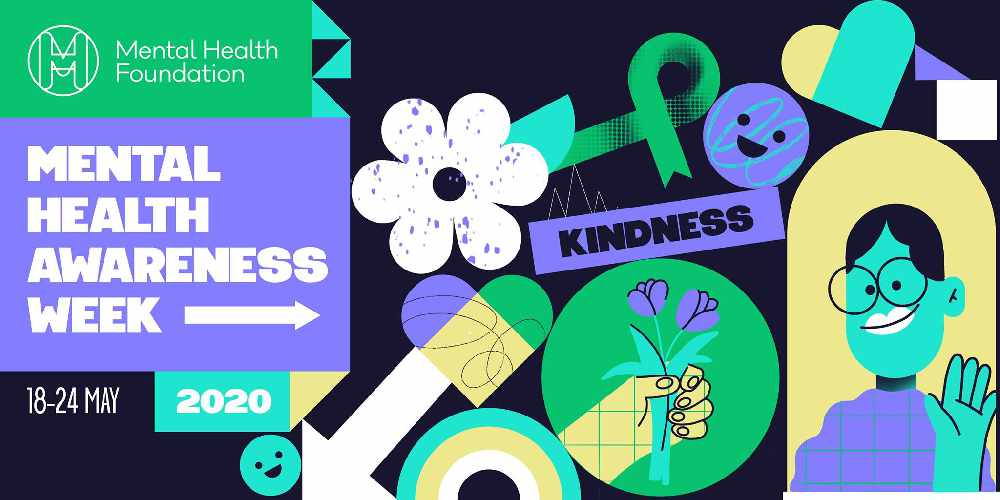 This week is week nine of lockdown, so it's more than understandable if you're struggling in any way – and it's okay to say that you are.
This week is Mental Health Awareness Week, so there's no better time for you to take a check on your own and other people's mental health.
Hosted by the Mental Health Foundation (MHF), it takes place from 18 to 24 May. Research has shown that 16 million people experience a mental health problem each year, explains the MHF, and stress is a key factor in this.
🥳#MentalHealthAwarenessWeek starts today! Let's get the nation talking about kindness & mental health📣

🌍At times like these, when the world feels upside down🙃Kindness can be the key to turning things around💚

👉Visit https://t.co/HcU7s9gCGv & join in! #KindnessMatters pic.twitter.com/I5DJTDIQ1Z

— Mental Health Fdn (@mentalhealth) May 18, 2020
As you're not seeing family and friends as often as you'd like, you're struggling with living with social distancing measures, or feeling down by seeing the same four walls day in day out, with this amount of time without our daily routines, it's okay if you're starting to feel burnt out.
Many of us are worried about coronavirus and how it will affect us and those we love.
You may be experiencing financial difficulties too which may be making you feel worried or anxious.
It's important to know that help is available.
Following the tragic death of TV presenter Caroline Flack earlier this year, the message 'Be Kind' received widespread support as a way of promoting positive feelings for each other.
During our time in lockdown, this has continued with random acts of kindness between friends, family, neighbours, colleagues and even strangers which have helped to keep us all smiling during these difficult times.
What might seem the smallest of gestures - gifts on doorsteps, dropping off food parcels and prescriptions, presents through the post - can make someone's day and make an incredible difference to their general wellbeing.
So this week, why not take a minute to check in on your friends? Check in on your strong friends, your healthy friends, your loud friends, and your quiet friends. Send them a message or take 15 minutes to call them to let them know you are thinking of them and are there for them - it might be just what they need.
There is lots of advice and support to help you protect your mental health - including locally.
This year's theme is kindness. The year 2020 has so far been filled with a lot of change and uncertainty so the theme of kindness, to yourself, a loved one or a stranger is so very important and timely.
Looking after and taking care of ourselves and each other, particularly during difficult times such as those we have been experiencing recently, is hugely important - especially for our mental wellbeing.
The Anthony Seddon Fund in Ashton has a full list of programmes this week to help people's wellbeing.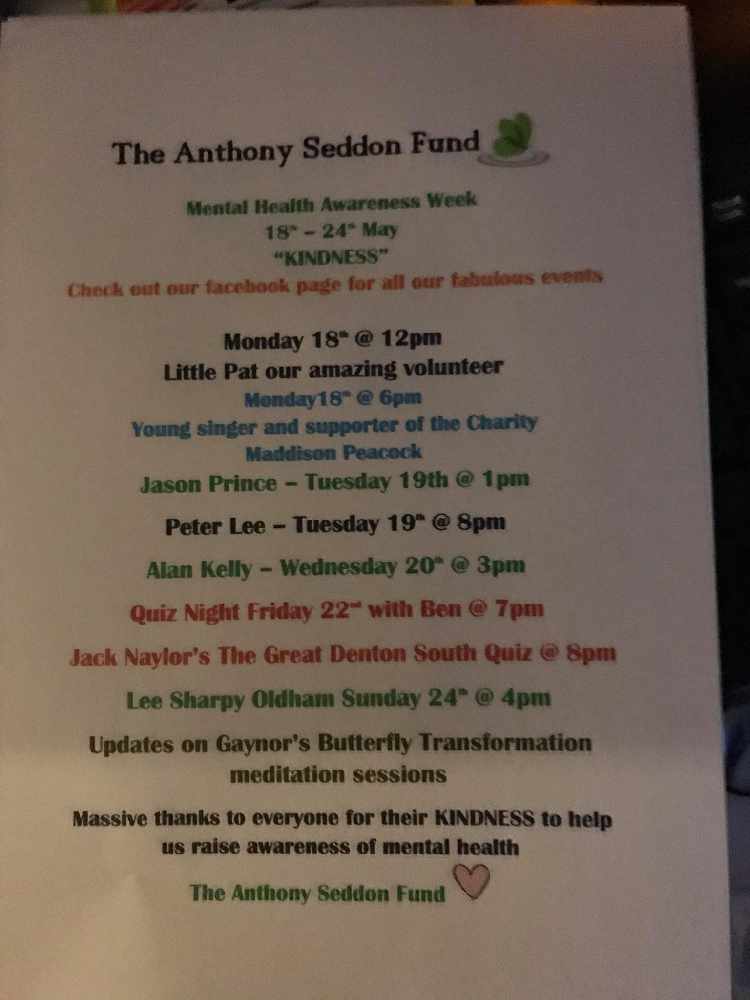 High Peak hospice Blythe House Hospicecare has lots of useful information and tips on its website to support your wellbeing, particularly during the coronavirus pandemic. Visit https://blythehousehospice.org.uk/supporting-you-and-your-mental-well-being-throughout-the-coronavirus-situation.
High Peak Community & Voluntary Support (CVS) want to hear about the fantastic work groups are doing across the community to support people's mental health and wellbeing. If you are on Facebook or Twitter, share your story and the work your organisation is doing by using the hashtag #HighPeakKindness and tagging in High Peak CVS.
Recently, NHS Tameside and Glossop Clinical Commissioning Group launched a range of mental health digital services and online support for children and adults in Tameside and Glossop. Find out more here: https://www.tamesideandglossopccg.org/news/keeping-minds-healthy.
Tameside, Oldham and Glossop Mind will be running a 'Week of Kindness'. They will be sharing videos, stories, resources and tips that they have created on a daily basis, as well as fantastic work from other organisations and partners across its social media and on its website https://www.togmind.org/home, so keep an eye out for them.
Meanwhile, Joe Bowker - a father-of-one from Hyde - is running 10km every day in May, and also climbing the equivalent height of Everest - some 8,848m, to support Mental Health Awareness Week and raise money for Tameside, Oldham and Glossop Mind as well as Samaritans. Click here to read the full story, including how you can donate.
Nationally, Mind is also running a #SpeakYourMind campaign where they have made resources to help people share a positive message or use their own coping mechanism. Find out more here: https://www.mind.org.uk/get-involved/mental-health-awareness-week
There is also support available on the Every Mind Matters website at https://www.nhs.uk/oneyou/every-mind-matters/.
Denton MP Andrew Gwynne has shared an interview he did with the London Evening Standard last year in which he opens up about his own battle with mental health. Read it here.
Hartbeeps Saddleworth and Tameside shared this graphic with useful contact info of organisations to reach out to if you want to hear a friendly voice of support on the other end of the phone.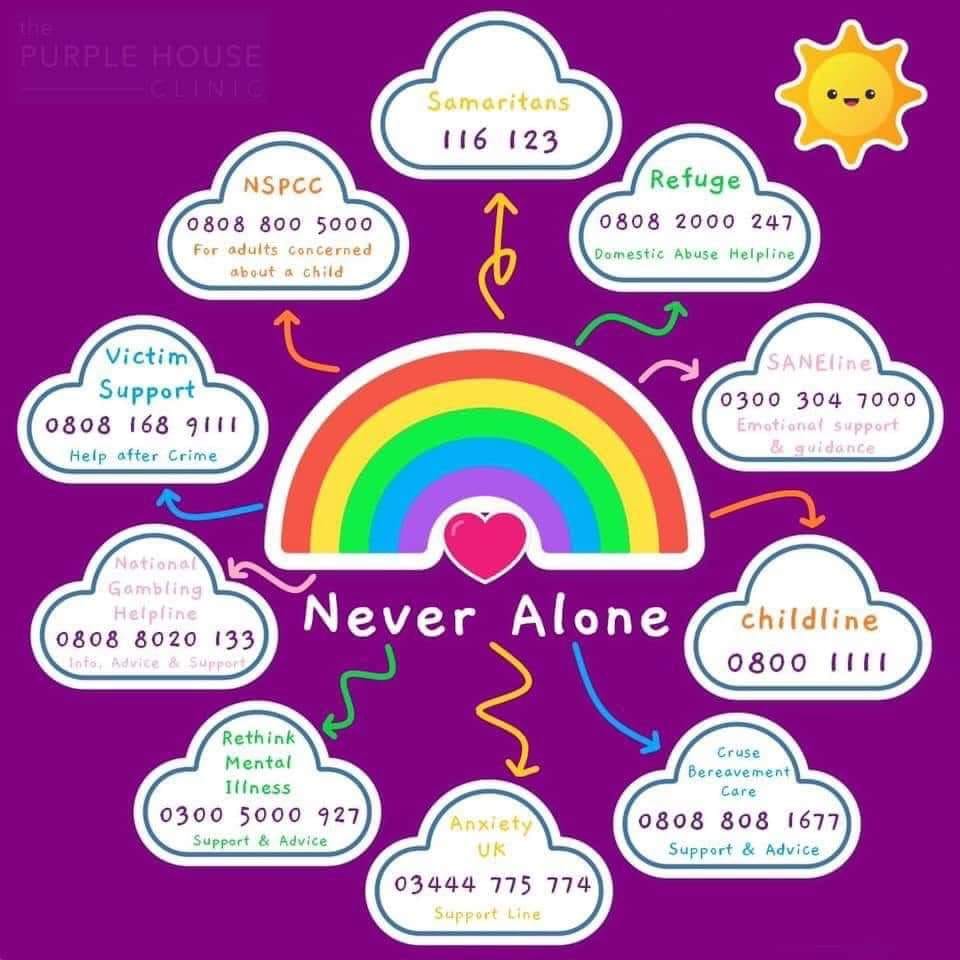 Tameside Libraries and Culture have lots of e-books on mental health for you to look at. They've put together a reading list on their library catalogue www.tameside.spydus.co.uk/ and there are loads of mental health and wellbeing books to find on BorrowBox too. If you live in Tameside, visit www.tameside.gov.uk/libraries to join.
Maggie's Oldham, a charity providing free cancer support and information, say people can call 0161 989 0550 or head to http://maggies.org/coronavirus if they need help or advice.
Oldham East and Saddleworth MP Debbie Abrahams is also encouraging people to speak their mind and look out for each other - now more than ever. She has also shared her own coping strategy. Read more here.
People are also being encouraged to take part in this seven-day challenge for Mental Health Awareness Week: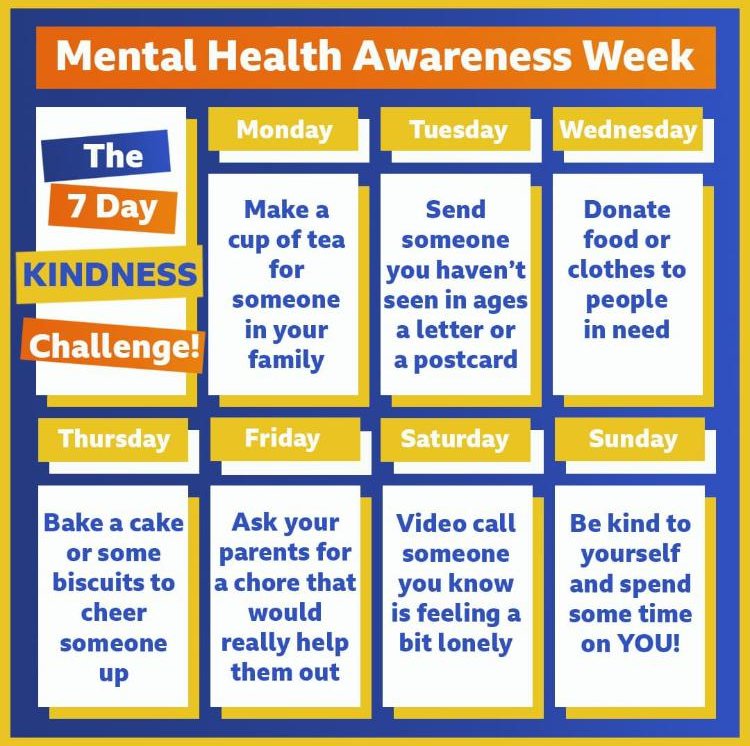 Action for Happiness has also released this coping calendar containing helpful ideas to look after ourselves and others: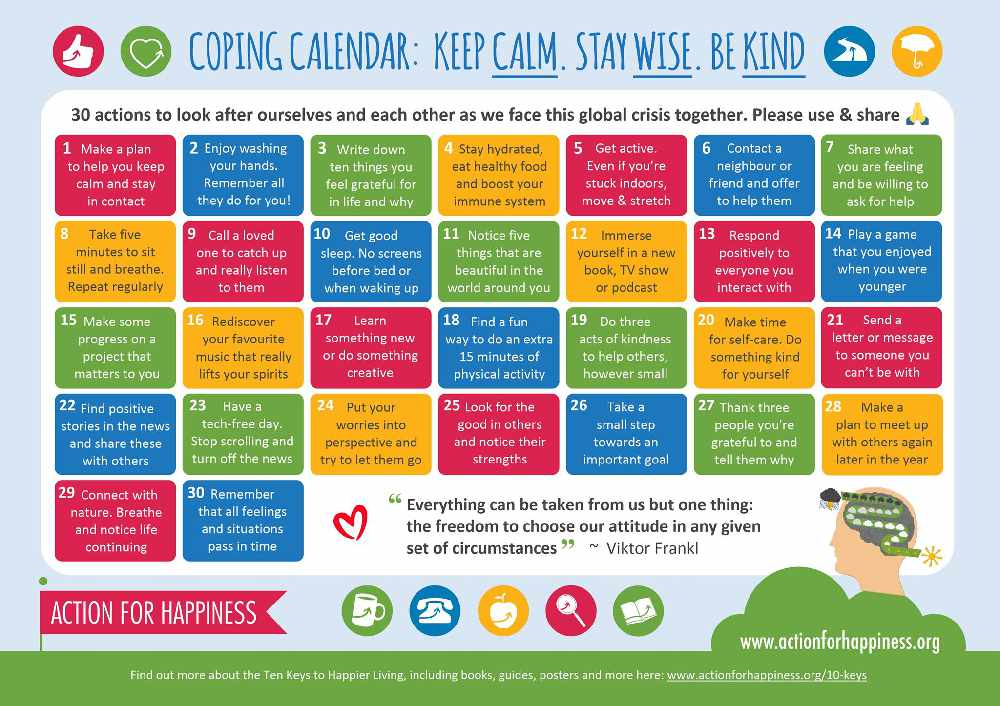 For those in the Armed Forces who may be struggling, the Army Welfare Service are there to support you. Call 01904 822053 if you need to speak to someone.
British Red Cross have some guidance that could be helpful and a webinar to listen to. Find out more here: https://resources.redcrossfirstaidtraining.co.uk/mental-health-and-coronavirus-pack.
ITV's Britain Get Talking encourages people to connect and we've never needed to connect more. The initiative is supported by mental health charities Mind and YoungMinds and a host of ITV faces. There are simple steps that can help you look after your own mental health and wellbeing.
Tailored for the Covid-19 outbreak, they have created an interactive quiz for tips and advice which you can take by clicking here.
Here are other contacts for you if you need further help and support for your mental health:
Samaritans: Call free on 116 123 or visit the website
NHS 111: Non-emergency advice is available online (Only call 111 if you cannot get help online). People with hearing problems can use the NHS 111 British Sign Language (BSL) service.
MIND: Mind has tips and support on its website by clicking here.
Shout: Confidential 24/7 crisis text support. Text "SHOUT" to 85258 or visit Shout Crisis Text Line
Crisis Support For Young People: Under 35s. Call Papyrus's Hopeline UK from 9am to 10pm weekdays and 2pm to 10pm on weekends. 0800 068 41 41. Text 07786 209697 or visit the Papyrus website
CALM: The Campaign Against Living Miserably, for people in the UK who are down or have hit a wall for any reason. Call 0800 58 58 58 (daily, 5pm to midnight). Free, anonymous webchat with trained staff or visit the CALM website
The Mental Health Foundation hosts Mental Health Awareness Week. Find out about the charity by clicking here: Mental Health Foundation