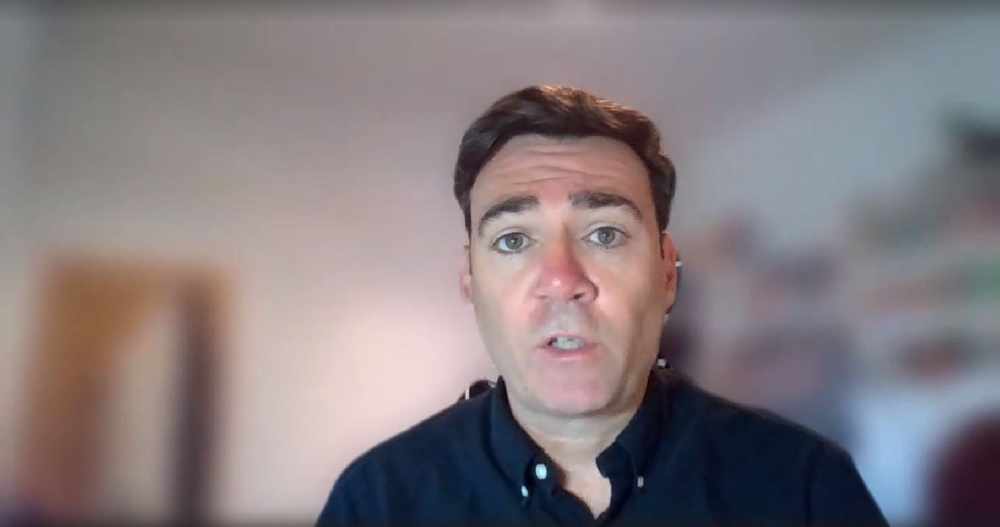 Mayor Andy Burnham says he's looking to Parliament to intervene to come up with "a fair financial framework" for areas going into Tier 3 restrictions and called on the people of Greater Manchester to "please look out for each other" amid tough times ahead. 
In a press conference outside Bridgewater Hall in Manchester, Mr Burnham says the region's MPs and leaders could only accept further restrictions with "full financial support" and he had put forward to the government a costed package of measures to support people on the lowest incomes and those who are self-employed.
He said they agreed that £15 million a month was needed to support the people living in the 10 boroughs - including Tameside and Oldham - to effectively top up the furlough scheme to 80 per cent, at a cost of £90 million to the end of the financial year.
Mr Burnham said he was prepared to accept £75 million or even go to £65 million as the "bare minimum" that was "needed" and not "wanted" in order to "prevent a winter of real hardship".
But he said the government - which offered £60 million - "refused to accept this" and they "walked away" from talks at 2pm on Tuesday afternoon, following 11 days of fractious negotiations.
The mayor - who was flanked by some of the region's council leaders - went on to say he was still willing to do a deal if ministers want to make one but could not agree to what was being offered.
He said there has been "unity" amongst Labour and Conservative councillors, council leaders and MPs from across Greater Manchester.
Mr Burnham said people in the region have been living under tougher restrictions for three months and that's taking its toll, so any further measures would "only increase levels of poverty and homelessness".
He said he will now look to Parliament to intervene and make a judgement on a "fair financial framework" for areas going into Tier 3 and the 'very high' Covid alert - the toughest restrictions in the new tier system introduced last week.
Mr Burnham said that anyone who will have to live under those restrictions should be getting at least 80 per cent pay regardless of where they live, adding that "we need to carry the public with us - not crush their spirit".
Directly addressing Greater Manchester's 2.8 million residents, he said they have "felt a lot of uncertainty over the last week as these negotiations have played out" and it's "going to be a difficult time for you".
He added that he and his fellow local leaders "took this stand for you" and leaders will carry on "fighting for you" and "putting your health first".
The mayor said that health is "more than the virus" and they will "support people's health in the broadest possible sense".
Mr Burnham warned that "tough days lie ahead" and it will be "a punishing winter" but urged people to "observe the law at all times" and follow the public health advice, adding "above all else, please look out for each other as I know you will".
When taking questions from the media, the mayor said he doesn't know what Prime Minister Boris Johnson will be announcing at his own news conference at 5pm.
He also accused the government of "a deliberate act of levelling down" rather than "levelling up" as well as "playing poker with people's lives", saying "the 'whatever it takes' moment of earlier this year has completely gone, it's 'you'll get what we give you'."
What would moving to Tier 3 actually mean?
Currently, Greater Manchester is under the Tier 2 'high' Covid alert - which means mixing of households indoors is not allowed, the rule of six and social distancing applies to private gardens and outdoor spaces, while pubs and restaurants can remain open, but no mixing of households is allowed inside and the 10pm curfew is in place.
But if Tier 3 was imposed, it would mean the following:
No mixing of households indoors and outdoors, including in private gardens
Pubs and bars to close
Restaurants, and pubs that can operate as restaurants, allowed to stay open
No wedding receptions
Local politicians will decide if gyms, betting shops, casinos, hairdressers and beauty salons should close
Non-essential shops, schools and universities to remain open
Avoid non-essential travel
Travel outside area advised against
Avoid staying overnight in another part of the UK if resident in a Tier 3 area
People resident elsewhere should avoid staying overnight in a Tier 3 area
You can read more about the different restrictions on the government's website at https://www.gov.uk/guidance/local-covid-alert-levels-what-you-need-to-know.
Keep up to date with all the latest local and national developments here: https://www.questmedianetwork.co.uk/news/daily-coronavirus-updates/.