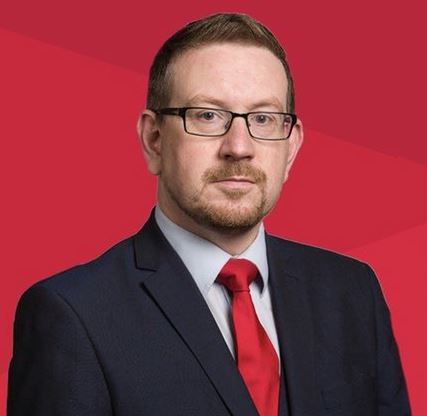 Denton MP Andrew Gwynne is backing Greater Manchester Mayor Andy Burnham's stand against the government placing the region into the Tier 3 'very high' Covid alert level. 
Mr Gwynne (pictured) says he doesn't think Mr Burnham is playing a dangerous game with people's health by resisting the introduction of tougher measures - whilst holding out for more financial support - and instead blamed the government.
He told the Tameside Reporter on Friday morning (16 October) that there's no scientific evidence that Tier 3 would work in reducing the spread of the virus anyway and repeated his calls for a national circuit break.
"I think Andy is absolutely doing the right thing on behalf of Greater Manchester along with our 10 council leaders because what we know is that the government's advisors themselves are saying that Tier 3 isn't enough," Mr Gwynne said in an interview with Nigel Skinner.
"This is basically the government being seen to do something as a result of spiralling Covid rates across parts of the country but Greater Manchester - people need to remember - has been in the equivalent of Tier 2 for 12 weeks now and it hasn't had any impact on Covid rates.
"Covid rates have continued to grow and without proper financial support for businesses and individuals, it's going to be a bleak winter if we're forced to go into Tier 3, if whole sectors of our local economy are forced to cease trading.
"I think that they are right to hold back for proper financial compensation because the government cannot and should not be using us as a test bed for something that everybody knows will not be enough to stop Covid.
"I doubt whether we will recover from the economic damage for a very long time."
'Short circuit break is the only way forward'
Mr Gwynne has voiced his support for a two-to-three week national lockdown, or circuit breaker, and was asked whether that notion contradicts Mr Burnham's stance and whether the Mayor would agree to a national strategy of a limited lockdown.
"I think something has to be done and I do think that there's a consensus - certainly the scientific world is saying this is what's needed," Mr Gwynne said. "It's not a silver bullet - it will stop the transmission of coronavirus and probably set it back about a month.
"But what we've absolutely got to do is to ensure that if we take that measure, the government uses it - not just as a short-term block for the transmission of coronavirus - but to ensure that all of the things they should have done over the summer months are rapidly done.
"That means a proper Test and Trace system that works, giving local authorities the powers and the ability to do hyper-local interventions - we know where the hotspots are, we know the communities, the neighbourhoods and even the streets that are coronavirus hotspots. We should be going door to door, helping people and advising people to do the right thing.
"With that, we can start to ease up for the rest of us. This blanket approach for an indefinite period just does not work. A short, sharp shock that will set coronavirus back by about a month, which will stop the transmissions from increasing here and now, is absolutely what's needed and we need to treat the whole country the same.
"There has to be financial support for businesses to do the right thing, but I think that most businesses - particularly the hospitality sector - would sooner have a definite period of two or three weeks where they have financial support to get them through, knowing there's light at the end of the tunnel, rather than in an indefinite period of being shoved into Tier 3 not knowing when we will come out of Tier 3 or even if we will come out of Tier 3 anytime soon, and without an adequate financial package and also not knowing whether Tier 3 will even work.
"The Deputy Chief Medical Officer seems to think that it doesn't go far enough so let's do the measure which will actually work, we know it works because we've had a lockdown before - a proper lockdown. So that short, sharp circuit breaker, I think, is the only way forward. I just hope that the Prime Minister sees sense and orders it fairly soon."
'Circuit breaker needs to happen immediately'
On whether he would call for it to be implemented immediately, he added: "I think it needs to be because if we're going to have anything like a near-normal Christmas, we need to do the intervention now.
"It probably should have been done a couple of weeks ago. It's what the scientific advisors were telling the Prime Minister needed to happen a few weeks ago, but it's better late than never. I would urge the Prime Minister and the Health Secretary to ditch this crazy idea that you can put area by area into tiers that won't actually make a material difference to the coronavirus rates.
"In actual fact, there's evidence that it might push illegal activity further - people having house parties, people going round to their friends for a drink even though they're not supposed to in Tier 3 - and that's where we know coronavirus transmissions escalate. It seems crazy to be turfing people out of Covid-secure businesses where there's table service, Track and Trace, face covering wearing and sanitisation. It can be regulated by the authorities and if businesses and individuals aren't following the rules in Covid-secure businesses, they can be closed down and fined. It just seems daft to be driving this activity underground."
'The only confusing message is coming from the government'
Greater Manchester leaders adopted a unified and defiant stance against the government on Thursday afternoon, with Mr Burnham holding a press conference in Manchester city centre in which he said they are "standing firm" and "fighting back for fairness and for the health of our people" in opposing the proposals for Tier 3 without what they deem to be appropriate financial support.
Mr Gwynne was asked whether we're in a very dangerous time now and the stance gives a confused message to the public, therefore not accepting the Tier 3 proposals can be perceived as being irresponsible during times when individuals have been asked to take responsibility and 'we're all in this together'.
He said: "We are in all in it together - it's why Labour and Conservative MPs in Greater Manchester are speaking with one voice and why Labour and Conservative council leaders across Greater Manchester are speaking with one voice. It's why our mayor is speaking with one voice.
"The only confusion of the message is coming from the government because the way they've handled coronavirus - the rules are very confusing, they change almost on a weekly basis, people don't know which activity is illegal and which activity isn't.
"Common sense doesn't seem to apply because, for example, the 10pm curfew makes absolutely no sense in terms of health and wellbeing of citizens because if you can't buy alcohol in a Covid-secure bar or a Covid-secure restaurant at 10pm but you can buy it at an off-licence or supermarket, it just seems absolutely crazy.
"All it does is divert people from Covid-secure, safe, well-regulated businesses and drives them illegally underground into people's front rooms where the transmission of Covid is actually taking place. That's why we need a common-sense approach to this - we need to listen to the scientists, which are telling the government we need a national short, sharp, shock circuit breaker to hold coronavirus back and we need to get to grips with Track and Trace which quite frankly has been an absolute shambles - and a costly shambles at that. If other countries can do it, why can't we?"
'We're not the testbed for what happens in London'
Mr Gwynne ultimately feels that the division between central government and Greater Manchester leaders will end with ministers imposing Tier 3 restrictions on the region - in the same way that has happened to Lancashire on Friday - and believes it means they can "share the blame" with local leaders.
"I suspect what will happen is that ultimately ministers will force us into Tier 3 - I hope not but they do have the final say on this," he added. "They would obviously like to do it in co-operation with local politicians and local mayors but ultimately it's now the law, they can put us into that category.
"Clearly, I think there's an element that the government want to share the blame - they know it's not a measure that goes far enough, but it's almost like that they've run out of ideas short of a national circuit break and so they think closing hospitality is the only thing that's left they can do given they're not going to close down schools and universities again.
"But we know the advisors are saying that it's not enough so I just worry that we will continue to see coronavirus rates increase, we'll continue to see hospitalisations increase and, very sadly, we'll continue to see deaths increase. It will be because of the lack of following the science, following the scientific advice that has been put forward by SAGE - the government's panel of top scientists - and the government wants to share the blame with local leaders.
"I think our local leaders are absolutely right to call it out that without the proper financial support for the North, we're not doing it. Take today for example, the government ministers are now suggesting that areas in Tier 2 might be able to qualify for some form of government assistance for businesses.
"We've been in the equivalent of Tier 2 for 12 weeks without a single penny. It's only now that London has gone into Tier 2 that ministers are even suggesting that there might be some kind of financial support for those areas. We're not the testbed for what happens in London, the North and Greater Manchester deserves to be treated with some degree of respect and we haven't been."
What would moving to Tier 3 actually mean?
Currently, Greater Manchester is under the Tier 2 'high' Covid alert - which means mixing of households indoors is not allowed, the rule of six and social distancing applies to private gardens and outdoor spaces, while pubs and restaurants can remain open, but no mixing of households is allowed inside and the 10pm curfew is in place.
But if Tier 3 was imposed, it would mean the following:
No mixing of households indoors and outdoors, including in private gardens
Pubs and bars to close
Restaurants, and pubs that can operate as restaurants, allowed to stay open
No wedding receptions
Local politicians will decide if gyms, betting shops, casinos, hairdressers and beauty salons should close
Non-essential shops, schools and universities to remain open
Avoid non-essential travel
Travel outside area advised against
Avoid staying overnight in another part of the UK if resident in a Tier 3 area
People resident elsewhere should avoid staying overnight in a Tier 3 area
You can read more about the different restrictions on the government's website at https://www.gov.uk/guidance/local-covid-alert-levels-what-you-need-to-know.