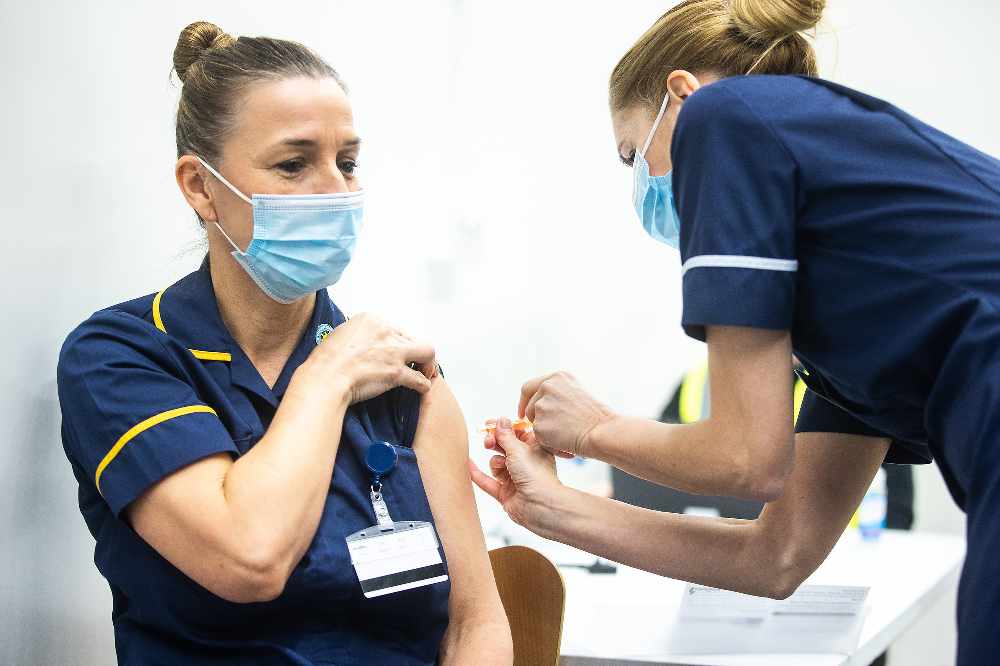 The first patients to be vaccinated at the new Greater Manchester NHS Vaccination Centre have spoken of their "relief" to be getting the life-saving jab. 
The facility opened its doors on Tuesday morning (12 January) at the Manchester Tennis and Football Club at the Etihad Campus.
It's one of seven large-scales vaccination sites across the country with the ability to deliver thousands of jabs every week, as part of the national vaccination programme. Prime Minister Boris Johnson last week promised that vaccines will be available to everyone within a 10-mile radius of their home.
The venue has been launched in addition to the local GP-led and hospital vaccine services - including the ones in Tameside and Oldham already up and running.
The centres are an additional option for people, who can book an appointment at one of the seven centres through the national booking service online or over the phone. If it is not convenient for them, they can instead be jabbed at one of their local vaccination centres in the coming weeks.
'I would encourage everyone to do it and make the country safe'
Amongst those patients who took up the offer of the invitation were Marylyn Fitchett, Barry McNeil and Patricia Smethurst.
Marylyn, 80, said receiving her vaccination had been a smooth operation and said it was a big relief to have had her first vaccine.
"I am glad to be getting it to be honest with you," she said. "Hopefully if people do get it we will all be able to get a holiday again. I have tried to be careful and I have been staying in and my sons have been doing the shopping but I have been trying to exercise. I am very pleased about being one of the first people to get the vaccine at this centre."
Barry (pictured below) added that he had had no concerns after getting the jab. He said: "I feel a sense of relief. I think it is something we have to do. I would encourage everyone to do it and make the country safe."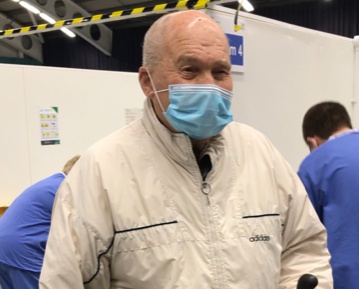 Patricia (pictured below) said that having the vaccine meant she could now look forward to getting out more in the future, as she had only left her house eight times since last March.
She said: "I spend most of my time in the garden if the weather is nice and I do have family who look after me and make sure I have food. I am very, very grateful to have had the vaccination - it's great. There is no point being morbid about it all, it does you no good. You just have to get on with it all; you have to be happy."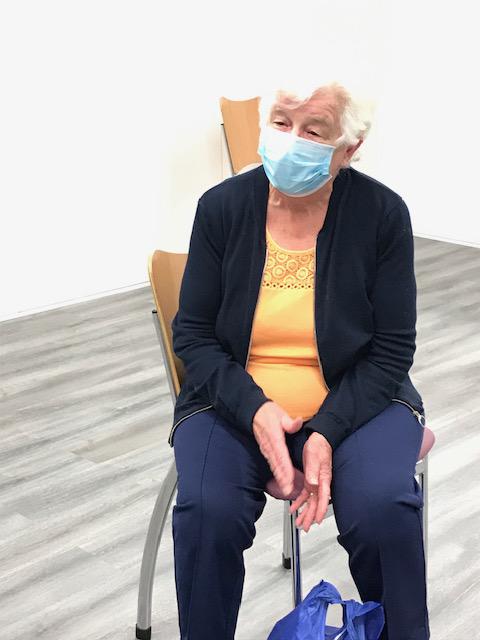 'It is amazing being part of this'
The mobilisation of the centre has been a collaboration between a number of organisations - involving Manchester City Council, Manchester City Football Club, the Ministry of Defence, volunteers from St John's Ambulance and the Royal Voluntary Service, and a number of NHS organisations including the Northern Care Alliance NHS Group (which runs The Royal Oldham Hospital) as the lead NHS provider responsible for the running of the centre, alongside Tameside and Glossop Integrated Care NHS Foundation Trust which is responsible for the recruitment and staffing of the centre.
The centre is part of the Greater Manchester wide vaccination programme, run by the Greater Manchester Health and Social Care Partnership (GMHSCP).
One of the staff members delivering the centre's first jabs was Kellie Holt (pictured below), who has been released from her day job as a school nurse to support the COVID-19 vaccination programme.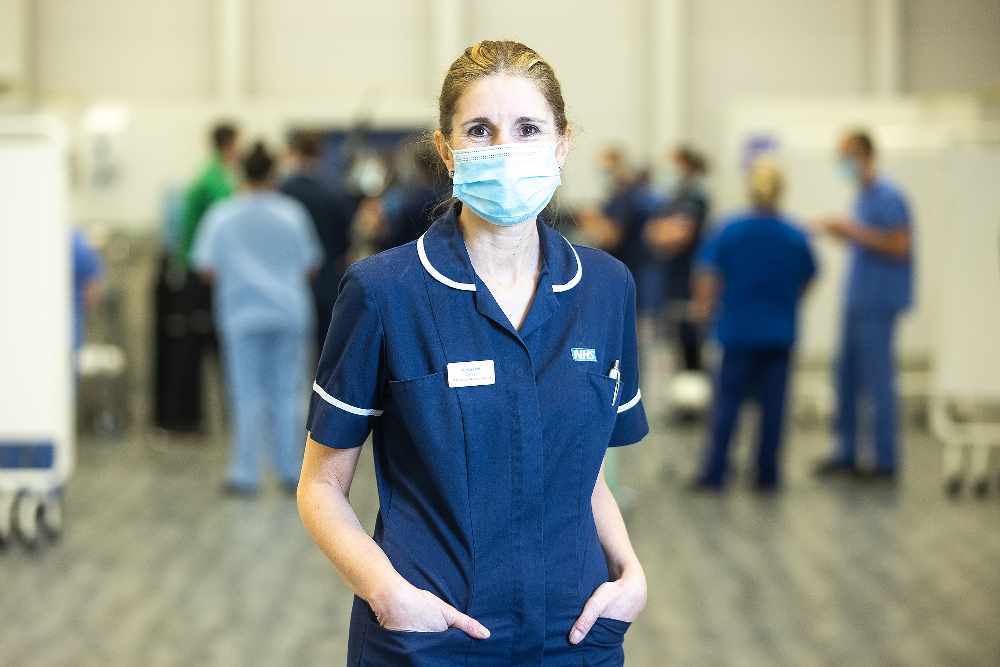 She said she was delighted to have taken part in the launch of the centre and that she felt proud she was part of the work to bring "fresh hope and real optimism that we will begin to return back to normal in 2021."
Kellie added: "This is a fantastic development in the fight against COVID-19, however we would ask the public not to contact their GP, hospital or any other NHS organisation about being vaccinated here at the centre. People will be contacted directly and informed how and when they will be vaccinated when it's their turn.
"Please remember that the oldest and most vulnerable people are being vaccinated first at the centre, starting with those who are aged 80 or over, and some front line NHS staff. Thank you for being patient and please remember to adhere to the national lockdown restrictions in the meantime to limit the spread of the virus."
Pharmacy staff have provided vital support to those vaccinators delivering the clinics. Pharmacy lead for the Manchester centre, Estelle McCoy, said it was wonderful to now see the injections being deployed.
She added: "The vaccine being used at the centre is the Oxford/AstraZeneca vaccine which has been proven to be safe and effective and has been independently authorised by the MHRA for use in the UK. The pharmacy team is supporting their clinical colleagues to ensure that all vaccines are stored, handled and administered as safely as possible by trained staff."
Callum Finnigan was one of the St John's Ambulance volunteers helping the centre's launch. He explained: "Vaccination wise this is all new to us, but at St John's Ambulance we work in healthcare a lot, doing first aid at events, and we have been supporting the NHS throughout the whole of the pandemic.
"In terms of administering Covid-19 vaccines, this is the first time we have had to do that. We have completed all the same training as the other NHS vaccinators here and we are working alongside each other doing exactly the same thing today. It is amazing being part of this, I have really enjoyed it, just being part of it, everyone has been really supportive."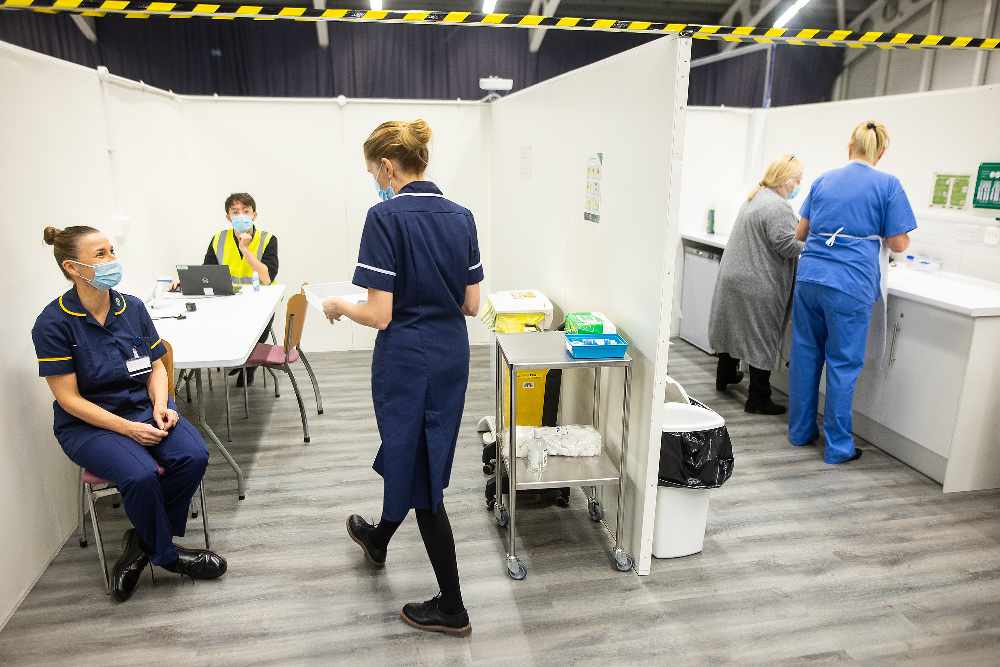 A look inside how the mass Covid vaccine centre at the Etihad has been running on day one of operating
'This is a significant step forward in the fight against Covid-19'
Christine Khiroya, Nurse Consultant with Lead Responsibility for Screening and Immunisation at GMHSC Partnership, said: "Some of the most vulnerable members of our communities have already received their first Covid-19 vaccine to help protect them from the virus. Over the coming weeks as more national vaccine supplies become available, we're rapidly expanding our vaccination programme to reach more people as nationally prioritised.
"Greater Manchester's large-scale vaccination centre at Man City Etihad Campus will help us to do this, alongside GP and hospital services. This is a significant step forward in the fight against Covid-19."
The vaccination centre is staffed by clinicians and a range of qualified volunteers. The team includes a combination of NHS staff, as well as people who have returned to their profession to support the vaccination programme.
Amanda Bromley, Director of Human Resources at Tameside and Glossop IC NHS FT, commented: "It has been a pleasure to be involved in the recruitment of staff for this very important vaccination centre. Everyone involved appreciates the significance of getting the facility up and running and the team we have recruited to staff the centre are really enthusiastic about getting underway and making a real difference.
"We are still looking at recruiting more staff and we would urge anybody that's interested in working at the centre to make contact via our website. Thanks to everyone who has stepped forward so far."
More information about the vaccination programme can be found at www.nhs.uk/covid-vaccination
Hundreds of people have already stepped forward to work at the centre, including those who have returned to their profession at this time of need.
Recruitment to the centre and the wider Greater Manchester Covid 19 Vaccination Service is ongoing. If you are interested in finding out more, visit https://www.tamesidehospital.nhs.uk/get-involved/mvc.htm
Keep up to date with all the latest local and national developments here: https://www.questmedianetwork.co.uk/news/daily-coronavirus-updates/.